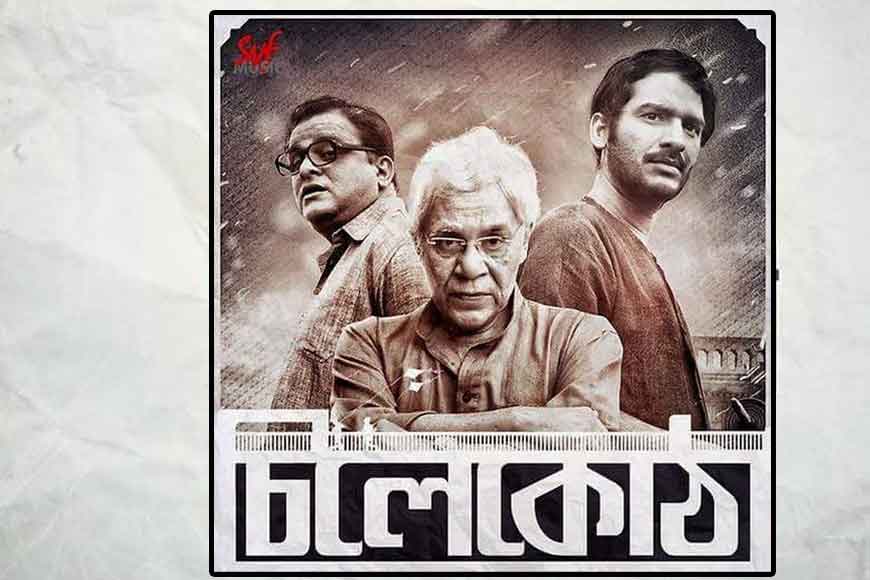 Tollywood is currently inundated with bright sparks and ideas with directors willing to take risk and venture into areas not treaded so far. They are opening new vistas and the audience is definitely not complaining. The latest one to join this fray is Premangshu Roy's 'Chilekotha'.
'Chilekotha' starts in 2016 but covers a vast time span from the 1940s (World War II) to the present times. It alternates between decades etching out vignettes of life in those days. The biographical film revolves around successful NRI Animesh Chatterjee (Dhritiman Chattopadhyay) who returns to his roots in Kolkata, after superannuation. With his homecoming, a deluge of memories, overpower him. The film delves into flashbacks and old Animesh is visited by his doppelganger, Animesh (Ritwick Chakraborty) in his youth.
This youthful Animesh leads the audience gently to re-visit the 'golden days' of 1960s and '70s. The film brings in a whiff of nostalgia with the 'unputdownable' army of uncles, aunts and cousins crowding the canvas in the joint family structure that used to be the order of the day. The concept of 'family'was flexible and even included neighbours, friends and domestic help. Those were times when any average Bengali family tried to eke out a living within meager resources but that did not deter him from enjoying the addaor those umpteen hours spent on altercation over football or cinema. The hype and excitement leading to Durga Puja, the blooming of romance, the political turmoil, the Naxal Movement -- the film encompasses all these and more within its frame.
The chilekotha (a covered room of sorts on the terrace) itself becomes an integral character in the movie where romance blooms, dreams are shattered, wisdom is attained and most important of all, provides a rear view of all the action (social, political, romantic et al) taking place around. This is also the place where Animesh is initiated into the world of class struggle by his favourite Phulukaka (Bratya Basu). Phulu kaka plays a vital role in Animesh's life and his outlook on society as he learns to question existential dilemma.
We miss those days and yes, deep inside us, there is a very strong longing to revert to those days and the film's director Premangshu Roy wants to nudge Bengalis out of their stupor and realize what we are missing, as we are alienating ourselves from our roots. Roy sums up in a nutshell,'This movie is a documentation of the nostalgia of Bengalis.' I am personally proud of my Bengali culture and when I see most contemporary Bengalis carelessly walking miles away from it, it saddens me and I think it is our responsibility to revive our lost culture in our lives. This film is just a small push towards our 'chilekotha'.