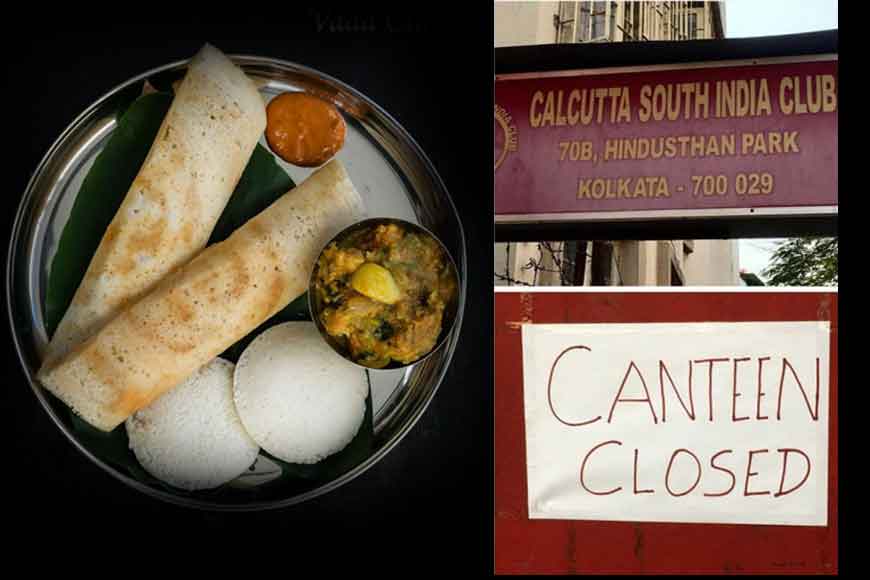 Remember the precious words of Bob Dylan?
"If your time to you
Is worth savin'
Then you better start swimmin'
Or you'll sink like a stone
For the times they are a-changin….."
Well, the times have truly changed. The old-world charm of Kolkata is gradually vanishing with each passing day. This realization is bound to dawn upon you as you come across the white banner on the gates of the South India Club of Hindustan Park, that reads as: 'Canteen Closed.' For Calcuttans, the South Indian Club canteen was notjust another eatery. Kolkata is a city which is open to every form of culture, belief and food. The city since decades had also harboured hundreds of South Indians who have contributed in various forms to the multi-culture, multi-cuisine tapestry of Kolkata.
Needless to say, countless South Indian food joints came up in pockets of South Kolkata such as Prema Vilas, Laxmi Vilas, Ramakrishna Lunch Home, Murugan Lodge and of course the South Indian Club Canteen, that always stood out for its authentic, low priced South Indian food. The most popular items this eatery served were dosa, idli, vada, utappam, and even dabba meals at reasonable rates for many. The waiters poured steaming filter coffee from a steel glass to a bowl from a long distance without spilling a drop outside. That too was a simply unforgettable sight.
Set up in 1960, this eatery had served for the last five decades affordable food to South Indian bachelors who had come to the city in search of jobs during 1970s-1980s. Later, it was thrown open to all owing to popular demand. Be it Bengalis, Marwaris or South Indians, people belonging to various ethnicities loved coming here for the quality of food available. Be it the mosaic tiled floors, Iron-beamed ceilings, the stimulating discussions at the table, the cognitive charm oozing out of the café was a true reflection of the ethos of our city. The customer base was primarily middle-class and loyal.
Since last fourteen years, the canteen was being managed by R Rajeshwari and her husband TN Balasubramanium. The twelve employees are from various states which include Odisha, Bihar, Tamil Nadu, Bengal and Jharkhand. Be it employees, patrons or manger, everyone felt saddened with the shutting of the eatery. According to sources, the club wanted a four-fold hike in the rent of the canteen, which meant prices would have to be raised by four times. That was next to impossible as the canteen's clientele was primarily the working middle class.
The club authorities feel the place needs to be turned into an air-conditioned hip and happening canteen serving fusion South Indian platter, as that will attract youngsters. The club membership has dwindled from 1000 to 300, so they decided to turn it into a high-end cafeteria to bring in more revenue. Trishita Saha, a Kolkata based architect says: "Come what may, nothing can take the place of the South Indian club canteen. I hate to let this place go. I had been coming to this place with my family ever since I was child. Along with this place, a part of my childhood is lost forever."
True, with the shutting down of the canteen, an era is also gone, that of simple food at low cost.