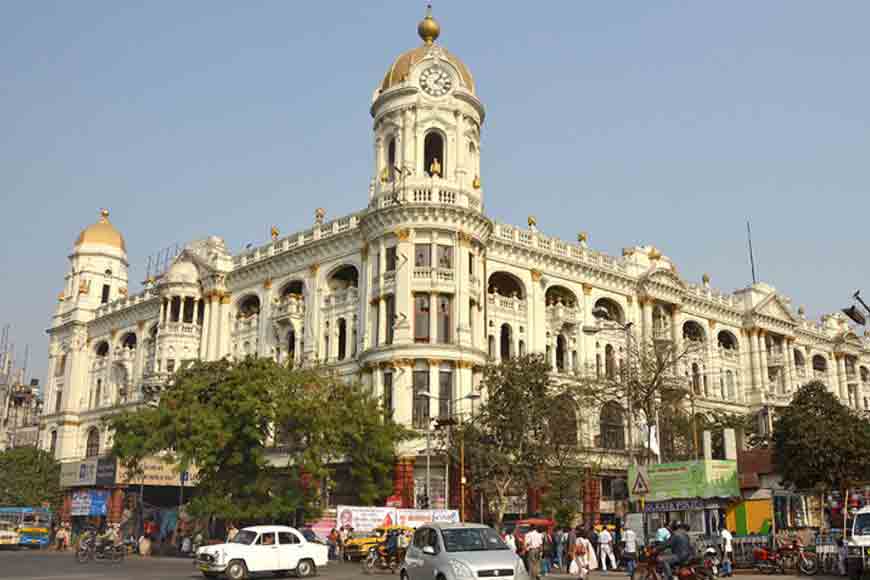 Metropolitan Building, Chowringhee Road, Kolkata
Before Independence, the Esplanade region in Calcutta was monopolised by the British and other Europeans. A massive palatial construction on the eastern corner of Esplanade often attracted attention in those days. The much-anticipated elaborate 'wedding cake' structure was completed in 1905 and unveiled as a departmental store named Whiteway Laidlaw & Co, adding another feather to British pride. However, Bengal at that time was the hotbed of widespread turmoil following 'Bongo-Bhango' movement (partition of Bengal). Rabindranath Tagore composed his famous Banglar maati Banglar joland went around the city tying rakhito Muslims as a gesture of unity.
The majestic Whiteway building was constructed by Calcutta-based contractors, Mackintosh Burn & Company. The massive Corinthian pillars, beautiful arcade, huge domes and clock towers – were all very impressive and attracted widespread attention. Europeans and Englishmen who landed in the city harbor were mesmerized by the splendid structure. The ground and first floors of the building housed the departmental store. The second and third floors accommodated office and apartments; the area earmarked for office space was named Victoria Chambers. A grand tea room had a pride of place in the building, one that could give Harrods and Mitsukoshi tea rooms a run for their money.
Norman Watney came to Calcutta and after witnessing the retail store, wrote, 'Whiteway had acquired the distinction of being solely for those with small purses and had a large clientele of junior officers. Others in a more senior position used to go down the road about a quarter of a mile away to the Army & Navy Stores.'

The outlet operated only on cash transaction and credit transactions were totally banned. Englishmen frequented the store to splurge money on knick-knacks. Finally, after Independence in 1947, Metropolitan Insurance Company took full charge of the edifice and Whiteway Laidlaw Co was re-christened as Metropolitan Building. A large area of this building was let out to American Library and in one of its apartments lived the 'rebellious' scion of the Tagore clan, Subho Tagore. He consciously tried to distance himself from the illustrious family he was born into. In fact, he had once written, 'Do you live in Jorasanko? 'How is poet Tagore related to you?' I've heard he is my father's uncle But I have nothing to do with him.' Who would have thought that Maharshi Debendranath's grand son and Writendranath's son, Subhagendranath aka Subho Tagore would choose his residence in a place that was once owned by the British and reeked of Englishmen's pride? The building that was officially inaugurated in the same year when Rabindranath was protesting against Partition of Bengal and penning his famous lyrics, Banglar maati banglar jol, later became Subho Thakur's shelter.