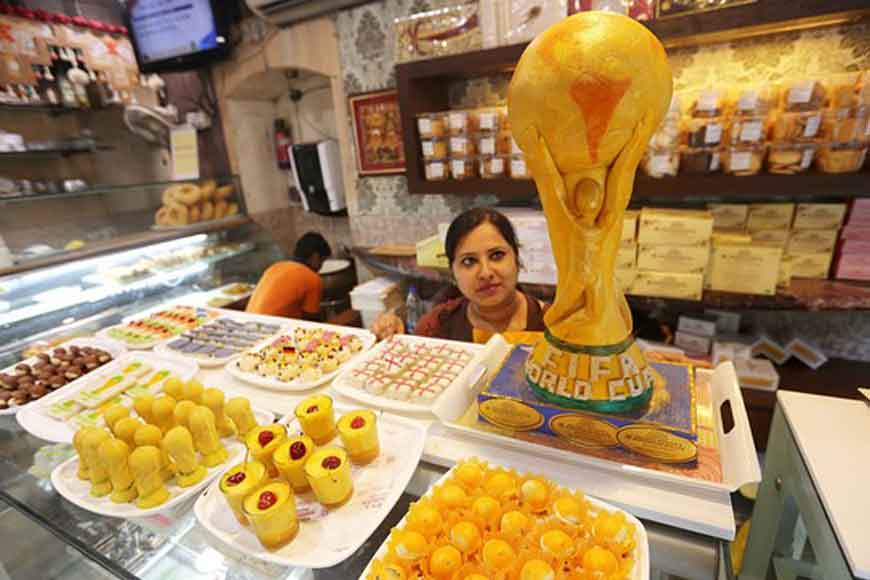 With the football fever rocking the city, Bengali's sweet tooth is not to be left far behind. And their food platter will soon be full of FIFA U-17 themed sweetmeats. So, go and watch that football kick and gorge on Football Mishti. Sweet shops and mishtitraders of the city and suburbs have been raking brains for innovative theme-based ideas to surprise not only Calcuttans, but even players and foreign visitors who have arrivedin the city for the matches.
The major designs on sweets will include the FIFA logo for the U-17 World Cup 2017 on the Sandesh. FIFA trophy will also be highlighted as part of the motif. However, sweet connoisseurs feel the best takeaway will be sweets that resemble footballs. These gigantic 1.5 kg memento sandesh, costing anything between Rs 600 and 700, will be displayed along with their smaller versions, priced at Rs 30 per piece. These 'Football Sandesh'will have a hard exterior. Once the outer coating is broken, mihidana willpour out. The logo sandesh has saffron and chocolate crumbs atop, to create the replica of the World Cup.
The major sandesh artist of the town is now Felu Modak. While, Sudip Mullick of Balaram Mullick and Radharaman Mullick also has plans to introduce some novelty in his wares centering on FIFA U-17 World Cup. He is bringing special sweets, logo sandesh and trophy sandesh as the heat of the matches catch on and enthusiasm increases. He plans to keep the charges under control and aims to price the trophy sandesh between Rs 150 to 200.The logo sandesh will be smaller in size and cost Rs 30. Will the creator of baked rasogolla and ambrosia be content with just two new creations? That's a mystery still.Sandip Sen, proprietor of Sen Mahashay, another well-known city sweetmeat shop also has plans up his sleeves, which he will unfurl when the time is ripe. Till then, let there be an element of surprise waiting for the connoisseurs of Bengal's sweets this football season. And head to the stadium, may be after snacking on those football Sandesh to make the experience sweeter!