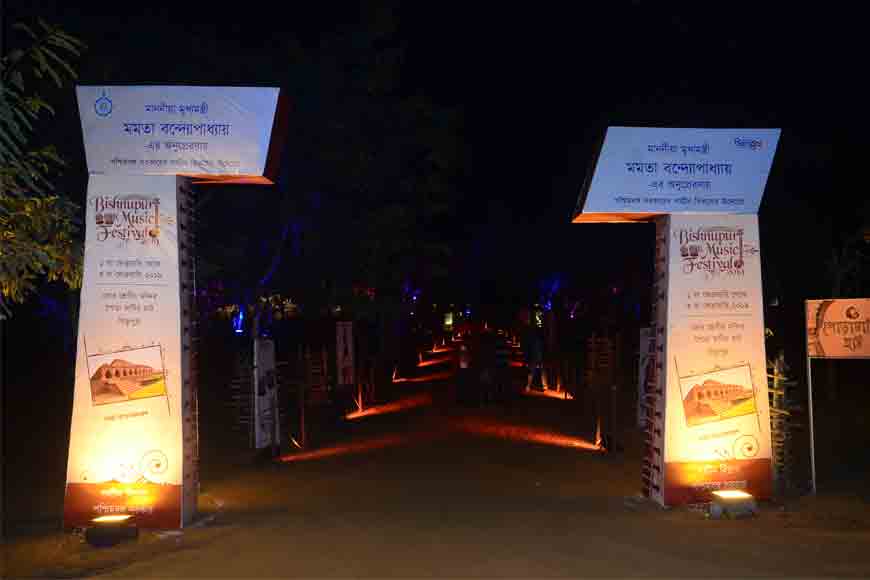 The terracotta charm of the Jor Shnrenir Mandir of Pora Maatir Haat reverberated with the classical rhythms of Bengal's only classical music gharana, at the recent Bishnupur Music Festival. It was a one-of-a-kind music festival that blended tradition, art, architecture and music. Organised by the State Tourism Department, the Bishnupur Music Festival between February 1-3 opened up a new vista for both tourists and music connoisseurs.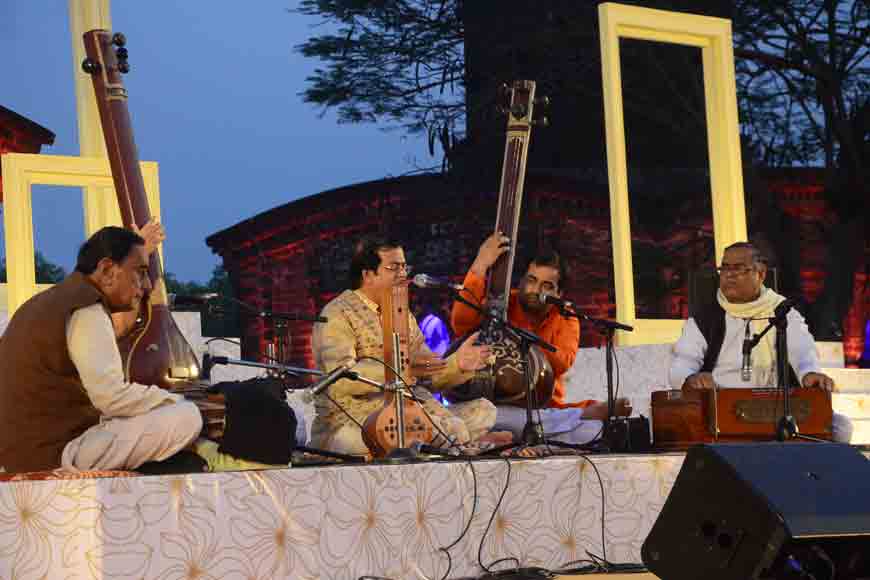 Sujit Gangopadhyay
The grand festival in the backdrop of historic gaiety was inaugurated by Shyamapada Mukherjee, Chairman of Bishnupur Municipality. Other dignitaries present included Tusher Kanti Bhattacharya, Hon'ble MLA of Bishnupur. The festival kicked off with a classical presentation by students of Ramsharan Sangeet Mahavidyalaya, the oldest music college of Asia.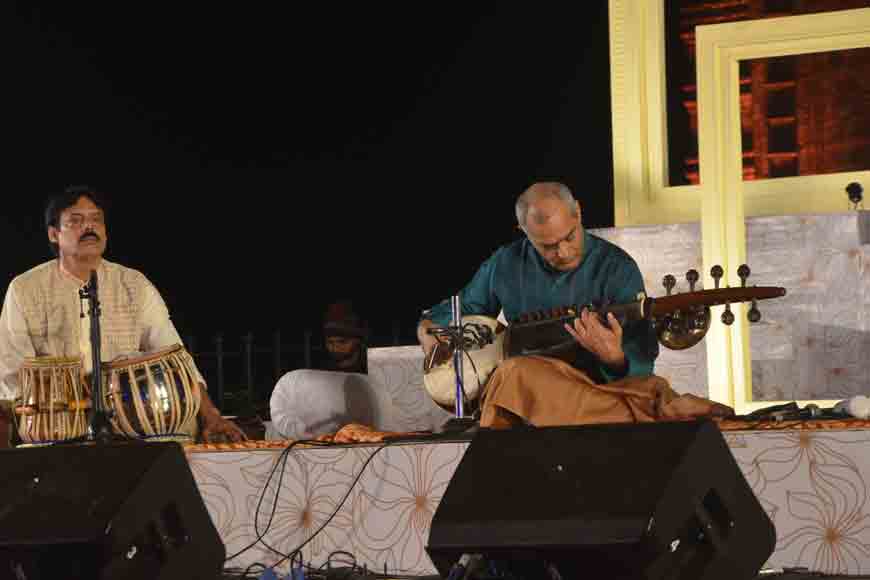 Suresh Vyas
The brilliance of Bishnupur Gharana was propagated by Bengal's erstwhile Malla Kings as they imbibed the love of the red soil through the tunes and exceptional renditions. Keeping the rich cultural heritage of this land of the Malla Kings and of the Bishnupur Gharana alive, the State Tourism Department started this unique festival. This year saw performances by an eclectic group of classical musicians including Dhrupad maestros Sujit Gangopadhyay, Sanjukta Das, Pandit Uday Mallick, Santanu Bandopadhyay, Bidusi Kalapani Komakali, Bamapada Chakraborty, Jagannath Dasgupta and Santi Ranjan Chattopadhyay. Suresh Vyas mesmerized the audience with his sarod performance. Even the Flute play by Sri Ronu Majumder created a musical aura in the temple town.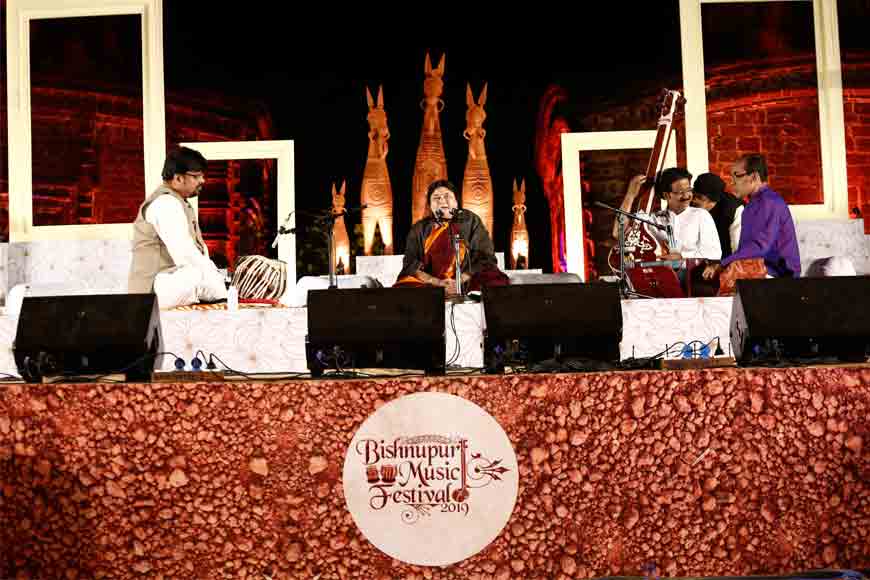 Bidusi Kalapani Komakali
The Bishnupur Music Festival of Bengal is no less than the Khajuraho Festival of Madhya Pradesh or even the Konark Festival of Orissa that has attracted crowds from across the country. In its second year, the festival was a grand success with a greater opulence. The Department of Tourism along with Information and Cultural Affairs Department promises to make the Bishnupur Music Festival one of the most sought-after cultural destinations in the country as well as across the world in the days to come.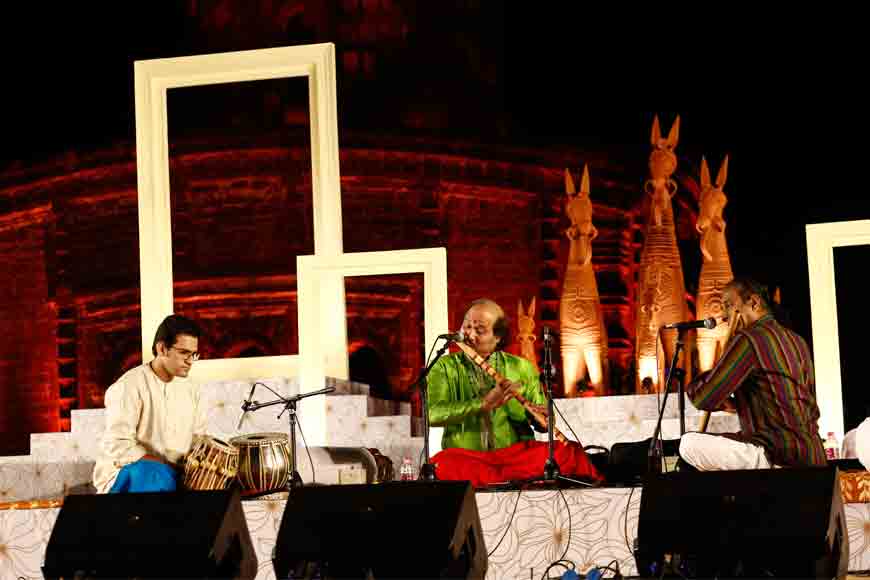 Ronu Majumder
Story Tag:
Bishnupur, Bishnupur Festival, Bishnupur Gharana