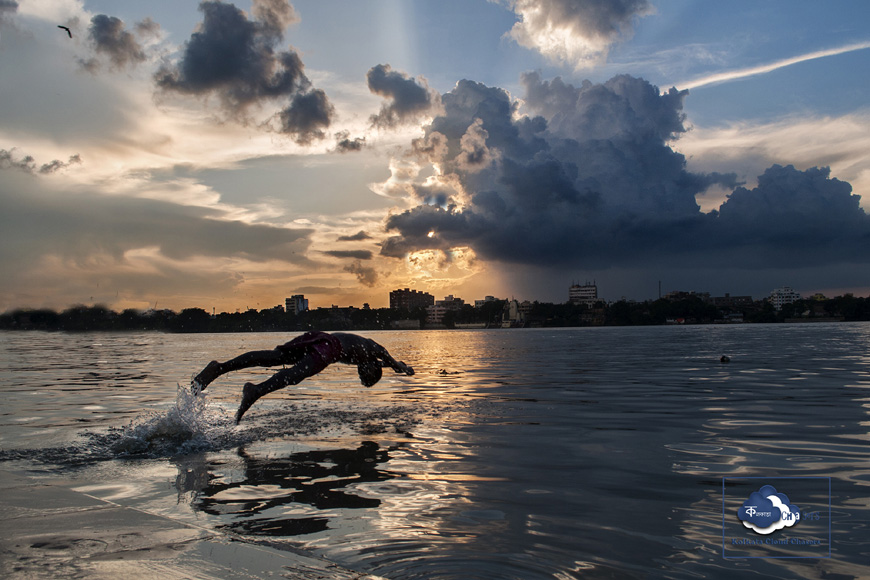 If you ever find a Mahindra Thar or a Mitsubishi Outlander equipped with GPS, CB radios and Dashcams racing down some unknown path of South Bengal chasing a Norwester, do not be awestruck. It is definitely not a scene from Hollywood's famous storm-chasing thriller Twister, but a team of Kolkata Cloud Chasers out to intercept a cloud and storm formation on their Storm and Cloud Intercept four-wheelers.
KCC group members
A group of 13 passionate members with a common love for extreme photography met a decade back on a common online photography platform. And that's when their passion found a soul along Bengal's adventurous skyline. The first ever storm and cloud chasers group in the country was formed. As the team embarks on chasing yet another stunning pre-monsoon formation near the Bengal-Jharkhand border, often compared to the 'Torando Alley' of USA, Kolkata Cloud Chasers (KCC) have 'call signs' set in place. They work like navy pilots. 'Trackers' keep an eye on the weather map to spot any sign of a build-up and notify other members. The team then are driven by 'Navigators' to the specified location. The 'Spotters' in the team are responsible for spotting the storm visually. Once they lock on to a storm system, they drive very close to the eye of the storm and start photographing the same. Meanwhile, the Tracker sends out a storm notification on KCC's online page so that followers of the page living in a location where the storm is about to hit can alert others and take necessary safety precautions.
KCC members have some interesting and fascinating names, as per their call-signs. Think of Roadrunner – Debarshi, Hellboi – Diganta, Aurora - Arpita, Phoenix – Chirasree,Thunderman – Abhishek, Boltanator - Joyjeet! Aren't they exciting tags? But for KCC members, they are important means of communication and are used over CB radios while chasing a storm on multiple vehicles. "We need to exercise extreme caution on our missions as literally we are in the middle of nature's fury and cannot take chances. Hence, we need these call signs to update our team members constantly," says KCC member, Chirasree Chakraborty.
KCC gets data from the Government of India weather website www.imd.gov.in and a couple of Android based apps that derive data from 'Kalpana' weather satellite and USA based data source NOAA. As it is a risky adventure, KCC usually doesn't allow youngsters on their mission. Their main aim is to document the climate change of South Bengal taking place during pre-monsoon, monsoon and post-monsoon seasons.
With the slogan of nature conservation behind their lens, KCC follows a dangerous passion that can be rewarding too. They are the modern Meghdoots --- Bengal's cloud messengers.