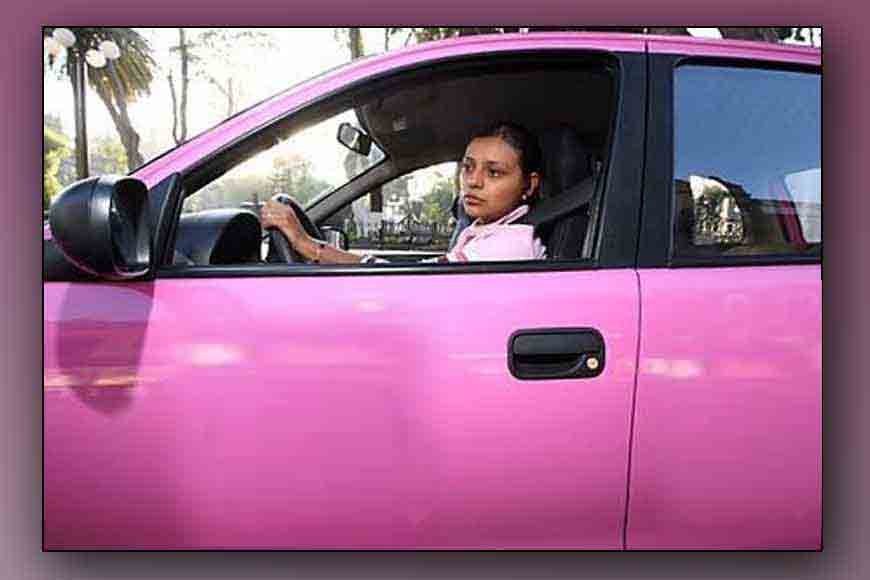 They have conquered all odds and today they will start their journey behind the wheels. Yes, we are talking of the women drivers of the Pink Cabs launched in Kolkata today. These girls are not just good drivers, they are great mechanics as well.
Gone are the days when women would stay within the inner sanctum of the house and stare at the world through a window pane under a veil. Times have changed and women have made their mark in every field and have taken up every challenging job. Safety is of utmost importance and greatest concern for women when it comes to travelling alone. Our jobs expect us to work till wee hours of the night but even today, the roads or mediums of transport are not safe enough for a single woman travelling alone. Even if we opt for cabs, nobody can ensure our safety. Molestations in cabs are quite common. As they say, it always has to be 'she for she' when it comes to evolution. In terms of safety too, women have extended hands of support to ensure safety for each other.
These pink cab drivers are mostly in their '30s and most of them have suffered in their own ways, either from the pangs of poverty or from abuse by male members. Some like Tara Sardar of Lake Gardens need to provide for her family and children as her husband is alcoholic and jobless. While, there are women from the minority community like Esno Tara Bibi who was driven out by her in-laws after her child was born. A girl who has never rode a bicycle before, now drives BMW, Porsche and Mercedes. Her father and brother are also surprised at her grit. Women drivers like Rama Sardar knows she is in a male bastion, but she is not ready to retreat. The female drivers have all the skills needed to be a driver or mechanic, at times better than their male counterparts.
Thanks to Chief Minister Mamata Banerjee's vision to empower women, the State Transport Department gave these women around 1 lakh under the Gatidhara scheme. Pink cabs are pretty common in other countries but in India, Pink App cab is only available in Bangalore. The number of women in workplace is increasing at par with men. Especially, in the field of information technology, women are working in various shifts. In Kolkata recently, there have been many complaints about taxis and app cabs. In many cases, women passengers travelling alone have been subjected to various degree of harassment. Pink cabs might help the city to do away with such crimes and enable women to travel in a safe environment. Simultaneously, this attempt will also help women drivers to earn.