Commuters can access more metro trains from today, Kolkata Metro extends its service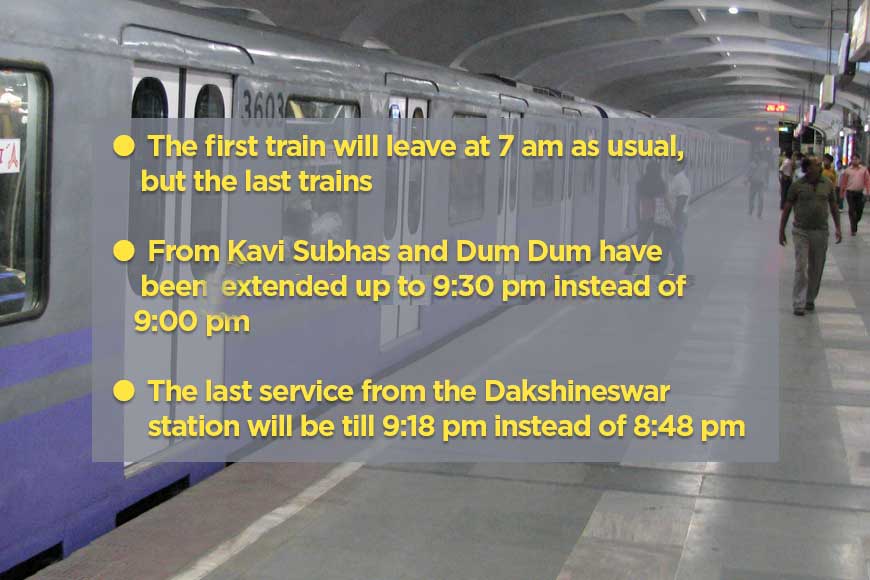 The new covid SOP dated from February 1ST has brought in many eases in restrictions, one of them including the timings and services of Kolkata Metro. From Wednesday, i.e. February 2ND, Metro services have been extended by 30 minutes all seven days of the week on the North-South Line and added six more services to the existing 270.
The Metro services are returning back to its pre-pandemic hustle-bustle and some of the important notable changes are as follows;
i) The first train will leave at 7 am as usual, but the last trains from Kavi Subhas and Dum Dum have been extended up to 9:30 pm instead of 9:00 pm
ii) The last service from the Dakshineswar station will be till 9:18 pm instead of 8:48 pm
iii) For the weekend, there have been no notable changes and the trains would leave as usual at 10 am
iv) The token system resumes after a month of discontinuation
v) Allowance of 70% of commuters instead of 50% according to the former SOP

The relaxation in the metro services brings huge relief to the daily commuters. Debi Naskar, a daily commuter stated, "Tokens are extremely convenient and cheap. I bought one when I came to know that they are available again." Another commuter exclaimed a huge sigh of relief and said, "Covid cases are down now. Thank goodness that city's lifeline is also returning to its normal operations." The footfall also increased with infrequent commuters using the metro now that the token system is back in operation.
With covid cases increasing in the first weeks of January, the Kolkata Metro services withdrew the token system, allowing only smart cardholders to ride, and reduced the weekday operation hours from 9:30 pm to 9:00 pm along the North-South stretch, the lifeline of the city's transport. This resulted in the volume of commuters dipping, carrying about 2 lakhs fewer people just as the government intended.
As things have started opening up, we still need to maintain all the covid protocols and wear mask at public places, till everything goes back to the new-normal again!