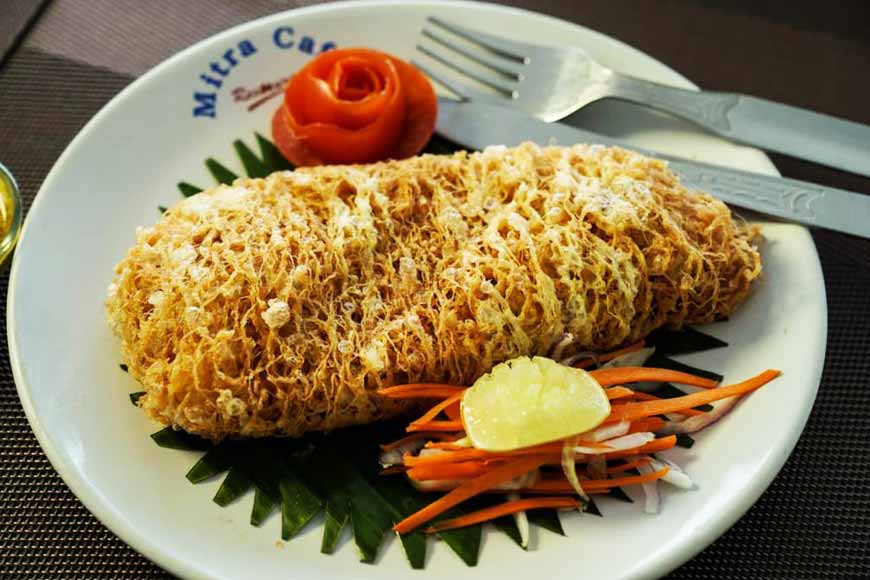 Fish Kabiraji, an exotic Bengali delicacy - Image Courtesy : https://mitracafe.co.in
Durga Puja in Bengal, especially Kolkata, has a flavor, essence and life of its own! For anyone who has lived in Kolkata for a long, Durga Puja is more than just a religious affair. The five days of celebrations are a heady mix of food, love, culture and a good dose of lively chaos. The culinary scene is a melting pot of flavors and influences, reflecting the city's diverse heritage. From mouthwatering street food to lavish traditional dishes, the city offers a gastronomic delight for food enthusiasts. In this section, we will serve you a selection of delectable delights from iconic eateries of the city that you can prepare at home during the Pujas and surprise your family and friends with your culinary skills.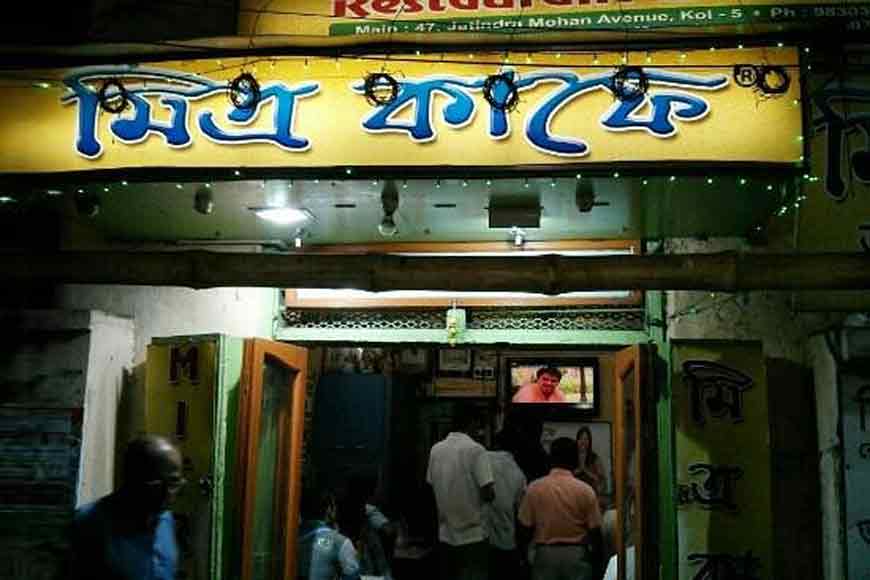 Mitra Cafe, Shobha Bazar, Kolkata - Image Courtesy : https://mitracafe.co.in
Kolkatans' partiality towards fried goodies is well known and the city has a vast array of traditional succulent crispy 'telebhaja's to chops, 'devils', and fish/mutton/chicken/egg fries to satiate the cravings of gourmets. A few legendary old-fashioned cafes of yore continue to dish out the most delicious fries to city gastronomes. We are all familiar with the crispy fish fry or cutlet. It was once given a twist in the form of additional light and crackling fried egg mesh and lo ponto! Fish Kabiraji was born. This recipe dates back to the British era when some nameless chef (traditionally called a bawarchi or khansama) got an idea from the British iconic fish and chips and then worked to innovate and prepare a recipe just like theirs that came to be known as the coverage cutlet aka Kabiraji cutlet recipe. The century-old Mitra Café's name is synonymous with this iconic dish.

Established in 1920 by Sushil Roy on a plot gifted to him by his friend Ganesh Mitra, Mitra Cafe has steadily gained a vast following with its impressive variety of mouth-watering savouries and has been reigning over the culinary scene in Kolkata. There is a wide variety of edibles with a myriad of flavours in fish, mutton and chicken to choose from. The café's signature item is the kabiraji cutlet and the most sought-after dish by foodies. Now you can experience the same Mitra Cafe style Fish Kabiraji at your home with the recipe using the right ingredients.
Mitra Café style Fish Kabiraji recipe:
Use this recipe to make scrumptious Fish Kabiraji. The amounts listed here are estimates that can be altered to suit your tastes.
Ingredients
• Fish fillets (Boneless)- The main component in Fish Kabiraji is boneless fish fillets. Bekti or basa fish is used for the dish because of their mild and delicate flavor.
• Ginger-Garlic Paste- Garlic and ginger are combined to make a paste. When used to marinate fish, this paste imparts a strong, aromatic flavor that enhances the fish's flavor. Also add lemon juice, coriander, and green chili paste.
• Red chili powder- The red chili powder adds a fiery kick to the marinated fish.
• Turmeric Powder- With its vivid yellow color, turmeric powder adds a warm, earthy flavor.
• Garam Masala- A mixture of several aromatic ground spices is added with the other ingredients.
• Salt- Salt is a crucial component in seasoning the fish and enhancing its flavor.
• Make a mixture of finely chopped onions, chilies and coriander leaves.
• Eggs- Eggs are used to make the lacy net-like coating and the marinated fish coating.
• Refined flour (Maida) - A thick batter is made with refined flour, cornstarch and other binding items to coat the fish before frying.
• Bread crumbs
• Oil- Fish cutlets are deep-fried in oil to make them crispy and golden-brown on the outside and tender and moist on the inside.
Process
• Clean the fish fillets and dry them gently with a paper towel. Mix the fish in a bowl with ginger-garlic paste, salt, turmeric powder, red chili powder, and garam masala. Leave the marinated fillets for at least 30 minutes to absorb the flavors.
• Beat 4 whole eggs
• Mix refined flour, cornstarch, baking powder, and a dash of salt in another large bowl. Create a smooth, lump-free batter with a consistency similar to pancakes by stirring in the water gradually.
• Make sure the marinated fillets are evenly coated before frying them.
• Dip each fillet into the egg mixture
• Roll it over the mixture of chopped onions, chillies and coriander leaves
• Further roll over the bread crumbs
• Pack it tightly into cutlet shapes
• Over medium heat, preheat the oil in a deep frying pan. Carefully drop the coated fish fillets in the oil. Fry them in batches until golden and crispy. Take them out from the wok and put them in paper towels.
• Beat the eggs with cornstarch and salt
• With the help of a sieve, drop the eggs into hot oil creating a crispy net. Cover your cutlet with this net carefully.
• After the cutlets are enmeshed, take them out and place them on paper towels to absorb any remaining oil.
Your Mitra Café style fish kabiraji is now ready to be served. Pair it with freshly cut onion julienne, finely chopped cucumber, and mustard or tomato sauce.
Happy cooking!