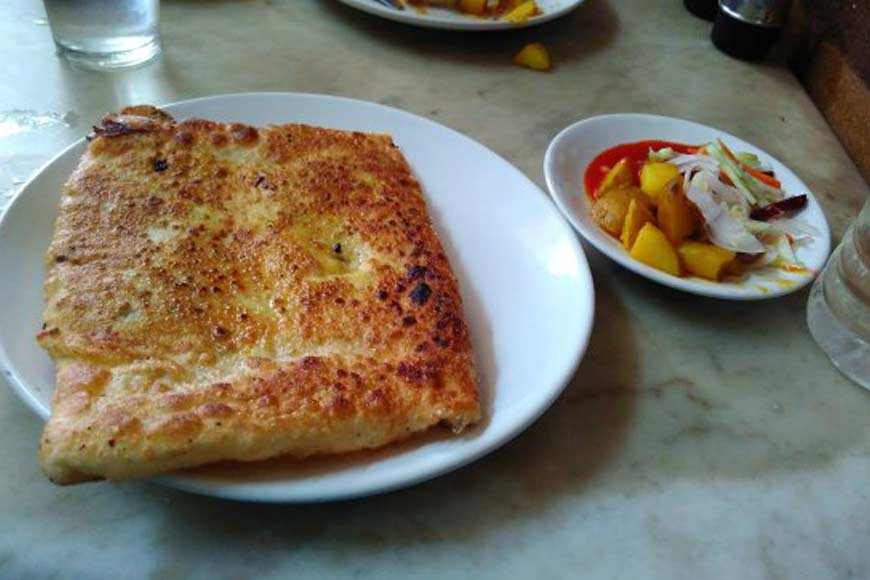 Ma Durga's arrival on Earth heralds a season of festivities like no other in West Bengal and adjoining states in eastern India. Food takes precedence in homes and streets and is one of the best ways to experience this annual festival. Today we will share the recipe of Mughlai paratha, an iconic dish that is synonymous with the nonagenarian Anadi Cabin on S.N. Banerjee Road. This heritage eatery started its journey in 1925 when an enterprising man named Balaram Jena opened the small shop in memory of his deceased son, Anadi. Generations of Kolkatans have stepped into the cabin to savour its delicious 'mughlai parathas'. This Durga Puja, you can try your hands at making this scrumptious Kolkata-special iconic item at home and astonish your family and friends.
Mughlai paratha is originally a deep-fried crispy Indian bread made with refined flour (maida) stuffed with egg or keema (minced meat), crushed peanuts, raisins, finely chopped carrots and green chilies, all whisked into freshly cracked eggs. The dough, with the stuffing enveloped inside, is then shallow fried in vegetable oil and served hot. Anadi is famous for duck egg Mughlai paratha that is served with the traditional, lightly spiced, cubed potato curry, the mandatory salad comprising sliced cucumber, carrot, beetroot, onion, and tomato ketchup. Vegetarians can replace eggs with paneer, mashed potatoes (aloo), and spice-tossed veggies.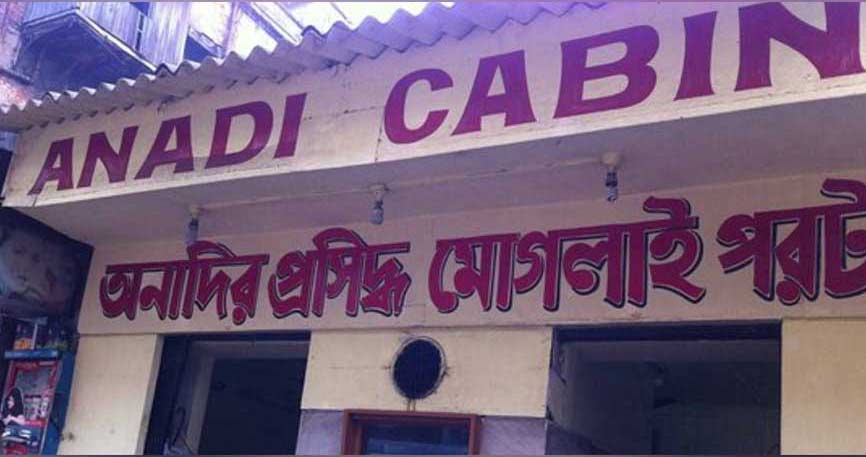 Ingredients
For making dough
• 2 cups Maida or All-purpose flour
• 3/4 tsp Salt
• 1/2 tsp Sugar
• 1/8 tsp Baking soda
• 2+1/2 tbsp Vegetable oil
• 3/4 cup of Water
Condiments required for Mughlai paratha
• 1 medium Onion (finely chopped)
• 3/4 tsp Ginger (paste)
• 1/2 tsp Turmeric powder + 1/2 tsp Chili powder
• 3/4 tsp Garam masala
• 1/2 tsp Black pepper+ 1/2 tsp Black salt
• 3/4 cup Breadcrumbs
• 2 tbsp Vegetable oil
• Egg paratha stuffing (for each)
• 4 Eggs (preferably duck eggs)
• 3-4 tbsp Chopped Onion
• 1-2 pcs Chopped Green chilies
• 2+1/2 tbsp Mughlai paratha masala
Preparing the dough
• To make mughlai paratha dough, first, sieve 2 cups of all-purpose flour (maida) or wheat flour, and keep it in a mixing bowl.
• Add 3/4 tsp salt, 1/2 tsp sugar, and 1/8 tsp baking soda to the flour. Mix it well.
• Add 2 tbsp vegetable oil to the mixture and mix it nicely with your fingertips until it turns crumbly.
• Slowly add water to the mixture and make a soft dough.
• Lastly, grease the dough with 1/2 tbsp of vegetable oil.
• Then cover the dough with a damp cloth or cover with a plate. Leave it for 15-20 minutes.
Making Mughlai paratha spices,
• Heat a pan with 2 tbsp vegetable oil.
• Once the oil starts smoking, add 1 medium-sized finely chopped onion to it and sauté it.
• Add 3/4 tsp ginger paste to the pan and mix it nicely with onion.
• Add 1/2 tsp turmeric powder and 1/2 tsp chili powder to it.
• Add 1/2 tsp rock salt and 1/2 tsp black pepper powder.
• Finally, add 3/4 tsp garam masala powder and sauté.
• When the spices are sautéed well then add 1/2 cup of water.
• Cook it until the moisture evaporates. Add breadcrumbs (approximately 90 grams) to it. Mix well.
• Stir the spices until it turns a nice brown colour.
Preparation of egg stuffing
• For making egg stuffing for each mughlai paratha, take 3-4 tbsp chopped onion, 1-2 green chilies (as per taste), and 1 medium-sized egg in a mixing bowl.
• Add 1/8 tsp salt and beat it well together.
• Lastly, add 2+1/2 tbsp of mughlai paratha spices, mix it well and the egg stuffing is ready.
To assemble mughlai paratha
• To assemble the parathas, first, take out the dough and divide it into four equal parts.
• Grease the rolling board or kitchen table.
• Take a ball of dough and roll it to turn it into a little thin bigger flatbread almost rectangular in shape.
• Put the egg stuffing on the center of this thin flatbread and spread it slightly.
• First, fold it lengthwise and take both sides in the middle of this flatbread. Then fold the rest of its two sides one after one like an envelope.
Fry the parathas
• For deep frying mughlai parathas, take a wide deep fry pan or a flat pan or tawa for shallow fry.
• Place it on medium heat, and add a generous amount of oil (for deep frying).
• When the oil is hot, put one paratha at a time into the hot oil and fry.
• Flip it when one side is fried and has a nice golden colour.
• Continue the process of frying until both sides turn crispy and golden brown like a puff pastry.
• Remove it from the oil and place it on a paper towel to soak the excess oil.

How to make potato curry (aloo tarkari) to serve with mughlai paratha
• Take three medium-sized potatoes, wash them, peel them and cut them into cubes.
• Heat a pan on medium flame with 3-4 tbsp vegetable oil, and fry the potatoes until they turn golden. Remove the potatoes from the pan.
• Heat some more oil and add 1 tsp garlic and 1/2 tsp ginger paste along with 2-3 green chilies paste to the pan.
• Add 1/2 tsp turmeric, 1/2 tsp red chili powder, and 1/2 tsp black pepper powder to it.
• Lastly, add 1/2 tsp of roasted cumin powder (bhaja jeere guro) and sauté well.
• Add 1/2 cup of water to the fried spiuces. When the water starts boiling, add the fried potatoes and mix.
• Cook the potatoes by covering the lid. When the water evaporates, add the garam masala powder and mix it.
• If the potatoes are not fully cooked, then add some more water (about 1/4 cup) and bring it to a boil.
• Once the gravy starts boiling, slow down the heat and cover it with a tight lid.
• When the potatoes are completely cooked, add 1/2 tsp rock salt, mix it well, let the curry simmer until the gravy thickens.
Anadi Cabin-style egg-stuffed Mughlai paratha (moglai porota) is ready; enjoy it with aloo tarkari, salad and tomato ketchup. You can cook this dish for breakfast or an evening snack and rest assured, your labour of love will not go in vain and you will be showered with compliments. Bon appetite and Happy Pujas!