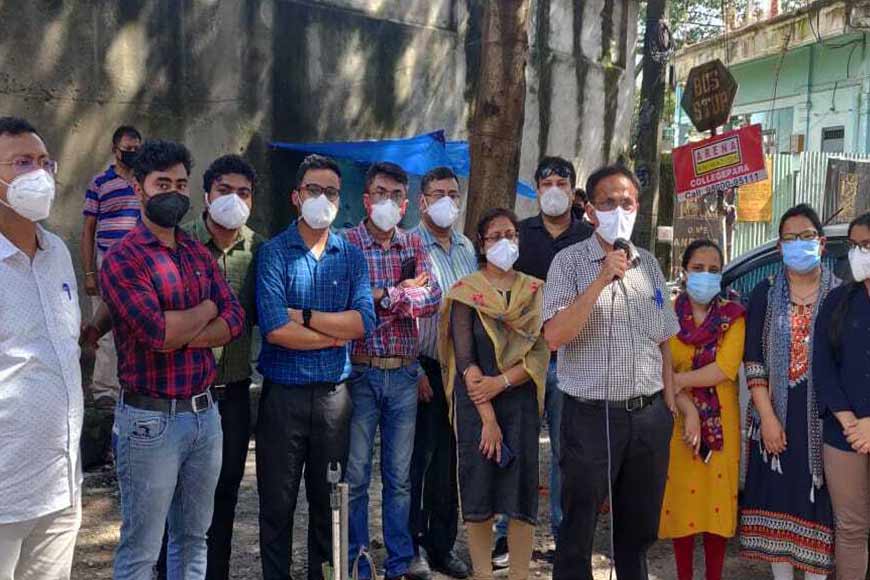 Dr. Abhijit Choudhury briefing about Covid Care Network
The news came… and a disturbing one… a homeless COVID suspect was lying near Sobhabazar. His family and employer had abandoned him and he was lying on the footpath without any medical help. Does it sound like the plague scene from Sarat Chandra Chattopadhyay's novel Srikanto? Well, even after a century, humans do still behave inhuman, fearing they will contract COVID-19, the highly transmissible virus. The stigma attached to plague and COVID-19 seem to be similar. But just like Srikanto and Indranath had rushed to attend to plague patients not fearing about their lives, so is a group of COVID survivors and COVID associates (who have handled such patients in their immediate families) of Kolkata are serving citizens completely free of cost. They have formed an organization called Covid Care Network (CCN) that is turning a messiah for hundreds of hapless COVID patients, who have none to attend.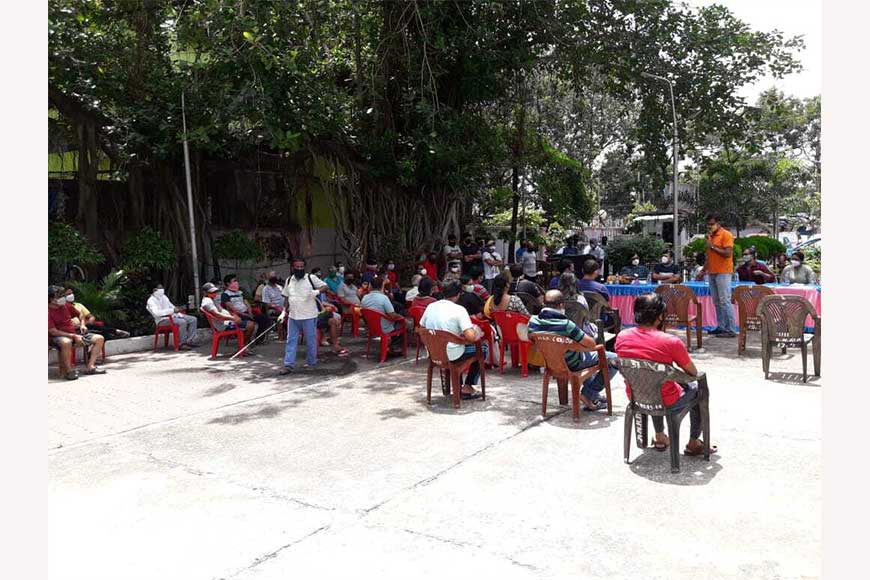 A meeting
Like the above. Within hours of getting a distress call, CCN arranged for an ambulance, and took the person to the emergency ward of MR Bangur Hospital. The person has tested negative, but has TB. This also opens up an irony, of how non-COVID patients with similar symptoms are also being ostracized. Hence, the motto of CCN is to be more human and stand beside those in need during these extraordinary circumstances. It includes well-known doctors, mountaineers, models and even students and musicians. The voluntary work is completely free of cost.
Satyarup, during his mountaineering phase has been interacting with uncertainty in each step of his journey upwards which has made him resilient and helped him in his pursuit to brave the pandemic and stand beside the affected.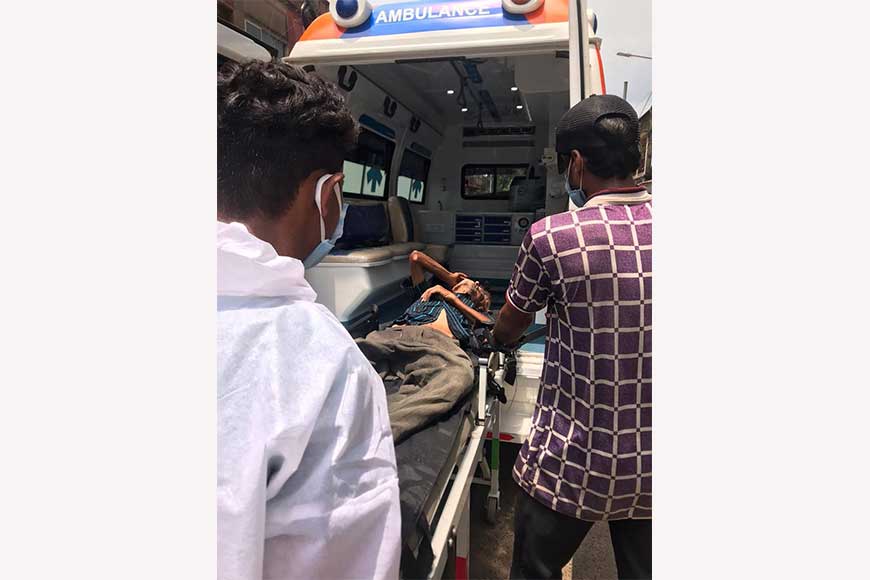 Emergency rescue
As mountaineer Satyarup Siddhanta, who had spent most of his life scaling the highest peaks of the world and setting records is part of CCN and thought of setting it up with others after his maternal uncle tested positive and the family had a harrowing time arranging for his medicines and hospitalization. So did model Madabilata, whose mother was turned out of a well-known private hospital in South Kolkata in the middle of the night after she tested positive. The group thus consists of those who have gone through such issues and is ready to share their experience and expertise, so that others do not suffer the same fate.
You can reach Covid Care Network at the following-
Covid Care Network Office address :
Chatterjee International Centre, 16th Floor, Room No, 33A,
12, Jawaharlal Nehru Road, Kolkata, West Bengal 700071
@covidcarenetwork
helpline@covidcarenetwork.org
Call 24/7 Helpline
1800-889-1819
"I had gone to discuss this with Dr Yogiraj Roy of Beliaghata ID Hospital and later he connected me to Dr Abhijit Chowdhury of Liver Foundation, who was also thinking of setting up such a group. Many well-known doctors have now come forward. And our service is completely free of cost and will remain so as we wish to do voluntary social work during these times,' said Satyarup.
CCN runs several important services. First is counseling patients and their families from a social angle and holding webinars and tele-counseling. Next, they have consulting that also includes home care service, where they will send an Oxymeter that is returnable and dedicated doctors will tele-conference or video conference with the patients, again free of cost. 'This is possible for mild cases and if there are early warnings, doctors will ask patients to be hospitalized and we shall also give them information on various COVID hospitals and how to get admitted,' added Satyarup.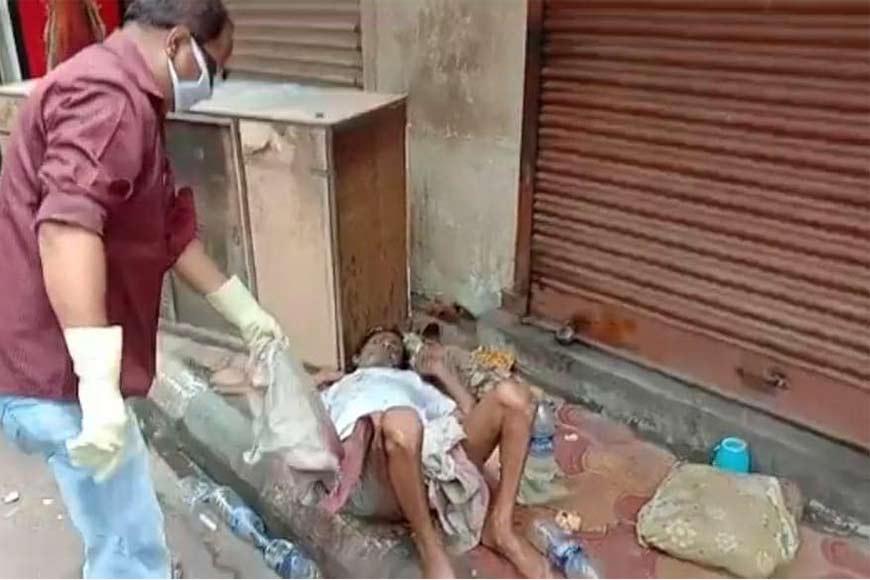 Lending a helping hand
The team fights it together, as they believe it is not possible for one single person to do the work, or even for one single NGO. The society needs to fight it out together. Satyarup, during his mountaineering phase has been interacting with uncertainty in each step of his journey upwards which has made him resilient and helped him in his pursuit to brave the pandemic and stand beside the affected.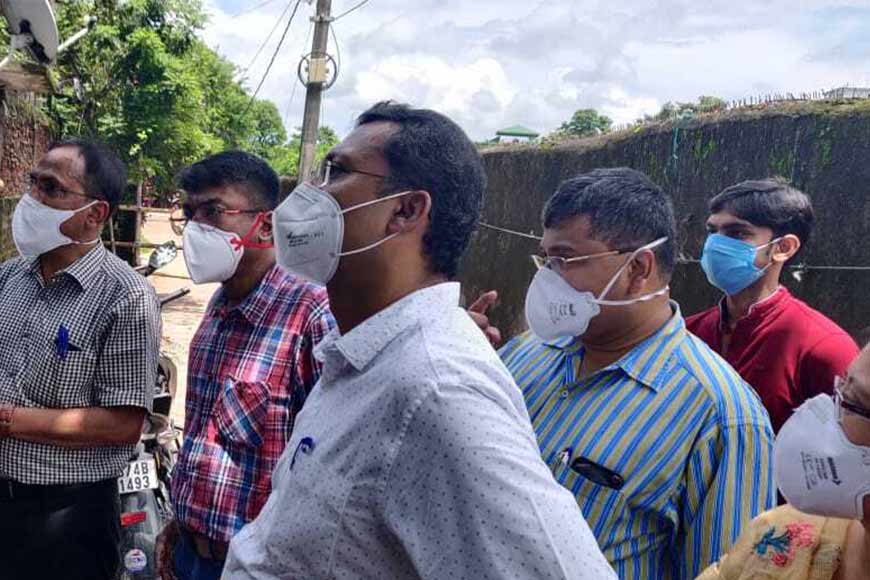 Visit to an affected house by the team
CCN works to improve access to care and psycho-social support of COVID-19 infected people and their family members through participatory, collective, coordinated actions by Covid winners and associates. It helps to allay anxiety, fear, stigma and ostracization related to COVID-19 infection existing in different social crevices, through a coordinated effort of dissemination of scientific information and re-aligning of myths. This they do through virtual platforms. But the most important part is reaching out to COVID-19 infected as early as possible, starting with receiving the news of someone distressed through their 24x7 helpline and volunteers. Expert doctors on call provide advice, including medical support for COVID-19 patients in Home Isolation facilities, through periodic contacts and monitoring. Or even risk stratifying an individual, based on algorithms to assess need for urgent or early hospital care and early identification of the co-morbid patients before they become seriously unwell.