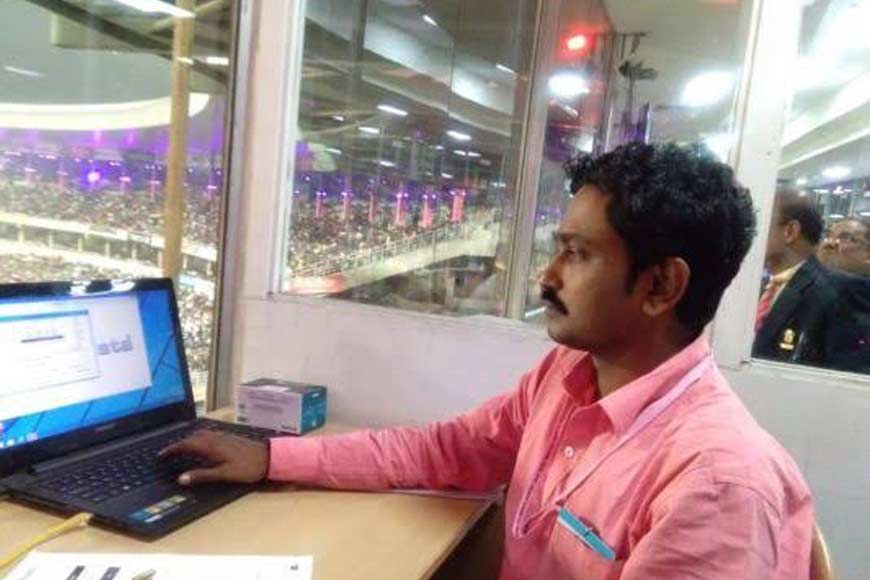 As the global cricketing fraternity is gearing up for the commencement of the remaining matches of 2021 Indian Premier League's 14th edition to be held at UAE from September 19, the Panti family of Bongaon in North 24 Parganas is waiting with trepidation as their son, Tanay Panti, will be accompanying the IPL teams to UAE as scorer.
Tanay and his family live adjacent to Bongaon Stadium's Gate Number 3. Since childhood Tanay has been a cricket enthusiast and always wanted to be a professional cricketer. But his daily wage earner father, Jeebon Panti did not have the resources to sponsor his son's dream career. His mother Reba is a homemaker. The couple has four children and Tanay is their second son. Although Tanay did not make it to the Indian squad as cricketer, he still managed to reserve a berth in the national team in an unconventional role – scorer. The 32-year-old scorer will be rubbing shoulders with the likes of Virat Kohli, Karun Nair, Steve Smith, Glenn Maxwell, Pat Cummins and Rohit Sharma among others on the cricket grounds of Dubai.
Scoring in cricket matches involve two elements – the number of runs scored and the number of wickets lost by each team. The scorer is someone appointed to record all runs scored, all wickets taken and, where appropriate, the number of overs bowled. In professional games, in compliance with the Laws of Cricket, two scorers are appointed, most often one provided by each team. While the scorers' role is clearly defined under the 'Laws of Cricket' to be merely the recording of runs, wickets and overs, and the constant checking of the accuracy of their records with each other and with the umpires, in practice a modern scorer's role is complicated by other requirements. For instance, cricket authorities often require information about matters such as the rate at which teams bowled their overs. The media also ask to be notified of records, statistics and averages. For many important matches, unofficial scorers keep tally for the broadcast commentators and newspaper journalists allowing the official scorers to concentrate undisturbed.

Tanay is a professional electronic scoreboard monitor. He has also been inducted in the Indian contingent as scorer for the upcoming World Cup to be hosted by Board of Control for Cricket in India (BCCI) from October 17 to November 14, 2021, in the UAE and Oman. Tanay had been to UAE as a scorer for the IPL matches last year and had completed his assignment with competence. This year he has been shortlisted for shouldering greater responsibility and he will be maintaining scoreboards during the T-20 World Cup.
Tanay's cash-strapped family could not provide him the support to fulfill his dream but his passion for the game remained unaltered. From the tender age of 14, he became a regular figure at Bongaon's cricket field as scorer for different local teams. He had been a district-level cricket match scorer for a long time and made a name for himself in his chosen sphere. He caught the attention of well-known veteran scorer of Cricket Association of Bengal (CAB), Goutam Roy. Roy advised him to relocate to Kolkata and hone his skills here. Tanay did as he was told and completed his coaching from CAB under the watchful eyes of his mentor, Roy. He took the official scorers' test conducted by CAB and emerged victorious. Soon he was inducted in CAB as official scorer. His passion for cricket finally got him close to the cricket field and cricketers professionally.
Initially, he worked as scorer for the various cricketing tournaments organized by CAB in the state and rose in rank to become a scorer in the IPL matches. Last year, for the first time in his career he went abroad as IPL match scorer and this time too, he will be a scorer during the IPL matches. Last year, 'Dada' Sourav Ganguly patted his back during one of the IPL matches and encouraged him to carry on. Ganguly's words of encouragement boosted Tanay's professional commitment and his urge to excel.
Tanay has set his sights on a higher plane. After the T-20 World Cup culminates in November, he will return home and prepare for the Indian Control Scoring examination. If he can crack the exam, he will be eligible to become a Board of Control for Cricket in India (BCCI) scorer. The BCCI is the governing body for cricket in India and is under the jurisdiction of Ministry of Youth Affairs and Sports, Government of India. This will raise his remuneration considerably and help him alleviate the financial condition of his family. Tanay aims high and challenges himself to beat his previous track record and the boy succeeds every time and this time too, will not be an exception for sure.