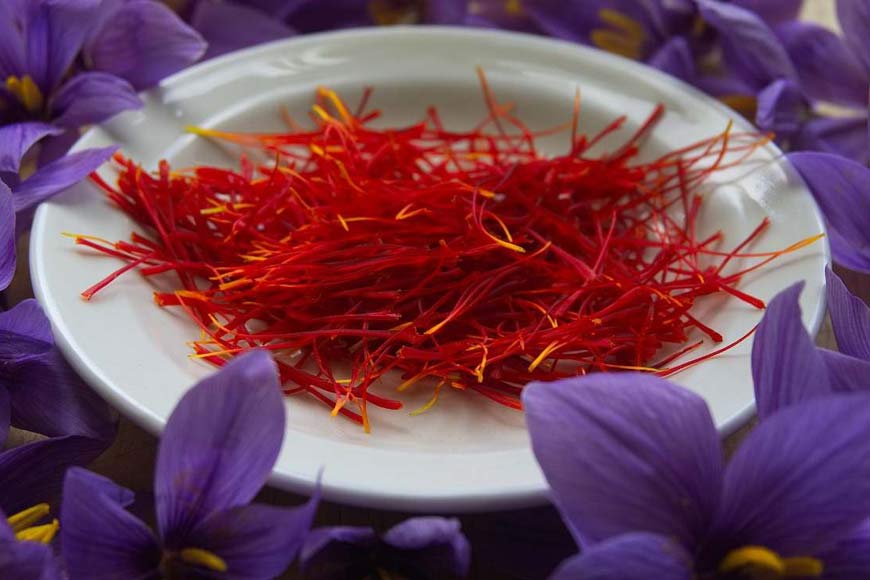 When the aroma of exotic kesar (saffron) spice mix, subtle rose (gulab), and oh-so-tender lamb meat emanates from the handi (container), you invariably imagine being transported into the exclusive gourmet world of biryani cooked in the royal Awadhi dum-pukht style for the nawabs. The x-factor that adds flavour to this mildly spiced biryani is kesar (saffron). Yes, for ages, this expensive spice has been used to bring aroma, colour, and taste to a dish. For the same reason, saffron has been used in dishes like biryanis, exotic sweetmeats, and curries. Different cuisines around the world use saffron for its distinguished colour and aroma. It forms the backbone of several iconic dishes from around the world such as the Spanish rice, meat, and seafood dish Paella, the French stew Bouillabaisse, Italian rice dish Risotto Milanese, Kesar Kulfi ice cream and baked Iranian rice Tachin (just to name a few). Saffron is synonymous with luxury.
Saffron comes from the flower of Crocus sativus (also known as saffron crocus). Most historians assume it was first cultivated in Iran, but southwestern Greek islands remain strong contenders. Traders, conquerors, and world explorers introduced saffron to China, India, and the Middle East. From there, it traveled to Mediterranean Europe. At present, Iran, Greece, Morocco, India, Spain, and Italy are the world's top saffron producers.
Saffron, as we know it today, cannot be produced without human intervention. The seeds produced by its flowers are sterile, making natural pollination impossible. The plant reproduces asexually via vegetative propagation. Cultivation is done through corms, which are bulb-like stems that grow under the soil. Corms are sowed in summer and the saffron crocus flowers are ready to be harvested in mid to late autumn. The extremely delicate flowers have to be harvested by hand, before or immediately after sunrise so that they are not damaged by direct heat from the sun. Saffron is a highly laborious crop, requiring lots of meticulous work and manual operations.
Each flower produces only 3 stigmas. Once the flowers have been harvested, their stigmas must be plucked and dried for around 12 hours. It takes between 15,000-16,000 flowers to produce 1 kilogram of saffron spice. In terms of labour, producing this amount takes 370–470 hours! It is this labour-intensive harvesting process that makes saffron so expensive.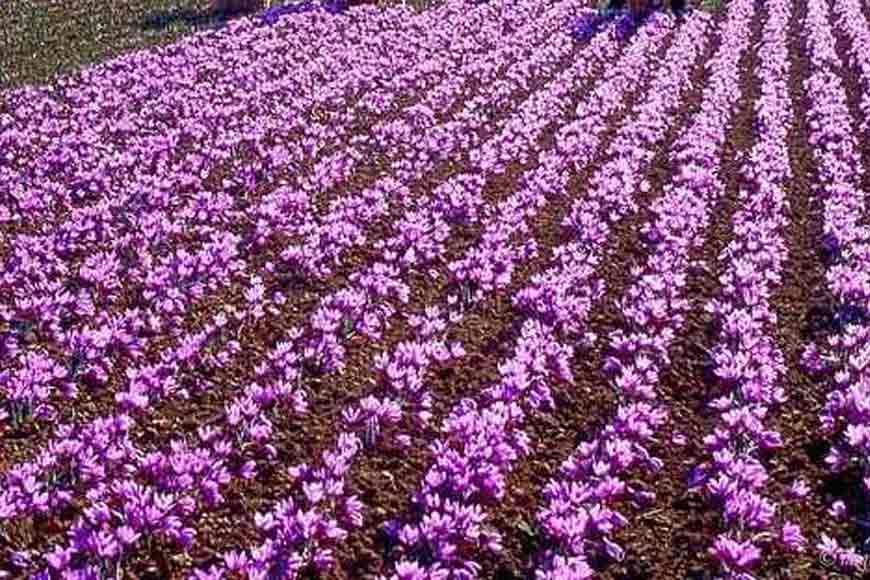 Since saffron is the most expensive crop throughout the world, its commercial cultivation helps boost the economy of a country to a great extent. Agriculture is considered to be the backbone of the Indian economy, contributing to about 18 percent of the Gross Domestic Product (GDP) and 43 percent of the geographical area. Hence there is a great need for maximizing the economic potential of agriculture. This can be achieved by improving the cultivation of economically potent crops like saffron. Saffron cultivation can help boost the economy of a country like India to a great extent.
Available data shows that the economies of nations such as Afghanistan and Italy have been immensely benefited by saffron cultivation. The largest and the best quality saffron-producing area, Herat, has generated more than US $ 2.6 billion by increasing the land under saffron cultivation by 21 percent to 6200 hectares. The world production of saffron is estimated to be more than 200 metric tons annually. The chief producers of the crop are Iran, Afghanistan, India, Spain, Italy, and Greece. However, some countries are experiencing a sudden decline in the production of the crop such as Spain, Italy, Greece, and India. This makes Iran one of the lead producers of the crop, estimated to provide 90 percent of the world's saffron.
There has been a steady decline in the cultivation of saffron in India due to numerous factors. The production of saffron decreased to 5.91 tons in 2019, from 9.85 MT in 2011. Amid such a scenario, scientists of Uttar Banga Krishi Vishwavidalaya (UBKV) Cooch Behar, under the aegis of Dr. Ahok Saha, Professor of Agronomy, have been working on a pilot project to cultivate saffron in the Darjeeling Hills and now the scheme has yielded desired results. Good quality saffron—whose cultivation in the country is usually limited to a few parts of Jammu and Kashmir—was grown at Lebong Valley near Darjeeling town. As per the experts, if everything goes well, saffron could become the most sought-after cash crop in the Darjeeling Hills, thereby changing the entire economic scenario.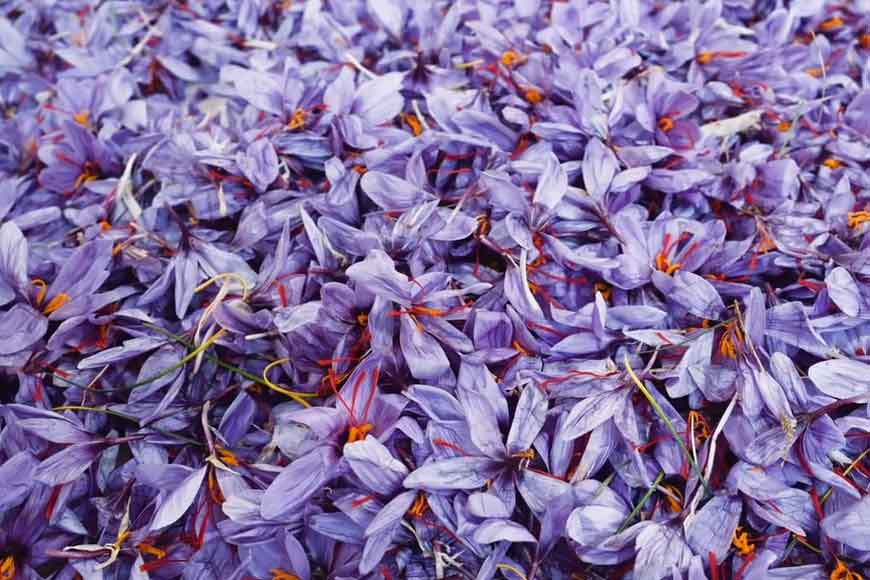 In the domestic market itself, the annual requirement of saffron is about 100 tonnes, whereas India produces five to six tonnes only and the rest has to be imported.
In 2021, Dr. Saha selected seven places of different altitudes in the Darjeeling Hills and planted saffron corms (a bulb-like structure from which the plant grows). These places included Tumling (9600 ft), Maneybhanjyang (7053 ft), Batasia (around 6850 ft), Darjeeling town (6709 ft), and Lebong Valley (5900 ft.) The team visited all the spots this year between September 15 and 20. The plants had not flowered in any of the locations, except at Lebong valley near Darjeeling town. Dr. Saha's team had planted 10 corms at Lebong on two very small plots, measuring 1m X 1.5m each and members of the team were overjoyed when they got around 42 flowers from those 10 corms.

Incidentally, the stigma of the flower is used as the spice. Anything above 2cm in size of the stigma is considered a good quality spice and the flowers grown at Lebong have 2.5 cm sized stigmas. This year, more corms have been planted in the Ambotia area in Kurseong. The corms are usually planted in September. The flowers bloom in October. The plants do not need much care. However, it has to be ensured that there is no stagnation of water. Weeding is also important to ensure that growth is not restricted.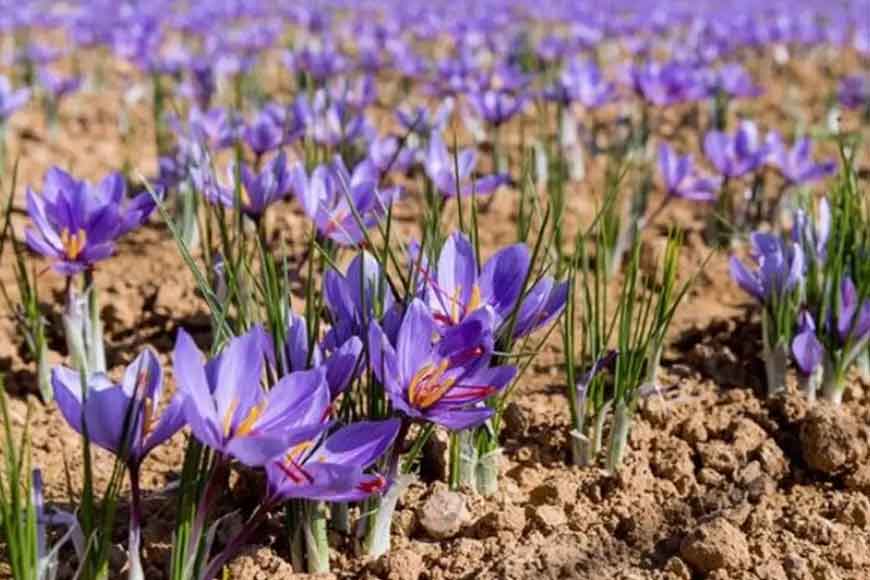 Usually, orange, ginger, and cardamom are the main cash crops of Darjeeling. However, over the last few years, the yield of oranges has gone down drastically owing to parasitic attacks. Hence, saffron can be the most lucrative cash crop that could change the economic scenario of Darjeeling hills. Kashmir saffron sells between Rs 400 to Rs 1000 per gram, depending on grade, quality organic or non-organic. Dr. Saha is upbeat and believes that with the consolidated efforts of the Government of West Bengal, Gorkhaland Territorial Administration, UBKV, and farmers' groups and associations, Darjeeling too can be a part of the global saffron map.