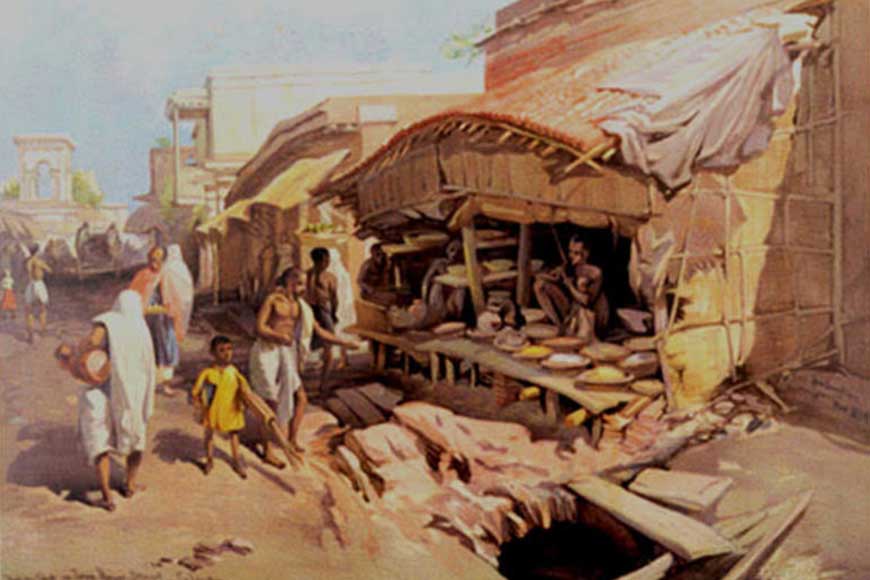 Archaeologists believe Kalikata or Kolkata was an ancient settlement and it was an established trading hub much before the arrival of the Delhi Sultanate, the Mughals, the Portuguese, the French or the British. The city has been inhabited for over two thousand years and its origins date back to the Maurya and Gupta period. The name Kalikata was mentioned even in the rent-roll of the Mughal Emperor, Akbar (1556–1605) and in Manasa-Mangal, a collection of verses by Bengali poet, Bipradas (1495). The history of the city as a British settlement dates from the establishment of a trading post by Job Charnock, an agent of the English East India Company in 1690.
According to existing records in 1706 the population of Calcutta was roughly between 10,000 and 12,000. It increased to nearly 1,20,000 by 1752 and to 1,80,000 by 1821. Two distinct areas—one British, one Indian—came to coexist in Calcutta. With the growing population, clusters of trading hubs or bazaar flourished -- Shovabazar, Baithakkhana Bazar, Baghbazar, Kolootola, Jaanbazar, Mechhua, Haatkhola. Burrabazar (meaning a big market in Bengali) was one such trading centre named after 'Buro', the popular name of Lord Shiva which got distorted to Burrabazar.
Burrabazar was a thriving market, crowded by buyers and sellers from different parts of the country and beyond. Merchants would get yarn and cloth, spices, oil and other daily essentials to the market laden in bullock carts or in small hand-pulled carts. The swarming crowd jostled for space and the market would pulsate with the constant chatter and bargains of the buyers and sellers. Gradually traders from different parts of the country and even abroad were attracted by the possibilities this market offered and began to frequent Burrabazar with their wares. Visitors, travellers and beggars from diversified groups of Persians, Arabs, Jews, Marwaris, Armenians, Madrasis, Sikhs, Turks, Parsis, Chinese, Burmese and Bengalis congregated here.
During this time, there was a well-known shop in the market called 'Dayaram's Pasari.' In those days, there were no signboards to display the name of an establishment yet that did not deter the shop from attaining fame. The year was 1734 when Dayaram Dawn, a resident of Bankura, left his ancestral home and came to Calcutta with his family and the idols of his family's deities to try out his luck in the city. He set up home in Darjipara and his shop at Burrabazar, selling spices. He soon attracted a large crowd of buyers who bought his spices in bulk. Gradually his financial status improved and his small shop became bigger as did his business venture.
Dayaram climbed considerably in social status and initiated Durga Puja in his home. A couple of generations later, Robert Clive was invited to attend Durga Puja at his house and he complied. Dayaram had two sons of whom, Ramnarayan, the pious one, made millions from the shop. He was a very honest man and popular with the locals. Later, he diversified his business and invested a portion of the profit in coal mining and jute ventures. He handed over the reign of his business ventures to Dharmadas Dawn of the next generation, who took the business to newer heights of success. But the shop is no more. The Dawn family has changed with the times and ventured in myriad other trading and business ventures over generations. And now, all that remains are stories and lores of an enterprising man who dreamt big and turned it into a reality at a time when Kolkata was an emerging town from a village.

Story Tag:
History of Kollkata, Burrabazar, Spice Store