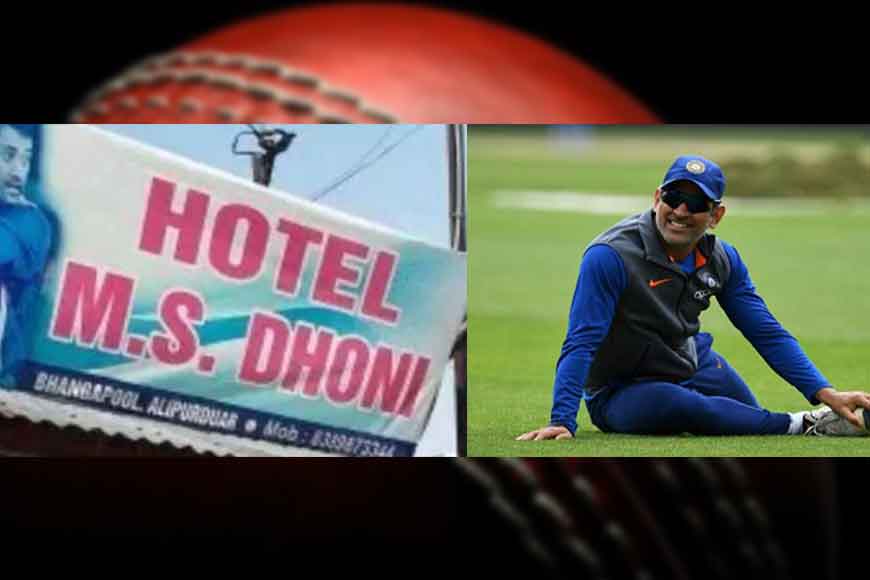 A lot has been said and written about Kolkata and its very own dada, Sourav Ganguly. The madness and love of the Bengali community for Dada has always been unconditional. He belongs to us and he is our 'cricket' man. But what about MS Dhoni? The man who steered India to several victories and one of the most successful captains of India. Are you aware Bengal loves him too? And here is the 'MS Dhoni Hotel' of Alipurduar, where you get a meal free if you are a die-hard fan of Dhoni.
The eatery is also named after this cricket legend. If you drop in and claim you are a Dhoni enthusiast, then owner Sambhu Basu, will serve food for free. The only condition remains: You have to be a true fan of Captain cool of Indian cricket - 'Dhoni'.
Sambhu Basu himself is a die-dard fan of Dhoni and literally eulogizes and hero-worships him. This unfathomable love acted as a major inspiration in his life and led him to come up with this unique eatery that is popularly known as Dhonir hotel in the area. 30-year-old Sambhu is also equally well-known in the area for his madness about Indian cricket and Dhoni. The eatery serves mainly Bengali cuisine throughout the day. The walls are all adorned with several posters validating Sambhu's eternal love and reverence for Dhoni. Sambhu belongs to a humble background but as soon as someone steps into his hotel and starts speaking about his favourite cricketer, his eyes light up and he doesn't charge anything. Instead, he makes sure that he exchanges hugs and handshakes with them. MS Dhoni are you listening?
His love for Dhoni is not only restricted to offering free meals to the fans. Whenever there is a match of India, Shambhu decorates the entire area with national flags. Even Kohli makes sure India shows an impeccable performance, Shambhu expresses his joy by bursting crackers. The Worldcup fever is already at its peak. Even on the day of the India and Australia match, Shambhu decorated Bhangapul area with national flags and watched the match immense enthusiasm.
Shambhu still remembers watching the World Cup final 2011 with his friends on the television. He used to own a tea shop then but had decorated the shop with posters. He still recalls how much he cried that night when the worldcup was handed over to Dhoni. Shambhu hopes to relive the moments of April 2011 even during this world cup.
Dhoni has been the biggest inspiration in Dhoni's life. He claims to have learnt a lot from him. Sambhu wishes to go and watch his cricket matches some day but is aware of the fact that he does not have enough money to make his wish come true. Shambhu also knows that Dhoni is fond of bhat maach. He wishes that if he ever gets to meet Dhoni, he will request him to pay a visit to the humble eatery. He knows the chances of his dream converting into reality are rare. But he is a true fan of Dhoni and his undying spirit will make sure that he keeps his dreams alive in days to come.