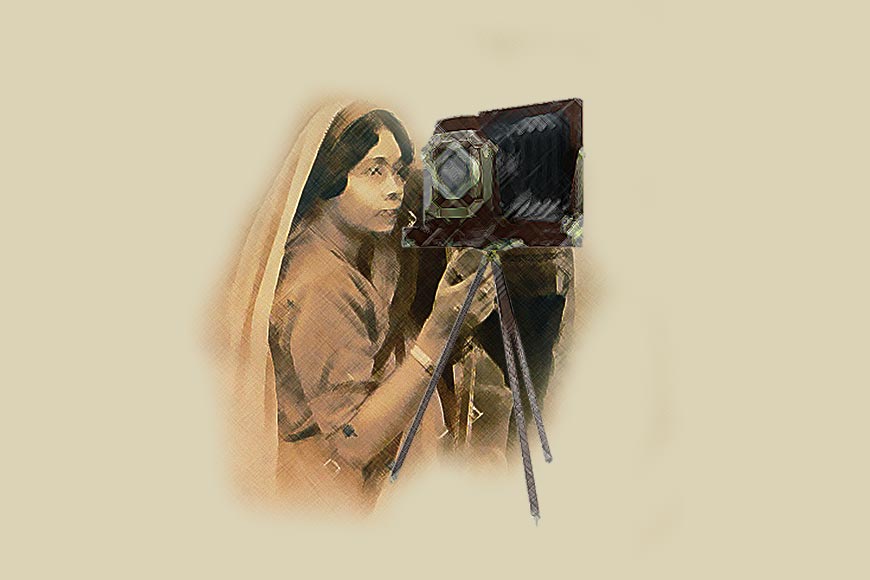 Photography grants people the ability to immortalize moments in time. Those who are passionate about photography, dedicate themselves fully to pursue the hobby. The invention of DSLR (digital single-lens reflex) and smartphones have lured people to take great photographs within a moment's notice. However, before these gadgets came into being, photography was decidedly not an everyday thing. It was much less accessible – a craft reserved for professionals and those who were passionate about capturing moments for eternity. Bengalis had embraced the art of photography way back in the 19th century and there were many well-known Bengali photographers and studios even then.
But not many are aware of female photographers who had taken to photography as naturally and effortlessly as ducks to water. It is quite possible that women photographers came into being to solve the problems of taking pictures of those women who lived behind the purdah. The entire procedure was laborious and cumbersome. Clicking the portrait of an aristocrat lady entailed the services of palanquin bearers who would carry the lady to the photographer's studio. Her companions would then usher her in, show her the chair she was to sit on. The camera would be ready and the photographer would bark instructions to either his wife or young daughter to open the lens. After taking the picture, she would move her hand and close it. The lady's companions would raise the curtain to hide her from the photographer who would then rush in, change the plate, and leave hurriedly. Another photograph would be taken by his lady assistant.
The only way to get rid of this clumsy procedure was to let lady photographers learn photography and be in control of the camera so that ladies in purdah could feel comfortable.
In 1857, the Photographic Society of Bengal held its first annual meeting where 23 photographers enrolled as members of the society; within a year, that number rose to 88 and among them were four women, Mrs. Mayer, Mrs. T. Thompson, and Mrs. C. B. Young.
Mrs. E. Mayer holds the distinction of being the first professional woman photographer in India. She opened a studio at 7, Old Court House Street corner to provide Indian women from noble families to be photographed without fear or concern. In 1864, Mrs. Mayer's studio was shifted to 5, Waterloo Street, Calcutta.
According to the society's journal, Mrs. D. Garrick opened a ladies' only studio on Waterloo Street in 1877, but it closed within a year. In 1892, by Lala Dean Dayal started the Zenana Photographic Studio in Hyderabad. He specified the studio was set up for photographing native ladies only. He made special arrangements to protect their exclusivity -- the studio was surrounded by high walls. Mrs. Kenny-Levick, aided by native female assistants, clicked photographs of the high-born native ladies.
Mrs. Bibi Wince was the next female photographer to appear on the scene. The reformist Brahmo Samaj movement that encouraged spreading of women's education, inspired her to teach Bengali women how to take photographs themselves. The address of her studio on Dalhousie Street along with her name had appeared in Bama Bodhini Patrika in 1885 where she had advertised her intention to teach the nitty-gritty of photography to native women.
The first Indian woman who mastered the art of photography was Maharani Monmohini, wife of Tripura's Maharaja, Birchandra Manikya. The Maharaja himself was an expert photographer and it was under his tutelage that Monmohini learned photography and soon excelled in it.
Jnanadanandini Devi, wife of Rabindranath Tagore's elder brother, Satyendranath Tagore, was an enthusiastic photographer. In Rabindranath's novel, Jogajog, the main characters are enthusiasts of photography. It is believed that Jnanadanandini took pictures of the senior ladies of the Tagore family. It is believed that the existing photographs of Sarada Devi, mother of Rabindranath Tagore, was taken by Jnanadanandini.
The first 19th-century professional lady Bengali photographer who opened her own studio was Sarojini Ghosh. The advertisement for her studio was published in the Amritabazar Patrika, ran thus:
The Mahila Art Studio and Photographic Store, 32 Cornwallis Street, Calcutta
Another Bengali photographer who appeared on the scene in the 1920s was Annapurna Dutta. Although she was not the first professional woman photographer, she was the first to enjoy a long career in photography and to earn her living from it. She was born in 1894. Her father was a professor of philosophy and a writer. When she was 12, Annapurna was married to Upendranath Dutta, a lawyer. Her husband was keen on photography and was a painter who inspired and encouraged Annapurna to get hooked to photography. She began working as a professional photographer between 1930 and 1940. She did not open a studio; rather, she worked from home. She developed, printed, and finished her photographs herself
Mira Chaudhuri and Indira Devi were siblings and both were very competent photographers. Their father, Dr Dwijendralal Maitra was a well-known doctor who was a close associate of Rabindranath Tagore. He worked at the Mayo Hospital and his family quarter within the campus was often visited by stalwarts like composer Atulprasad Sen and Sukumar Ray. Dwijendralal was an expert photographer who encouraged Mira and her sister, Indira, to take up photography. Mira clicked a photograph of Rabindranath which was autographed by him.
The next name in the list is Annapurna Goswami. Annapurna was born in 1916. Her father, Nitishchandra Lahiri, was the general manager of Columbia Pictures and a lawyer. After finishing college at the Victoria Institution, Annapurna married Abanimohun Goswami, who was an assistant surgeon for Eastern Railways.
Annapurna Goswami was not a professional photographer, yet her photographs depict the true picture of Bengal after the Partition. She took pictures of the urban poor, the refugees who had flocked to Calcutta after the Partition and those who built shanty towns beside railway lines. She was also an author and her notable novels are Rai lliner Dharey and Ek Phali Baranda.
Between 1937 and 1940, two sisters, Debalina and Monobina Sen Roy, became known as photographers and their work was regularly published in the Illustrated Weekly. In 1951, the series "Twenty-five Portraits of Rabindranath Tagore" included the work of a lone woman photographer, Monobina. The first photograph under both sisters' names came out in 1937 in the journal Shochitro Bharat.
Several other talented women photographers worked tirelessly in this male-dominated bastion and made their presence felt through their works.