The imposing gothic structure of St Xavier's College (which is also a university now), standing with all its charm must have often impressed you as you zoomed down Park Street in your car. But have you ever wondered if this was the original college that has catered to millions of students down generations? Well, in reality St. Xavier's College was established twice. The first one winded up after a couple of years it was established. The present St. Xavier's College is the second one that was set up later. On October 8, 1834, a group of Jesuit priests landed in Calcutta for the first time. They set up the first St. Xavier's College on Portuguese Church Street on July 1, 1835. In January 1838, the college was shifted to a rented house on Park Street. From there, the college was once again transferred to another rented house on 28, Chowringhee Road in January 1841.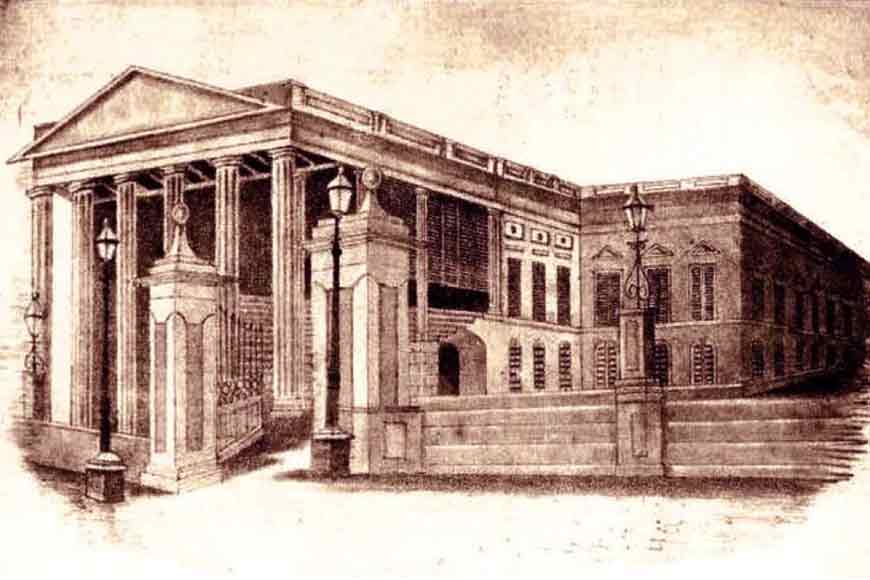 Sans Souci Theatre
Following a rift with the vicar apostolic, Monsieur Karoo, the Jesuit priests closed down the college and went back to their country in October 1846. In September 1849, Monsieur Karoo bought House No 10 and 11 Park Street, which used to be the Sans Souci Theatre until a fire in 1843 burnt it to the ground. It is here that the present-day campus stands. The present site of the college at 30, Park Street is an amalgamation of House Numbers 10 and 11.
The very next month, Karoo relocated St John's College, that he had established in the garden house at Entally to the new building on Park Street. On November 2, 1885, Karoo died in Calcutta and that very year St John's College shut down. Belgian Jesuit priests were requested to return to Calcutta and hold the reigns of the philanthropic work at the college and continue to run it. They agreed to return and in 1859, a batch of Belgian Jesuit priests arrived in Calcutta. The next year, on January 16, 1860, they set up St. Xavier's College. There is another version of the story though. Apparently, St. John's College did not close down in 1855. It was functioning somehow after it was relocated to its new premises. On January 16, 1860, the Belgian Jesuit priests renamed it St. Xavier's College. If that is the correct version, then the previous St Xavier's College and the new one are two different institutions.