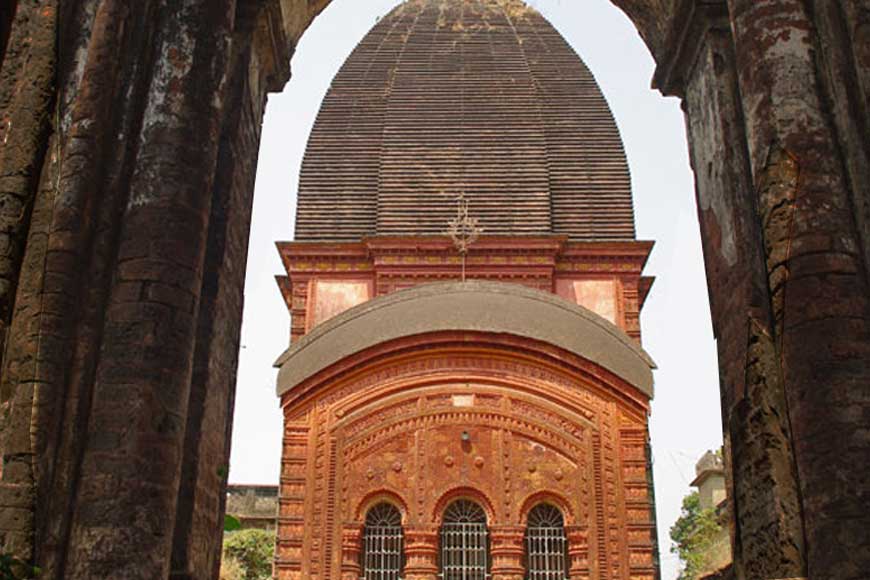 As you get dropped at the Shibtala bus stand of Burdwan, not only green fields will soothe your tired urban eyes, but a unique display of historical Shiva temples will attract your attention. Raised on a single platform, the rows of Shiva temples bear the signs of Bengal's famous aatchala architecture, where eight sloped roofs are present. The central courtyard or dol mancha and exquisite terracotta designs on the temples will leave you in awe. A marble plaque on a false doorway indicates these temples were built in the Bengali circa 1283.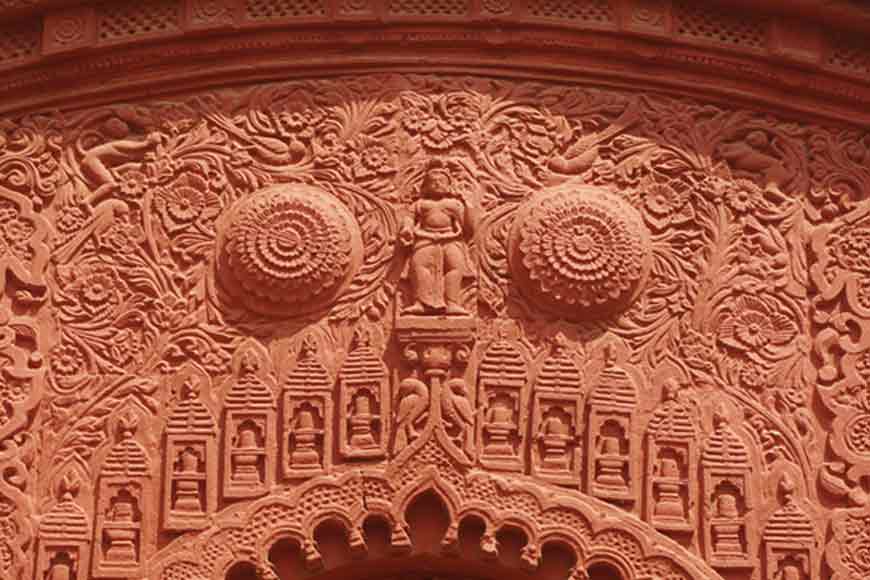 Floral motifs on terracotta wall
If you are done with these temples, a bigger wonder awaits you in nearby Debipur. A narrow road to the left of the dol mancha will lead you to the famous 60-ft high Lakshmi Janardhan Temple of Debipur. The temple is well-maintained with an ornate gateway. The gigantic temple towers above and is made in the rekh deul architectural style of Orissa. 'Deul' usually refers to a temple with a towering spire while rekh are the horizontal markings on the spire. However, the temple also has signs of Bengal's Do Chala architecture.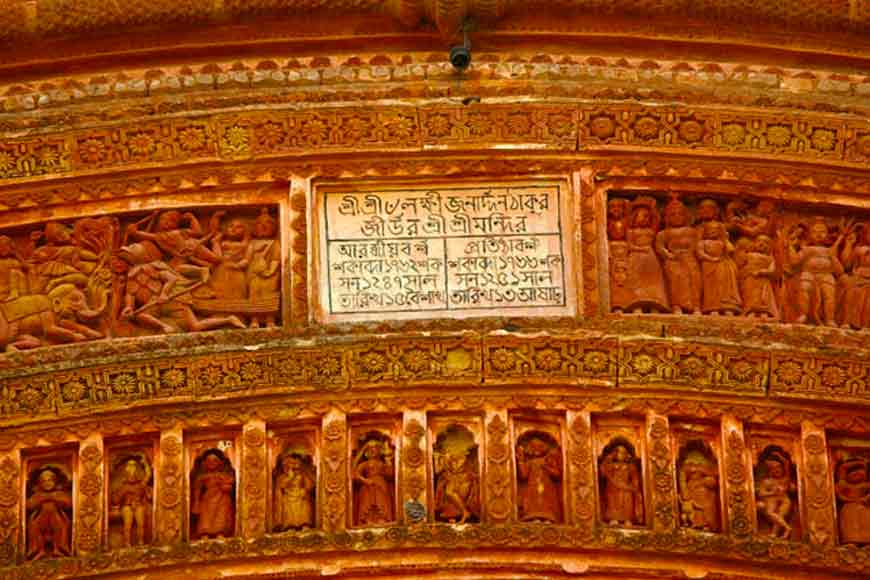 The foundation marble plaque of Lakshmi Janardhan Temple
The terracotta panels of this huge temple depict life of Lord Krishna, from his childhood as a Makhan Chor, to Ma Yashodha, Kaliya Daman leela, Krishna with gopis, and his journey to Mathura. There are also carvings of mother and child, rural dance scenes and warrior on a horse. This ancient temple was built by zamindar Narottam Singha, who bought this piece of land from Banbehari Kapoor, dewan of Burdwan in 1833. He wished to build a temple for their family deity, Lakshmi Janardhan.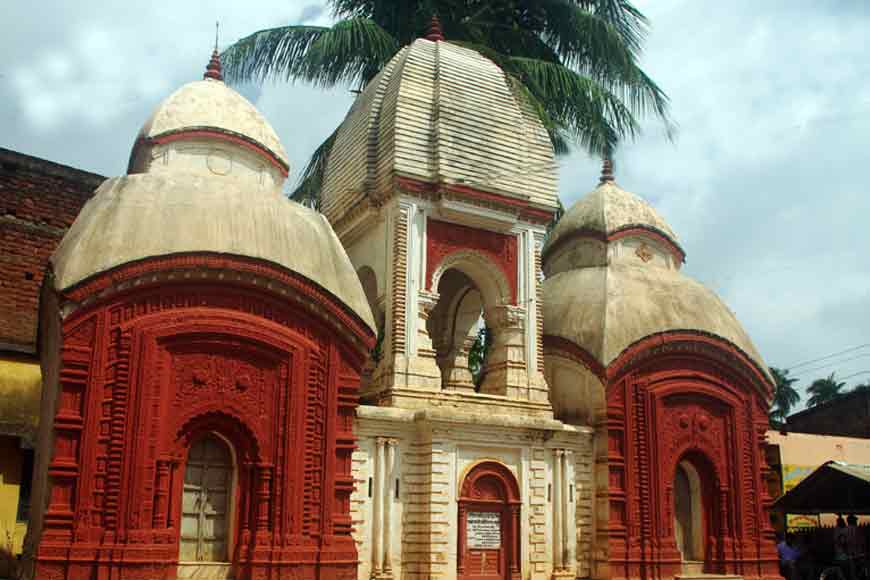 The twin Shiva temple and Dolmancha
If you wish to delve further into the historical importance of the temple town, read up the information board on the 181-year-old temple walls. The temple was renovated by Hemanta Gopal Singha's son, Dibyendu Narayan Singha and his wife Sreemati Kajjali Devi. The zamindari mansion nearby, though in a dilapidated state, reflects the grandeur of the bygone era. Come, seep in the vignettes of this lesser-known Terracota Town of Bengal.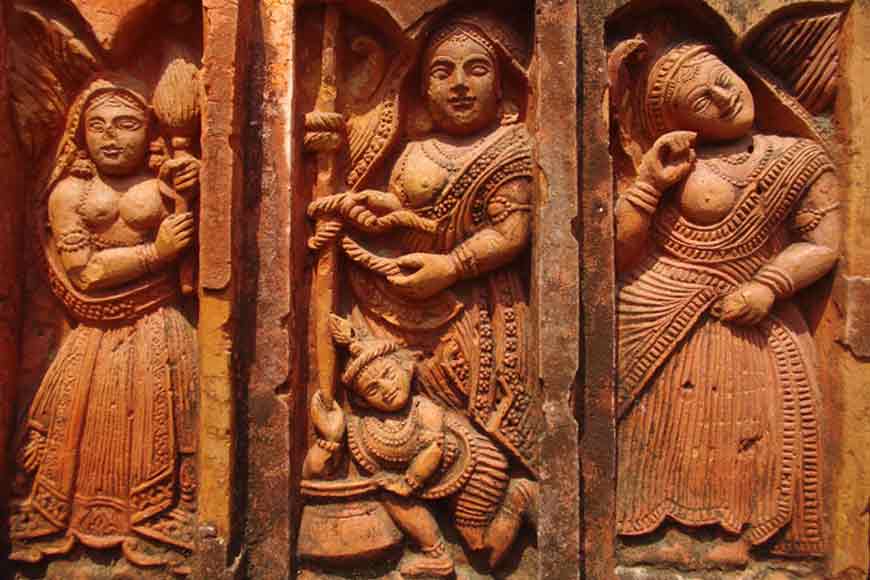 Makhanchor Krishna with Ma Yashoda
How to reach:
For the most comfortable journey, avail Burdwan Local (Main) from Howrah. It takes one-and-a half hour to reach Debipur. Take an auto or trekker to reach Shibtala and a few minute-walk to Debipur.
Where to stay:
There is no luxury accommodation in Debipur. Utsav Resort isthe nearest available place to stay, 7.8 km from Debipur Railway station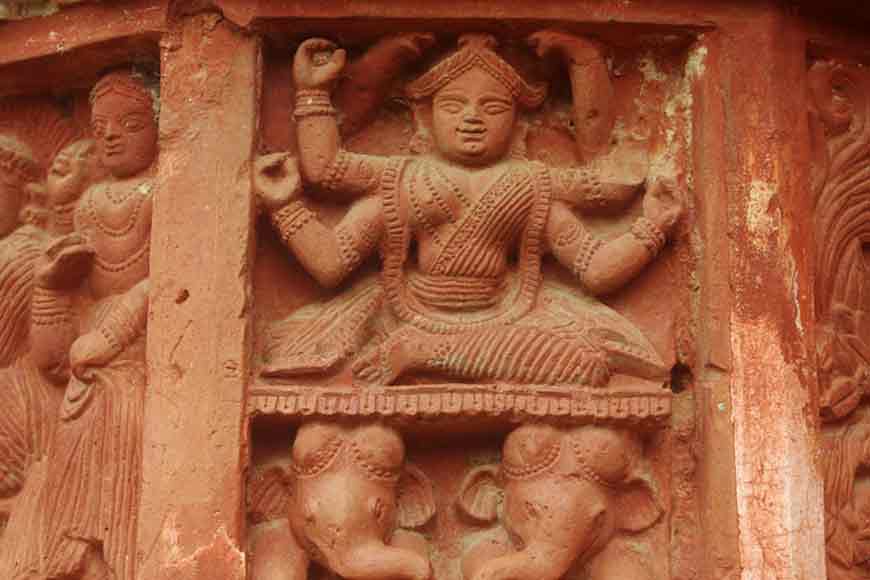 Intricately carved Gajalakshmi on terracotta