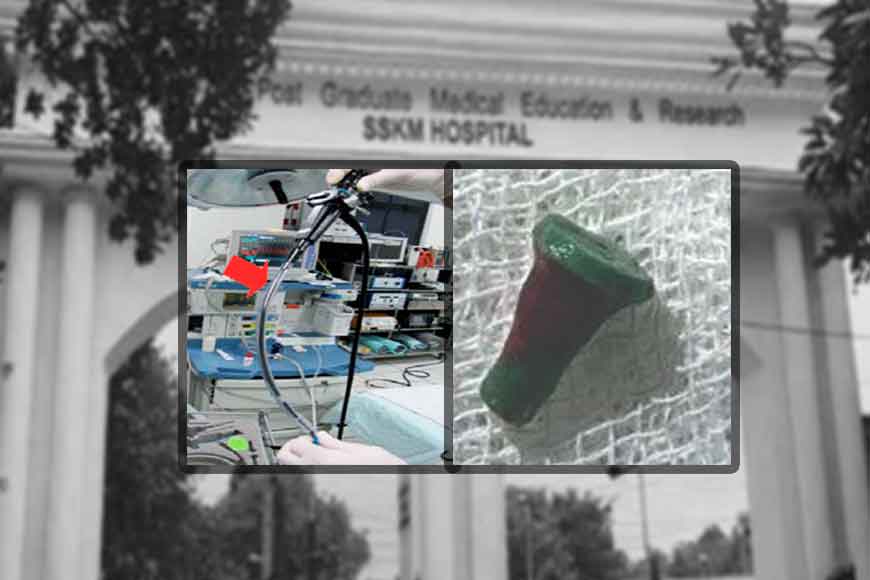 Three years back, Rohit Dolui, from Daspur, Ghatal had swallowed a piece of plastic. He was young then and without any immediate symptoms, his parents also had no clue what the boy had done. But months later, he started suffering from acute breathing problems. His parents took him to various doctors who prescribed him different medicines. Though the medicines worked temporarily, Rohit did not recover. None could figure out the reason or diagnose the problem.
Finally doctors at SSKM realised a piece of plastic that the boy swallowed years ago was the root of all trouble. Last week that very plastic was located and a successful surgery was performed to remove the foreign object. Rohit's younger brother informed his family about Rohit swallowing the piece of plastic but his parents did not pay much heed to it. Rohit's breathing issue became a perennial problem but none could decipher that the real evil was plastic.
Rohit's health was gradually deteriorating. Local doctors advised him to go to a hospital of Kolkata. Finally, Rohit's parents took him to SSKM in search of a proper treatment which would offer some relief to the little one. Rohit went through a fiber optic bronchoscopy. All hell broke loose when Rohit's test reports came out. The reports said that the piece of plastic got stuck in the right side of his lungs and the right side of Rohit's lungs became dysfunctional which caused a lot of trouble for the little one. The ENT department did not want to delay any further. A special team of surgeons finally performed a surgery on Sunday evening removing the piece of plastic from Rohit's lungs. SSKM yet again did a miraculous surgery and saved a boy's life.