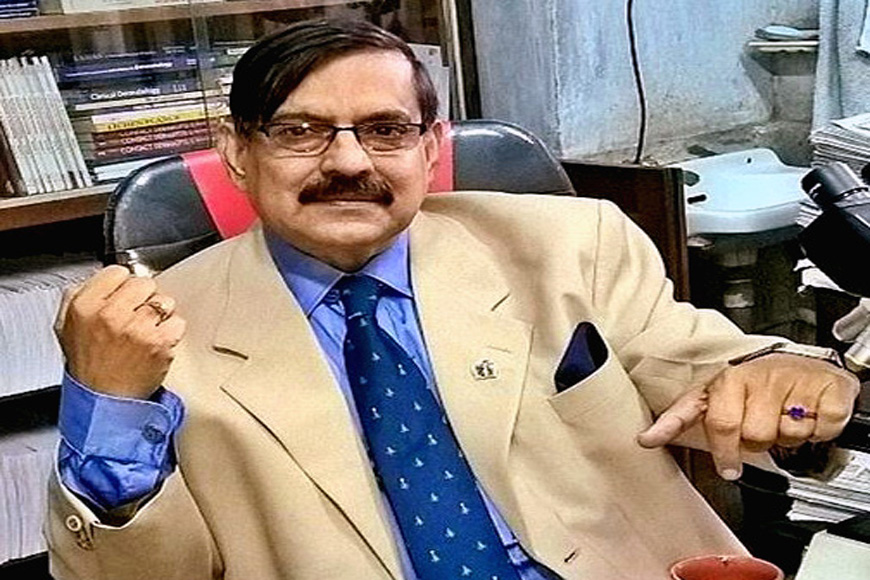 For Dr Asok Ganguly, the land of Royal Bengal Tigers and rosgollas has an irresistible charm. This leading dermatologist of Kolkata, (who is also Head of department of Dermatology, Ramkrishna Mission Seva Pratisthan), could never even think of staying in England for more than six months. For him Bengal is 'home,' the abode of peace, where he yearns to be back every time he is on a lecture abroad. But why?
Hear from the Bangali babu himself, as to what exactly draws him to this land as he heartily chats with Saheli Mitra.
Why did you leave UK within a year and what exactly drew you back to Bengal?
I could sustain in UK just for six months, and trust me every month seemed to be like one long year. Ini-tially I had no plan of returning ever, as I went there after my post-graduation for advanced training and research. But I started feeling so homesick. Bengal, specially Kolkata has an old-world charm and an infectious warmth that was miserably lacking in UK. I was initially posted in a small but beautiful and scenic county called Lincoln and then to the port city of Hull. I was working in good hospitals, but the loneliness was killing. My colleagues were very courteous but very formal. They kept a distance and weekends were unbearable. I missed my land, its food, its universal acceptance. In UK, things were so different, I always felt left out, unwanted. Like one day I boarded their underground rail or metro and the minute I stepped into an almost empty compartment, I realised others were literally staring at me and though they were talking amongst themselves, they suddenly went silent after I entered. So, I realised I shall always be treated there as a second-class citizen. And anyway, my heart always belonged to Bengal. So why not return?
Since you frequently visit other European nationals or USA to give lectures as a professor of dermatology, how do you feel every time you land at Dumdum Airport?
Frankly, anyone returning to Kolkata from a trip to Europe will tend to make an instant comparison between the chaotic streets, noise and pollution of Kolkata with that of a serene calm and methodical life abroad. But every time I land at the airport, my heart skips a beat. It is sheer joy to be back home. My city, my family, my friends and not to mention the vibrancy of Kolkata that has always welcomed all. Kolkata is in my blood and veins.
What does Bengal mean to you?
Very difficult to express in words. It is rather a feeling, an experience. Bengal to me is all about intelligence, intellect, art, friendship, culture, cuisine and essentially about adda at crossroads.
What are your future plans? Will you stay back in Bengal forever?
I originally come from a small village in Burdwan on the banks of river Banka. I inherited a beautiful house made by my grandfather. Several folklores, fairly-tales abound this region and my memories of my grandmother are still fresh. The house is not in good shape, because no one stays there. So, I have planned to restore it and spend my old age in my village working with the residents. The sheer nostalgia of returning to my ancestral home is like winning a million dollars at the casino!
Your advise to future doctors who live abroad and wish to return to Bengal ?
If someone feels for his own country and motherland, if one thinks this country needs him, needs his experience and expertise, he should return. The choice is however personal. For me Bengal was my first home and will be my last too.