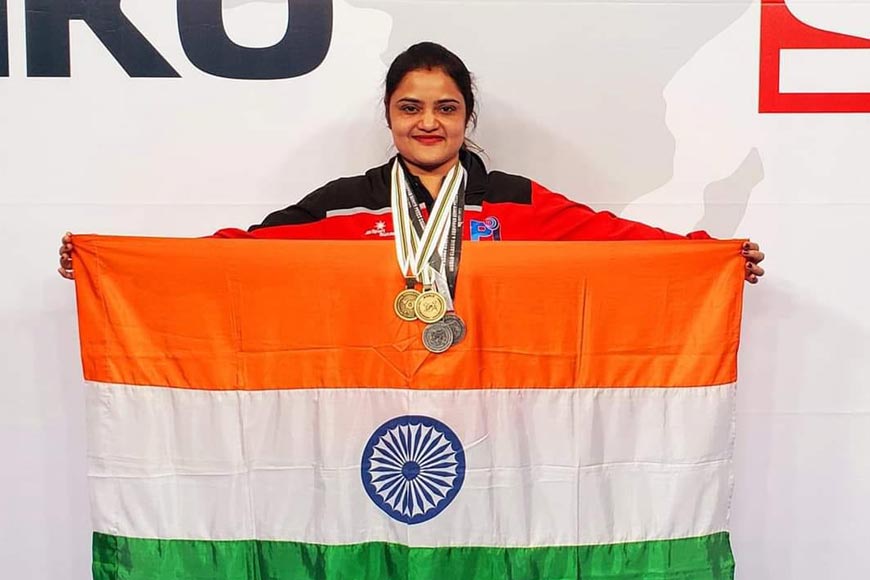 Seema Dutta Chatterjee may not be a familiar name for most people but players and sports enthusiasts are well acquainted with this young powerlifter-housewife from Durgapur, who has made the country proud time and again with her consistent performance in the last couple of years. She has been on a winning spree at different national and international powerlifting competitions, giving her opponents a tough challenge at every meet she has participated in. Recently she returned to Durgapur, her hometown, after clenching two Bronze Medals at the lately concluded World Bench-press Championships held in South Africa. Her arrival at Andal Airport was marked by thundering applause from her fans who went into a tizzy to welcome her and celebrate her success. A massive crowd gathered at the airport and organized a procession with Seema being the cynosure of all eyes.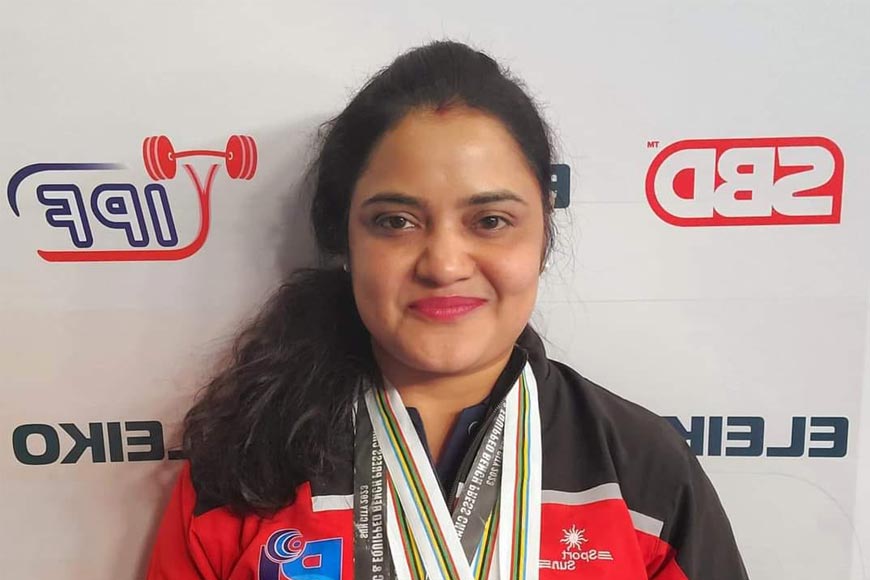 The World Bench-press Championship 2023 was held from May 20 to 27 at the sprawling, luxurious Sun City complex, situated in the North-West Province of South Africa. Power lifters from 50 countries participated in the event. India was represented by 11 delegates, among them were three representatives from Bengal, including Dutta Chattopadhyay from Durgapur. The first day of the competition featured a Classic Bench-press event where Finland walked away with the Gold, Ireland with the Silver Medal and India with the Bronze, courtesy Ms. Seema Dutta Chattopadhyay.
Seema had to battle against the odds to reach where she stands tall today. At Sun City, South Africa, for instance, it was bitter cold during the competition and the temperature had dipped to minus 1 degree Celsius on the very first day of the competition. Seema did not get adequate time to acclimatize herself prior to the event. Despite that, she managed to put up a brilliant show of strength and beauty combined, at the venue and ensured her position among the top three spots which were being vied by experienced powerlifters from different countries of the world. The battle for supremacy was tough indeed. Seema's first event, the 69 kg Classic Bench-press category was scheduled on the inaugural day. Like a tigress, she displayed her strength and walked away with the prized Bronze Medal.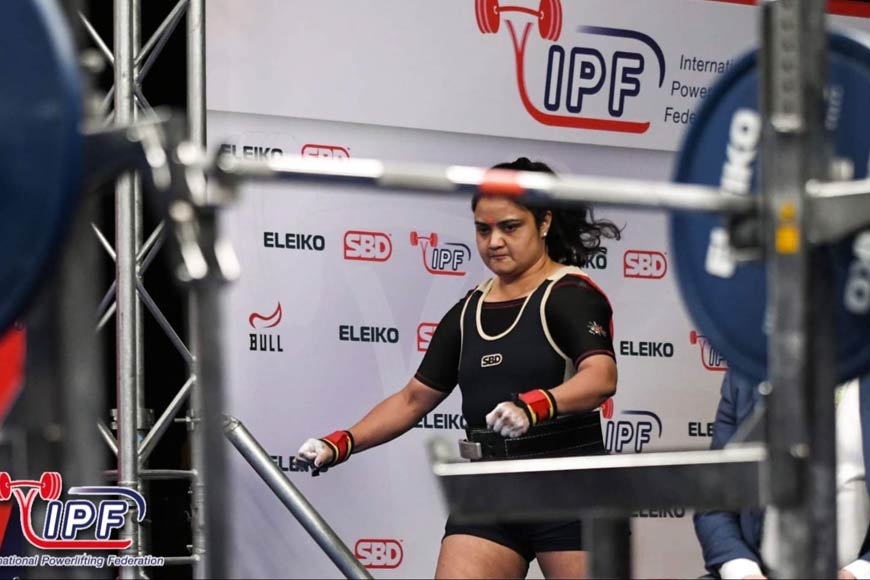 A couple of days later her next event, the 69-kg Equipped Bench-press competition was scheduled. Here again, the going was pretty tough with participants from developed countries like the US all vying to shine under the arc lights. The competition was tough as was expected and the participant from the US walked away with the Gold and Japan with the Silver. When it was Seema's turn to display her prowess, she gave her best shot, and la presto! She won, securing a Bronze Medal!

Incidentally, the Commonwealth Powerlifting and Bench-press Championship 2022 was held in Auckland, New Zealand on November 28, 2022. Power lifters from 16 countries participated in the event. The competition was organized in two brackets: Powerlifting and Bench-press in junior, sub-junior, master one, two, three, and four categories. As many as 80 Indian contestants participated in the various categories.
Seema participated in the Equipped and Classic Bench-press competition and won two Gold medals in the 63kg category. Both the Equipped and Classic Powerlifting Competition consisted of squats, bench press and deadlifting and Seema won three Gold medals in all three categories individually and then went on to win the overall Gold medal. She was also declared the first runner-up in the Strongest Women pageant. It goes without saying that Seema had to face unsurmountable obstacles as a housewife to succeed and achieve all that she has until now and it is the result of her sheer hard work, disciplined approach and determination to excel in her sport. Seema has always been an enthusiastic sportsperson and participated in school sports and other competitive athletic meets. After marriage, while staying at Durgapur, she decided to take up powerlifting as a sport and started practicing under Anshu Singh, who is not only her mentor but he too, is an active powerlifter who has many national and international medals to his name. Singh participated at the Auckland Commonwealth Power Lifting Competition 2022 along with Seema and won a Gold at the Equipped Bench Press event. Seema is grateful to her coach and does not hesitate to express her gratitude to Singh who has helped her improve her performance at every level. Today, she is a role model for other housewives. Her success has inspired more girls to take up powerlifting as a serious sport event.