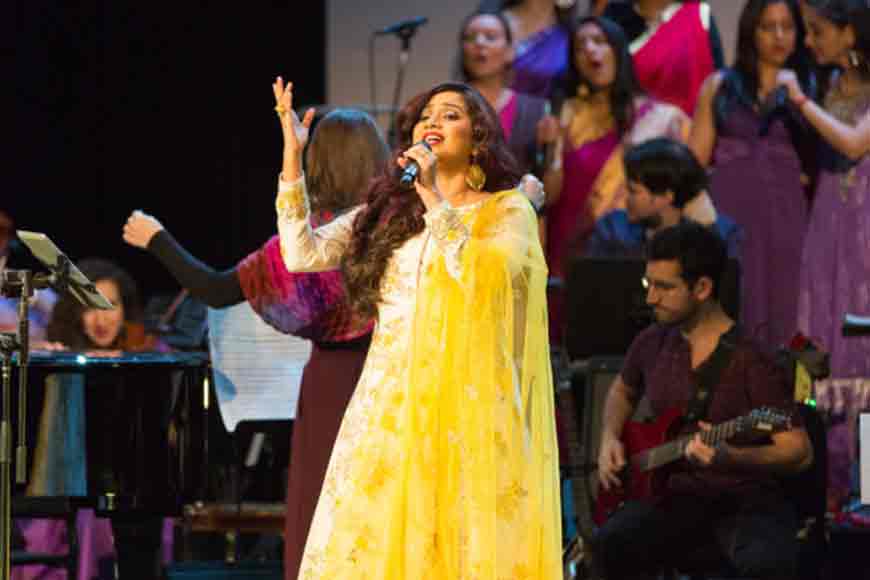 It was a cold crisp December night in Boston and Shreya Ghoshal was the Artist in Residence at the Berklee College of Music. This was part of an initiative named Berklee India Exchange, co-founded by its Director, Annette Philip in 2013. It is a platform for conversations about Indian music through artist residencies, workshops and performances. Previous artists in residence included Grammy and Academy Award-winning composer A. R. Rahman in 2014 and vocalist and composer Shankar Mahadevan in 2016. This time it was the Bengali girl Shreya Ghoshal.
Phillips started the Berklee Indian Ensemble with just 18 students in 2011. Today, it is a diverse student body representing over 40 countries. The Berklee India Exchange hosted playback singer Shreya in a weeklong workshop culminating in a sold-out Signature Series performance on December 7, 2017.
As the audience filled up every available seat at the Berklee Performance Center, it was heartwarming to see music students at Berklee College take to stage to provide vocal and instrumental support to the Artist in Residence. Among the vocalists were Paola Munda from Italy, Martin Guas from Argentina, Lydia Renold from Switzerland Shai Portugaly from Israel and Vasundhara Gupta from Kolkata. Among the instrumentalists were students from perhaps every corner of the globe including Vasilis Kostas playing the Laouto from Greece and Layth Sidiq on the violin from Jordan. These were students who had attended musical workshops with Shreya for the past week and were thrilled to share the stage with her on an amazing musical journey.
As Shreya entered the stage wearing a beautiful lemon yellow and cream embroidered sharara suit and started singing Ghoomar, the crowd was enthralled. The students were improvising with many new arrangements that gave a completely new twist to the familiar songs. She followed it with Kalvare, Mohe Rang Do Lal, O Rangrez and settled down to the Lata Mangeshkar and Madan Mohan classic 'Aapkenazron ne samjha….' The large musical ensemble was replaced by just Vasilis on the Laouto and the redheaded Layth on the violin. She jammed effortlessly with the two musicians who created magic on stage. Shreya also sang some numbers from the south such as Sundari Pennae and Mannipaya. Between each song she expressed her joy in working with students at the Berklee College of Music and how enriching this experience had been for her in every possible way.
Between musical arrangements, Shreya also spoke about strife in the world over various things that seem to float away like soap bubbles when there is such a strong peaceful and unifying force like music. Her message resonated with the audience and the young musicians who surrounded her on stage. Shreya walked with Tagore for the last song of a truly memorable evening. She sang:
"Jodi tor dak shune keu na ashe tobe ekla cholo re!
Ekla cholo, ekla cholo, ekla cholo, ekla cholo re!
Jodi tor dak shune keu na ashe tobe ekla cholo re!
Jodi keu kotha na koy - ore ore o obhaga, keu kotha na koy,
Jodi shobai thakey much firaye, shobai korey bhoy.
Tobu poran khuley,
O tui much futey tor moner kotha ekla bolo re!
Jodi tor dak shune keu na ash etobe ekla cholo re!
Ekla cholo, ekla cholo, ekla cholo, ekla cholo re!
Jodi shobai firey jaay - ore ore o obhaga, shobai firey jaay,
Jodi gohon pothey jabar kaley keu firey na chay.
Tobu pother kaanta,
O rokto-makha choron-toley ekla dolo re!"