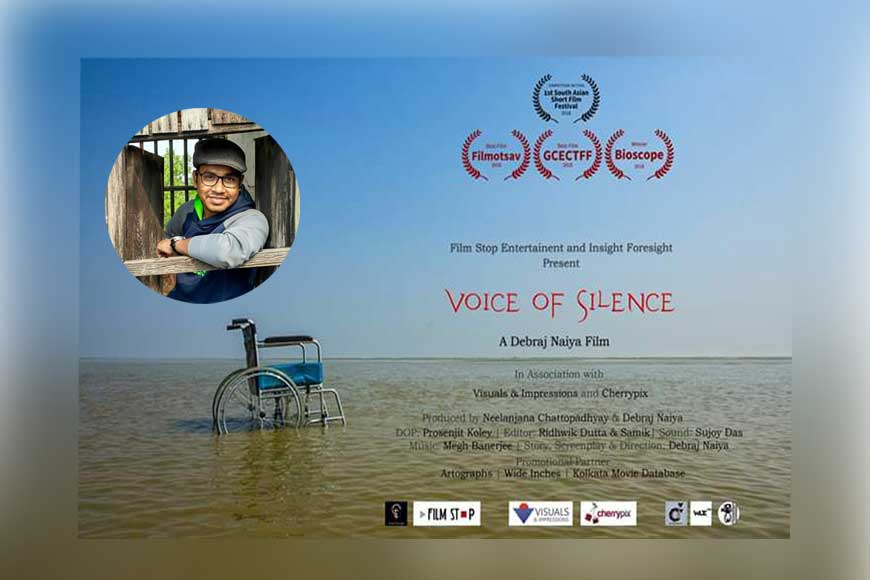 Film-maker Debraj Naiya's latest film 'Voice of Silence' has created a buzz among film- enthusiasts all over the world. The film talks about the silent sufferings experienced by a molested or raped woman and has been dedicated to nurse Aruna Shanbag who died after spending 22 years of coma after she was brutally raped by a hospital sweeper
• You have been a poet, a theatre practitioner, writer and also a teacher --- after such a diversified career, what inspired you to take up film-making?
I grew up in a remote island called Maipith in Sundarbans. Higher studies made me step into Kolkata in 2008. Thereafter, I joined a professional theatre group but could not continue as there was hardly any scope of expressing my creative side. Simultaneously, I started writing scripts for advertisements. I often felt that I am not being able to touch all aspects through my writings. Installation and video art also appealed to me. The series of failures and little knowledge about various art forms acted as an impetus. I realized film is a powerful medium. This script was an outburst of aggression and Voice of Silence is a montage of that aggression.
• Your film talks about different forms of torture inflicted upon women. How have you drawn parallels through a single narrative?
Every morning, you wake up to news of molestation, rape and often see them followed by murder. These issues are prevalent in our society in two forms -- loud zone where a girl gets raped, the media takes up the issue and we create a lot of chaos in the form of protest. The second one is the silent zone where only the rapist and the victim are aware of the incident. The rest of the world is oblivious to it. The life of the girl in such cases turns into a nightmare as she is unable to overcome the trauma and gradually succumbs. My film deals with this kind of a raped victim. There is no definite plot or narrative. There is one character which comes in various forms ---- Sita, Draupadi, Padmavati, a victim of Sati. Be it rape or oppressive rituals such as Sati, these monstrosities have always existed in our society. The film is a montage of broken images encompassing all these aspects.
• Do you believe nothing much has changed since prehistoric times, when it comes to the subjugation of women?
The concept of abuse or subjugation is not restricted to a specific gender. Be it physical or mental abuse, both genders are suffering these days. The concept of abuse has penetrated deep into every strata of the society. Being a man, I too have fallen a victim to it while traveling in crowded buses. At the same time, even you mistakenly happen to touch a woman in a crowded place, people generalize you as an abuser. The fear of being abused has engulfed us to this extent and the situation has become extremely complex.
• How have you incorporated various imageries of poetry in your film?
Poetry fascinates me. I love collecting poetry. There are various reflections of multiple poems in the film though they are not direct. When I started writing the script of this film, I wanted it to turn out in the form of a poem. Eventually, the film emerged from a failed script.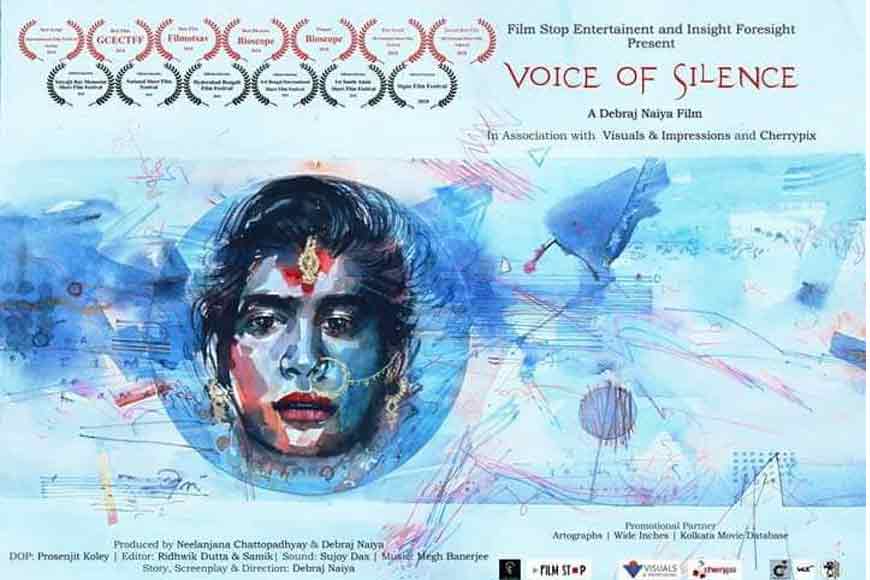 • Your journey with Voice of Silence has not been very smooth. You started shooting from 2013 which ended in 2018. Why did the entire process take so long?
The journey was very topsy-turvy. Film is a collective art. When I started the journey, I had nothing --- be it resources, technical help, money, camera. Finance was a huge impediment in my path. Many of my cast had opted for the project without completely comprehending the plot of the film. I had conceived the film on a huge canvas which was difficult to execute. My hard-disk crashed and I ended up losing a lot of footage. The struggle was enormous. However, the experiences and failures I collected enabled me to learn a lot.
• Your journey with the other film Ardhanarishwar has been comparatively smoother. What was the difference in the cinematic journey with the two films?
Ardhanarishwar is a film that did not happen consciously. When the shooting of 'Voice of Silence' stopped for various reasons, I was thoroughly depressed. I used to think that I will never be able to complete my first film which was like my first baby. Ardhanarishwar happened to me while I was light-testing for other films. We were making a video on Noboborsho and I wanted to do a film on bohurupis. In this case, the struggle was different. The make-up was done by mixing soil and poster colour. We had used bulbs as a source of light for the film. I did not make this film seriously but Ardhanarishwar was the first film that gave me my identity as a filmmaker.
• Do you believe that your film will give a firm voice to the voiceless?
That is not my agenda. I want to communicate. I want my audience to feel the pain of those who are abused, raped or tortured.
• What made you take up non-linear story-telling in 'Voice of Silence'?
Generally, films consist of a specific narrative. I consciously stayed away from the concept of story-telling or narrative in my film. Even if my film is watched by 30 people, I want the film to reach out to them in 30 different ways. I wanted each of them to place themselves in the shoes of this girl residing in the silent zone of trauma and feel from her perspective. I wanted my audience to walk through this entire journey. The audio and visuals have been used in different ways which in the form of collision creates a third dimension- emotion. The film is more of an experiment.
• Where have your films been screened?
Sending films to festivals requires money. I have sent 'Voice of Silence' to most festivals where no money was involved. The film was first screened at the South Asian Film Festival. Then it was screened in various festivals in UK, Serbia, Belarus and Signs in Kerala. It was also screened at the Kolkata Film Festival 2018. My film got an award in the international category for screenplay in Serbia. Some have appreciated it, some resented it, some have said nothing while some have written a lot about it.
• Any upcoming projects?
I am working on a documentary presently which I intend to complete soon. I have also written a script called 'Melody of Mist' which might culminate into a film. There is another film that I intend to make on the psychological issues faced by children post war. All I can say now is I will take up film-making seriously in the days to come.