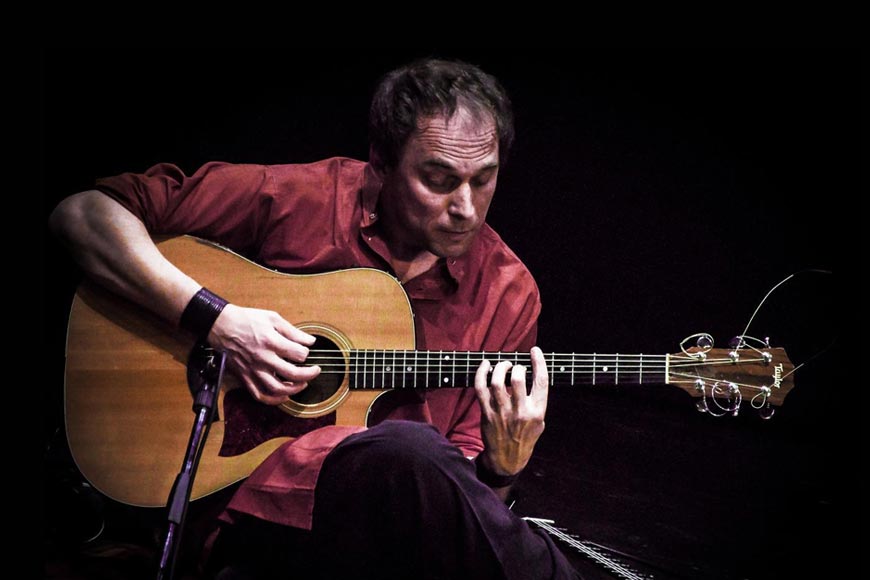 Denis Stern's music is a confluence of many global cultures and is influenced by the musician's international travel through Russia, Spain, Israel, Italy and India. His single 'Way to Alhambra' was featured in the platinum compilation Chambao Flamenco Chill alongside legendary flamenco players Paco de Lucia and Vicente Amigo. He has played with leading artists of the world. In the rock world, Denis' acoustic guitar band, Vagabundos de Lujo is a name to reckon in some of the biggest metal festivals of the world, such as Wacken Open Air, Full Metal Holiday and Full Metal Cruise. Denis is now in Kolkata preparing music for an upcoming experimental show. GB exclusive interview on his love for India and Kolkata and his music. Interview by Saheli Mitra
● What is Tagore to you and how did you get introduced to Rabindrasangeet?
Around 2012, while I was living in Italy, I was introduced to Rabindrasangeet through a programme of songs presented by well-known teacher and academician Rupa Chakravarti. Previously, I knew Tagore as a world poet, but had never been exposed to his songs. This programme gave me a great opportunity to create music and understand Tagore's sense of music. We performed all across Italy and I was arranging the music, though I came from a background of Jazz music. The style is different but a deep sense of melody binds jazz with Tagore's music. The poet himself had experimented with different forms of music for his songs. And Tagore's music is always open to interpretation. To me he was a beautiful melodist and I got a chance to experiment with his melodies. All members of the team were Indians, I was from another nation and was touched by Tagore's melody and that's how Tagore became a part of my musical journey.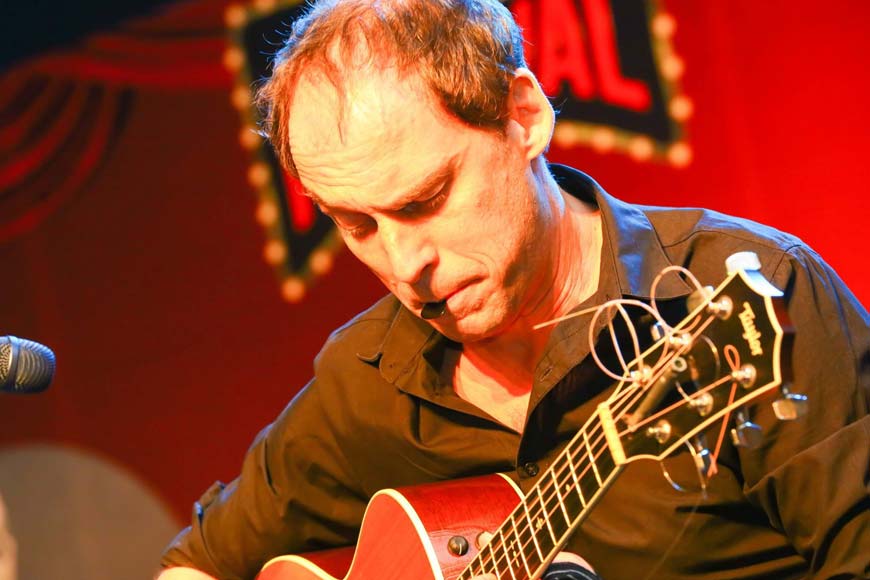 ● Any other genre of Bengali tunes or songs that appeal to you? Like say folk songs?
I had been introduced to Baul songs. And am looking forward to learn other folk styles too. In 2010, I first visited India and the first city was Kolkata, a city that has a rich musical heritage. I was particularly drawn towards the voice of Hemanta Mukherjee and often listen to his songs. I love his voice.
● The new Indian production you are working for is Draupadi, that is coming up in a month's time. What are you doing for the show?
I am not supposed to share a lot of information on the production but I can only say it is an experimental Dance Drama and I am doing the music. I am also playing the guitar. There are some stellar artistes who are part of the show.
● Fusion Music is order of the day. How does it work worldwide and in India?
My style is world fusion. I have travelled the world over, from Israel to Spain to India and have always worked with local musicians to learn and imbibe their styles and know about the local musical treasures. So, for me it is rather easy to mix melodies as I am exposed to mixed cultures and their music. In India, particularly in Bengal, I find the audience is open to fusion as well as classical Indian music too.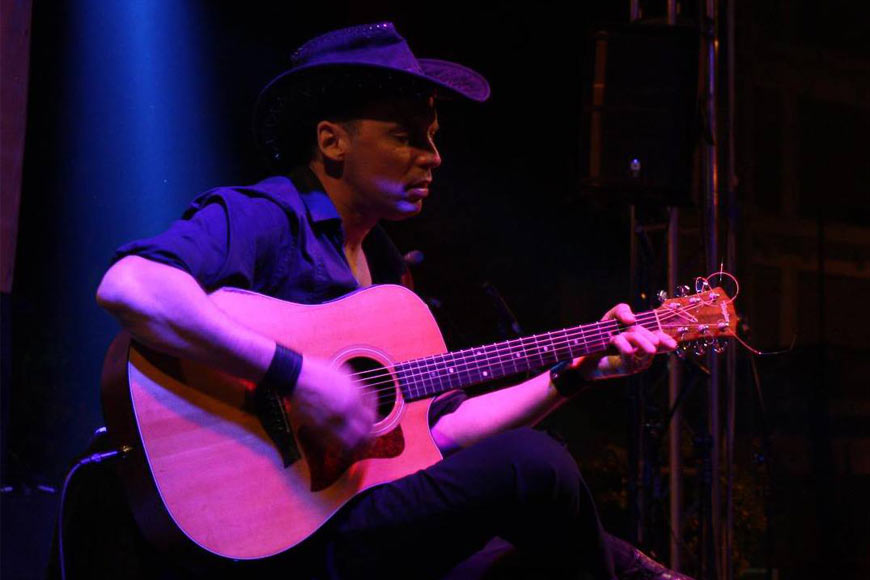 ● India has had a stream of very talented musicians from classical to jazz. Any Kolkata musician you find inspiring?
Currently I stay and teach in Chennai. I have many students from Kolkata and they love experimenting with music, anything from Jazz to Indian classical. The youngsters are more interested in fusion. They can well connect with fusion music. But for those with classical training it is easy to hear other stuff, there needs to be a lot of respect for music, whatever genre they follow. Most importantly they need to know their own cultures very well. Music can never be copied, it needs to be created while listening to others. So, I stay with the local people to get their flavour, their feelings and then I amalgamate and create music. While in India I have worked with Keith Peters who was A.R. Rahman's bass player.
● You were born in St Petersburg. Then how India and Calcutta featured in your life?
I was born in St Petersburg that was then the cultural melting point and witnessed the rise of 'Rock n Roll' movement in Russia. I was part of the rock music circle from a young age and started playing guitar from the age of 12. In my early teens, I was selected to study with Aleksandr Lyapin, the lead guitar player of the Russian cult (rock) bands, Aquarium and DDT. In 1991 however I left Russia for Israel to study at the prestigious Rimon School of Jazz in Tel Aviv. Now I hold an Italian passport. My first Kolkata visit was in 2010 and I worked with table maestro Arup Kanti Das on a project called Dunia is Denis, for which I travelled between Murshidabad and Kolkata. Our album 'Beyond Thoughts' was recorded in Kolkata and was a tribute to Bengali and Russian music. Given a chance in future, I would love to stay with the locals and learn more about folk music of Bengal.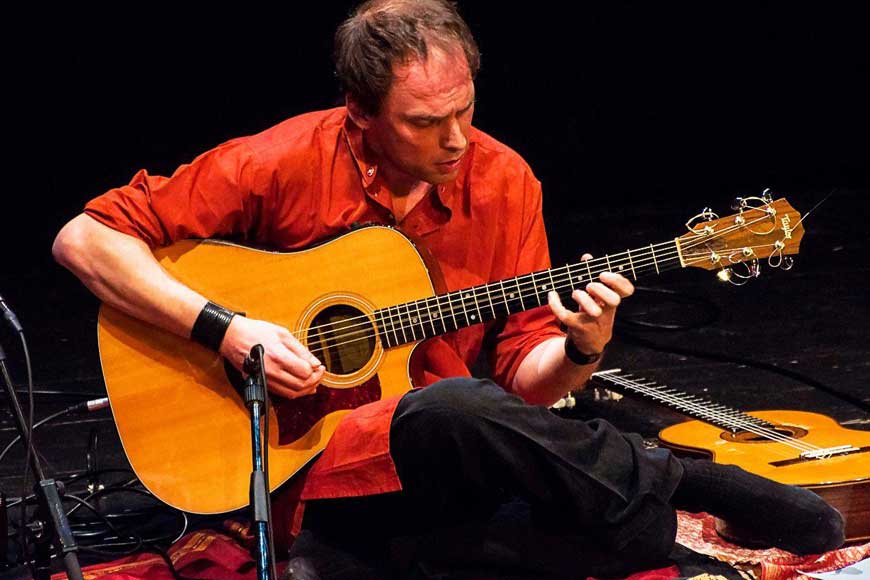 ● Many European musicians in the past have stayed back in India. Do you have plans to do the same?
I would love to be here on and off. I love the culture of India and feel their love for music is similar to ours. I love India and particularly Kolkata. Currently I am staying in Kolkata.
● Other than music, what else of Kolkata do you like?
I love the old-world colonial charm of Kolkata, the food, particularly potato based dishes, South Indian breakfasts of Kolkata, Bengali sweets and Aloo Paratha.
● Are you trying to introduce any new genre of music in India?
Yes sure. I am introducing Spanish and Russian songs to my students and they are so enthusiastic that they have not just picked up the songs, but the languages as well. I find students are very interested in Russian rock music, Brazilian songs and German too.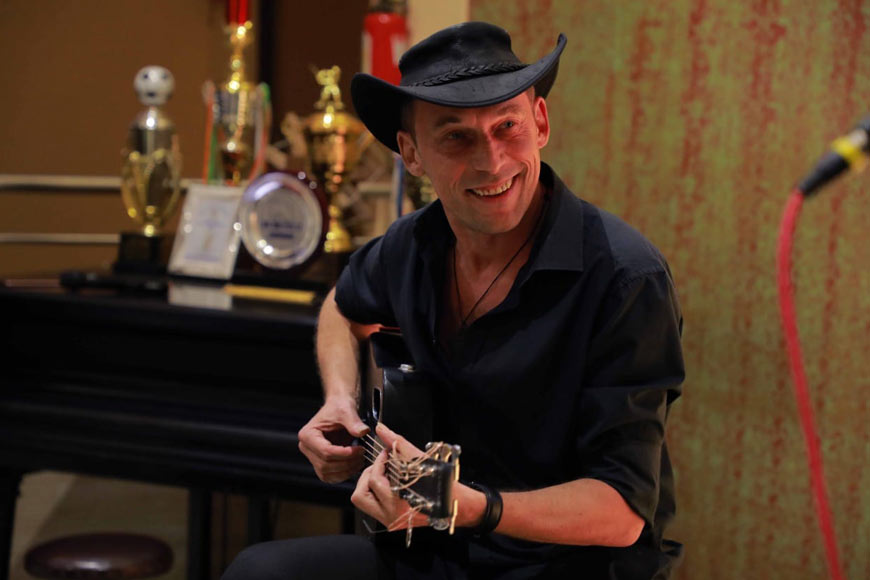 ● In which city you like to play most?
Anytime Kolkata. The audience here is very culturally prepared. I also love playing in Bangalore. They are not too traditional and both cities have a mindset to accept any genre of music. I use very easy music in my arrangements with a lot of tabla players in the foray.
● Do you have any plans to work on Indian classical in future?
I am a big fan of Indian classical particularly Zakir Hussain who is a gem and Veena player Jayanthi Kumaresh. Then of course I listen to old masters like Ustad Vilayat Khan and Hari Prasad Chaurasia ji.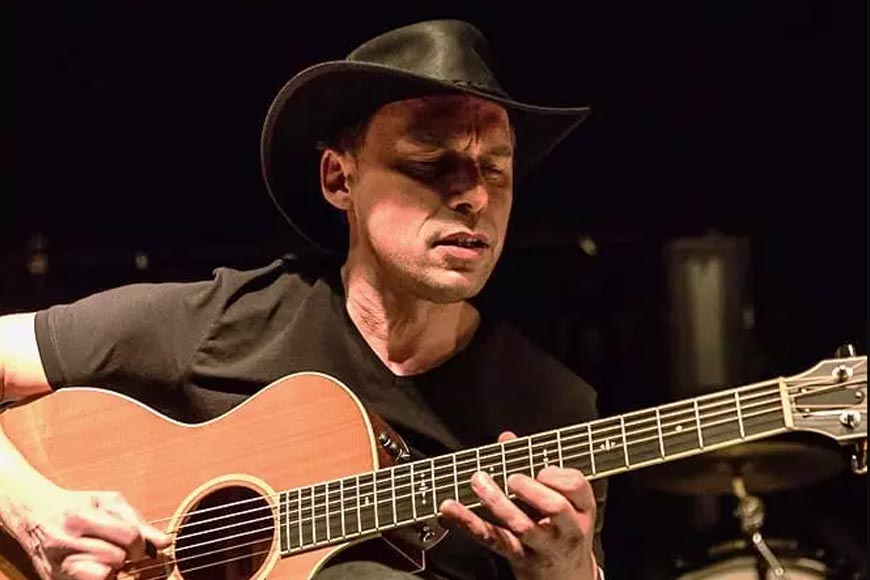 ● You play guitar primarily. Any other instrument you like to play?
Yes, I have made a unique fusion instrument with a middle eastern flavour.
● How did music help you tide over Pandemic and Lockdown?
Immensely. I wrote many new compositions. Since performances and concerts were all shut down, I got enough time to write. So, I spent the time in a very creative way.
Image Source : Facebook page of Denis Stern