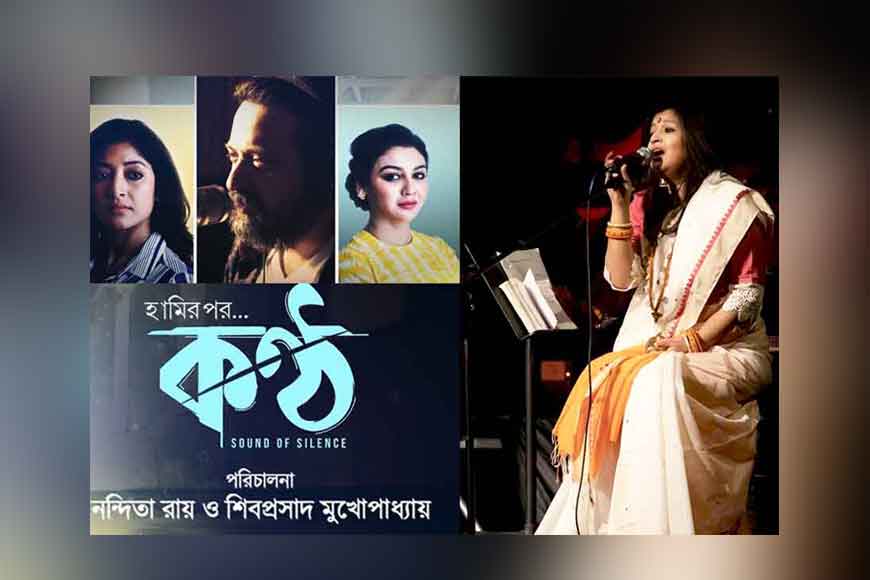 • What made you opt for the song 'Shobai chup' for Konttho?
I have always done whatever has come my way. Probably because I do not live in Kolkata, offers for playback singing do not come continuously. Also, I never wished to confine myself just as a playback singer. Rather, I always wanted to sing. If anything came my way, I did it. But of course, I had to like the song.
• Previously, you were more into Rabindrasangeet and folk songs. Now that you are also doing playback, is the experience different?
I am still into Rabindrasangeet and folk. I still do lots of concerts around the world where I sing Rabindrasangeet and folk songs as part of a live performance. I just returned from Seattle and New York. I am going to Europe next month to sing Rabindrasangeet and folk. I am also travelling to India where I have lined up shows of these genre of songs.
I have not become a playback singer and I do not think I will ever because I do not have the ultra-feminine voice that playback singing requires in our country.
• Share your experience about the song of Konttho
The song Shobai chup came to me accidentally. I was recording for a different song, and the composer of the song Prosen was also there and he was singing a few songs he had composed and Dipangshu had written. There are certain songs which make you feel that 'Oh My God!' It is my song! I could have sung it or written it. I heard Shobai chup and asked Prosen whether I could have it. It was just said jokingly and after a few months, Prosen called and asked me whether I would sing the song for Shiboprosad and Nandita's upcoming movie? I accepted the proposal, because I was already in love with the song.
• How is the song important for the narrative of Konttho?
I think Shobai chup goes very well as the movie unfolds. The film is about someone who loses his voice and the fight that he has to go through to get his voice back because he is a radio jockey (RJ). His voice is his precious possession. Shobai chup talks about the film. The sudden silence as one loses his Kanttho or voice, that the film deals with, is reflected very well in this song.
• People love you for your magnetic voice. One fine day, if you wake up and find your voice is lost, just like the protagonist in the movie, will you go through an identity crisis?
I would not go that far to say that it is magnetic. I am lucky and fortunate that people like my voice. Many of them tell me that it is different. That makes me feel warm within. One day, if you wake up and find out that my voice is lost, I would not know what to do. Have never thought about it actually. May be, initially, I will lose the will to live and try and get it back. My daughter would be extremely happy because her mother would not yell at her anymore. Jokes apart, if such a situation arises, I would be devastated.
• What are your views about the kind of music being made for new-age Bengali films?
The kind of music that is being made in Bengali films nowadays, is typically the sound that was prevalent in the 90's. Independent songs that were sung then have been channeled into films now. That distinction between film songs and independent songs is gone. More people are listening to these songs and that is a good thing. But the independent singers who do not have the fortune of being chosen for films, often suffer.
• You have been sincerely spreading the essence of Bengali music in various parts of the world for many years. How has your journey been so far?
Yes, I sing all over the world – mostly in America, Europe, Bangladesh, England and of course in my own country. I look at my journey with lot of introspection because I had promised myself that to make Tagore's songs and folk song relevant, one does not really need to experiment a lot. One does not incorporate too much in these songs as these are self-sufficient. I just think of the music, rhythm, denotations and I sing the songs in the way that I would want people to sing. That is all I do. My journey is ongoing. It started 20 years ago. I want to go on with it. I am doing PhD right now and I have a young daughter and I teach at the School of Oriental and African studies. I have too much on my plate. But the musical journey has been the most enriching one and I intend to keep on doing it.