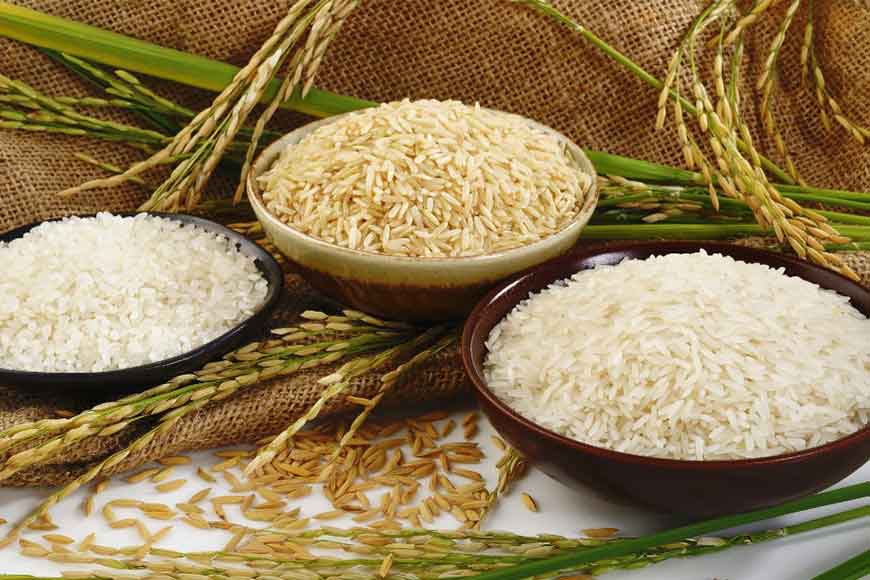 Isn't it amazing that farmers in many parts of Bengal still cultivate 50 well-known traditional varieties of high-yielding paddy? Bahurupi, Bourani, Kerala-Sundari, Tulsibhog, Asitburma... the names are many.The yield of Sadajhumur variety per bigha is anything between 18 to 20 sacks, and is nothing less than Swarna, IR-36 or Masoori. Moreover, no chemical fertilizer is used to cultivate the traditional varieties. Organic cow dung manure is all that is required. Even pest and disease management was once supportedby traditional farming. Most management practices were long-term activities aiming at preventing pests and diseases from affecting a crop.
Towards end of October (in the month of Ashwin), when paddy grains ripened, insects usually invaded the fields and destroyed the bracts (the thin, scaly parts that surround the seeds). Hence, from the last day of Ashwin, every evening, all villagers would light torches and congregate near paddy fields. They would move around their fields in groups holding their torches and sing, Ashwin jai, Kartik ashey / Maa lakshmi garbhe boshe (As the paddy harvesting month of Kartik arrives, so does Goddess of Wealth arrive). The insects got killed in the fire ensuring a high yield from fields. Farmers who deviated from this traditional form of cultivation and tried using pesticides, soon realized their yield decreased considerably.
There was a time when Bengal had 5,556 varieties of paddy, of which 300 types were aromatic. Seetabhog, Jagannathbhog, Lakshmibhog, Kamalbhog, Sadabhog, Gobindobho, Deulabhog were fine aromatic varieties used mainly for preparation of sweet dishes as festive offerings. Boubhog was cultivated and cooked to usher in the arrival of a newly-wed bride to her in-laws' house. Likewise, a son-in-law would be served Jamaishal or Badshabhog rice. In those days, Burdwan's famous Seetabhog sweet was made with Khashkamini or Seetabhog rice. Nowadays, Seetabhog is made with other varieties of rice. The famous Joynagarer moa is a seasonal Bengali delicacy prepared from date palm jaggery and puffed Kanakchoor rice. These days, Kanakchoor has been replaced by Swarna or IR-36 varieties at the cost of compromising on its taste. But even now, many farmers cultivate Gandhakochu, Benamooli, Radhatilak, Laruipaddy for their family's consumption and in winter, when date jaggery is prepared, these aromatic varieties are used to make pitha and payesh. Cultivation of aromatic rice is closely related to the land and its surrounding environment. Burdwan's soil and environment are conducive to Gobindobhog cultivation but if the quality of soil is changed, it will affect the taste. Leelabati and Oly are cultivated in South 24 Parganas, Tulaipanji in North and South Dinajpur districts, Kalonuniya is cultivated in Jalpaiguri and Badshabhog in Bankura. If these varieties are grown in other districts, their flavour and aroma change and the yield decreases. Basmati rice for instance, does not grow well in Bengal. The high yielding Taradi Basmati thrives on higher altitudes where there is considerable snowfall.
Many multinational companies often organize seminars in rural areas and try to impress upon farmers that traditional varieties are not viable for cultivating any more due to the change in environment and are prone to destruction during thundershowers or over-retention of water. They have not been able to penetrate deep in the interior pockets of Sunderbans, Bankura and Purulia where farmers still use traditional varieties and get high dividends from their produce. Dinabandhu Das of Joygopalpur Youth Development Centre, Sunderbans, has 50 indigenous varieties of paddy in his possession. Debdulal of Basudha (India's largest non-governmental folk rice gene bank that conserves traditional paddy) explains that these indigenous varieties have unique survival properties. Haldebatali grows well in flooded areas, swayed by waves. Hogla stands tall even in three feet water. Hamilton has the capacity to stand erect even after it is razed to the ground by sweeping thundershowers. Nyata grows taller in proportion to the rise of water level on the land. Sadamata doesn't rot even if it remains underwater for more than 24 hours. The rice from these varieties are all very tasty. Farmers have been going back to traditional seeds and methods of farming for the past 15 or 16 years but till now, the government has not been very pro-active or encouraged these indigenous farmers. Bhairab Sahani of Sonamukhi, Bankura says, "If only the government had taken proper initiative, farmers would have been able to procure chemical-free seeds."
Original Article written by Zafrul Haque
on
www.bongodroshon.com
Translated by