First professional female photographer of Bangladesh, Sayeeda Khanum, who broke the male bastion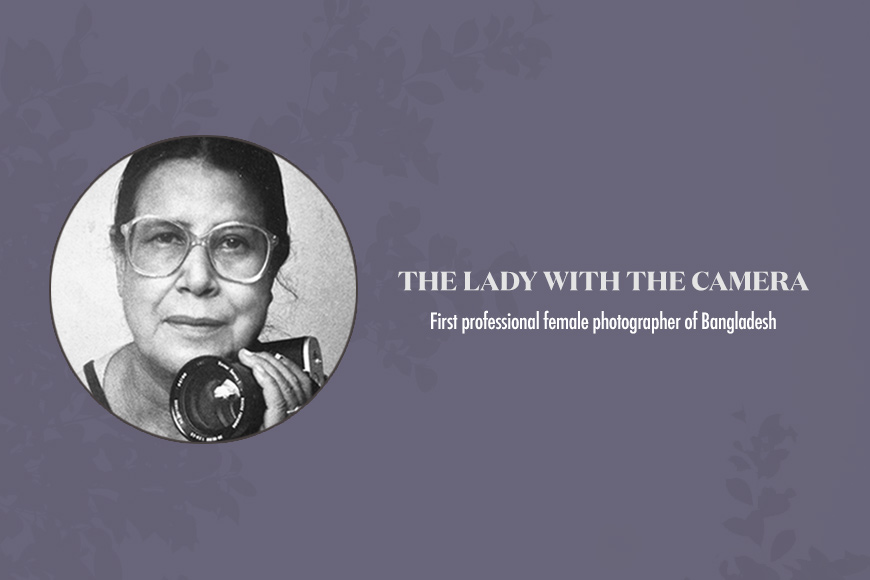 She was a rebel who stormed the male bastion and proved her mettle, her brilliance and her fortitude at a time when the 'rough and tough' profession of photo-journalism was taboo for women. She not only forced her way in but also made her mark in an all-male territory. In fact her life-long affair with her camera began at the age of 13, when most children while away their time playing. She was a natural pro who took to the camera as effortlessly as fish takes to water. The rest, as they say, is history.
Sayeeda Khanum was born in Pabna on December 29, 1937. She was inspired to pursue photography from her aunt poet Mahmuda Khatun Siddique. Zahur Hossain Chowdhury, the former of editor of 'Sangbad,' was her sister's friend Lutfunnesa Chowdhury's husband. The couple had a camera in their home in Kolkata. When Sayeeda Khanam came to visit them in Kolkata, took the camera and went to the street to take pictures. She was a self-taught photographer who joined a magazine "Begum" as a photojournalist in 1956. Her photographs were published in many national and international newspapers including the Observer, Morning News, and Ittefaq. She also captured many historic moments for posterity during the Liberation War of Bangladesh in 1971. The same year, Khanum participated in the International Photo and Cinema Exhibition, Cologne and her photographs were displayed at the event. Back in Dhaka, she participated in an international photography exhibition in the same year. Later, her works were curated at prestigious shows in Japan, France, Sweden, Pakistan and Cyprus.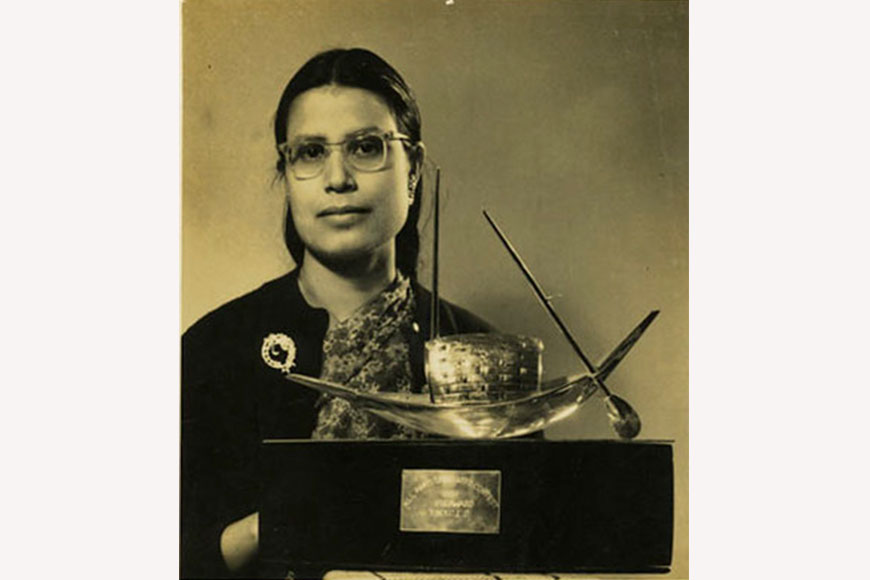 Khanum in her early years
Her portraits of Mother Teresa, Rabindra Sangeet singer Kanika Bandopadhyay and film director Satyajit Ray were also exhibited in Dhaka. In fact, she cherished her meeting with Ray which later transformed into a life-long friendship with Ray and his family. The year was 1962. She had come to Kolkata on professional assignment. By that time, she had already clicked photographs of Tollywood superstars Uttam Kumar and Suchitra Sen, but despite her wish to meet Ray in person she never got the opportunity. But this time her office sent her to Kolkata to shoot Ray and interview him.
Sayeeda was initially a little apprehensive when she went to meet him at his residence. Ray was then busy with post-production work of 'Kanchenjungha.' They talked about films at length and then Sayeeda sought his permission to click his portraits. Ray agreed readily and later obliged her with a couple of stills from his movie, Kanchenjungha. Her boss was astounded by her feat. Much later, she became a family friend of the Rays' and had the opportunity to accompany his unit during outdoor shoots for 'Mahanagar', 'Charulata' and 'Kapurush O Mohapurush.' She later held an exhibition of photographs on Satyajit Ray. Ray was very impressed by her work and praised her, saying: 'It is evident that she is a good photographer from the way she holds the camera.'
In 1985, Sayeeda was honoured with UNESCO Award for photography. Sayeeda was also a very good student and obtained double Master's degree in Bengali literature and Library Science from Dhaka University. She worked as a librarian at the seminar library of Bengali Literature department of Dhaka University from 1974 to 1986.
In addition to photography, Khanam was a remarkable author as well and her books include 'Dhulomati', 'Smritir Path Beye', 'Amar Chokhe Satyajit Ray'. She was a lifetime member of Bangladesh Mahila Samiti and Bangla Academy.

Story Tag:
Photographer, East Bengal