Personas, who cemented the bond between Bengali women and photography - GetBengal story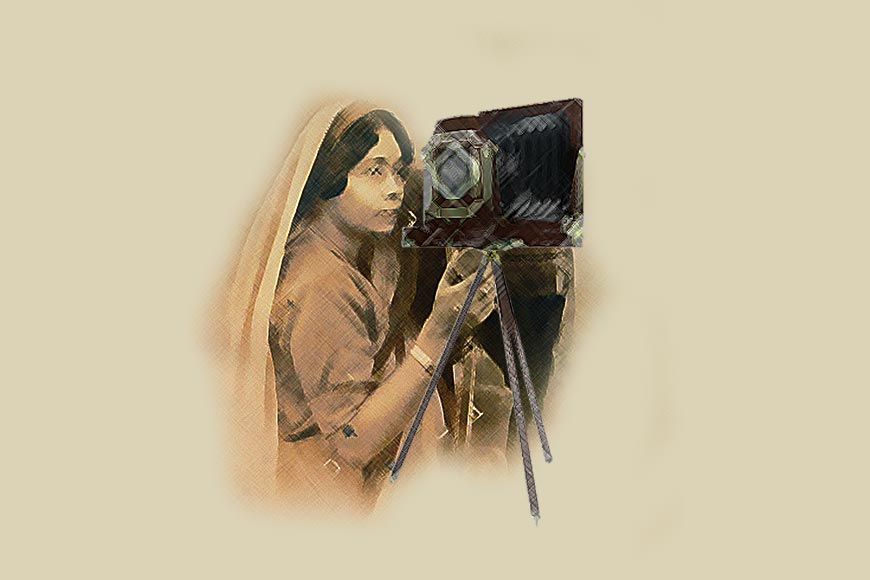 Annapurna Dutta, one of the earliest female photographers in Bengal
Bibi Wince is not a name familiar to many Kolkatans today, but had it not been for her, Bengal's women may have had a far tougher time laying their hands on a camera. On World Photography Day today, Bengal's women photographers at any rate ought to remind themselves of Mrs Wince (who became 'Bibi' Wince according to the prevalent custom of the day, when Bengalis classified male Europeans as 'saheb' and women as 'bibi').
As early as 1885, Bibi Wince, who had set up her own photography studio, was trying to teach Bengali women how to use a camera. Anglo-European women photographers were by now not uncommon in Calcutta, but Bengali women were yet to step into the picture. For one thing, photography was an expensive art, and for another, it was yet to be formally socially sanctioned as an 'acceptable' activity for native women.
The ridiculous lengths to which women had to go simply to be photographed by men in those days was undoubtedly a major reason for women taking to photography. Given the strict rules of 'purdah' (veil), women were carried to a photographer's studio in a palanquin and made to sit behind a partition, while the male photographer readied the camera and left the scene. He was then replaced by a female member of his household, whose job was to press the shutter, since he was not permitted to look at his client's unveiled face.
Nearly two decades before Bibi Wince, Mrs E. Mayer earned the distinction of becoming the first professional woman photographer in India when she opened a studio at 7, Old Court House Street Corner (later to shift to 5, Waterloo Street) in 1863. One of her primary target groups was Bengali women, who she felt would be far more willing to be photographed by a woman. In December 1864, the journal of the Photographic Society of Bengal cited Mrs Mayer's achievements, and one of her photographs was displayed at the annual exhibition that year.
Against this backdrop, the reformist Brahmo Samaj movement, one of whose aims was to spread women's education, encouraged Bibi Wince in her efforts to teach Bengal's women the basics of photography. Bamabodhini Patrika, the monthly women's magazine launched in 1863 by Umeshchandra Dutta and a few other young Brahmo reformers, actually published a piece urging women to use her services, saying: "Bibi Wince has learned this beautiful new form of education after spending a lot of money and much effort. She is desirous to go to homes or to open a class in Calcutta or any adjacent town to teach photography to men and women…This kind of education has become very popular in England and many other civilised countries."

And then comes the call to action, "Those women who have the time, the money, and above all the inclination to be a photographer should never waste this chance."
Given the need for time and money, as well as a certain degree of social immunity, it comes as no surprise that the ladies of the wealthy and influential Tagore family were among the first Bengali women to take to photography. Also unsurprisingly, the most notable among them was Rabindranath Tagore's sister-in-law Jnanadanandini Debi, wife of his elder brother Satyendranath, himself a prominent advocate of women's emancipation. Her example was probably in Rabindranath's mind when he wrote his novel 'Jogajog' in the mid-1920s, in which the female protagonist Kumudini takes to the exciting new art form.
Jnanadanandini's photographic abilities were never really publicly written about, but a letter from her daughter Indira to photographer Debaleena Sen Roy clearly stated: "My mother, almost a hundred years ago, had learned photography from Bourne and Shepherd and had taken pictures of those family members who had either never been photographed or who would never again get their pictures taken."
However, the first professional 19th-century Bengali woman photographer did not appear to come from the ranks of the rich and famous. Her name was Sarojini Ghosh, and she set up her own studio at 32, Cornwallis Street, calling it The Mahila Art Studio and Photographic Store in the 1890s. There has been some speculation that she could have been the sister of renowned nationalists Aurobindo and Barin Ghosh, but this has never been established. On February 16, 1899, the Amrita Bazar Patrika wrote: "A thoroughly secluded studio for ladies under Sreemuttee Sarojini Ghosh…She has executed for us some orders, and the way these have been finished leave no doubt as to her efficiency and ability as a photographer… Sreemuttee Sarojini deserves encouragement and patronage at the hands of her countrymen…"
Yet another name on the list of firsts is that of Annapurna Dutta, who was active in the 1920s. While not the first professional Bengali woman photographer, she was the first to have a long career in photography and make it her livelihood, using professional equipment bought from Bombay.
These pioneers were followed by several members of their sorority, who further cemented the bond between Bengali women and photography. In today's world, when taking a photograph has become easier than pouring out a glass of water, it is easy to forget the times when a woman had to wait for permission to even touch a camera.
Source: Chobi Tola: Bangalir Photography-Chorcha by Siddhartha Ghosh, translated by Debjani Sengupta