From 3-day cultural program to 'Durga & Dhaki' campaign, Australia's Pujo go Virtual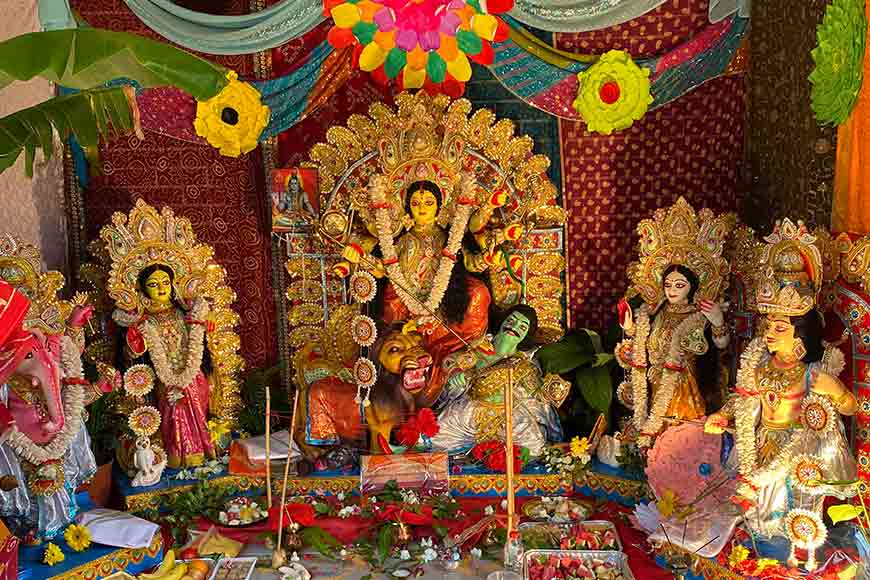 Historical evidences in Markanda Purana, suggest, Raja Surath, democratic emperor of Bengal with his Vaishya friend, performed the first ever-recorded puja of Durga, in spring. The Raja who lost everything he owned and believed only a worship of the Ati Prakruitika Shakti, Durga, would reverse his misfortune. And it did. They worshipped Durga in Spring time. So, this festival is called Basanti puja. Basanti Durga puja still remains a grand celebration in rural towns of Balasore, Bhadrak, Cuttack & Kendrapara districts of Odisha besides in West Bengal.
In Australia, Durga Puja turns into a Spring perfect celebration. Women in their sarees with matching accessories play a visual riot of colours, heritage and culture as they gatecrash every venue like they do in the Melbourne Cup Day. While Dhoti cladded Bengali gentlemen chant hymns, participate in dhunuchi dance and enjoy the sound of dhaks, all heralds the triumphant and grandeur return of the Mother Goddess to earth. Durga Puja is the time, when people who haven't spoken for months hug each other for a better tomorrow.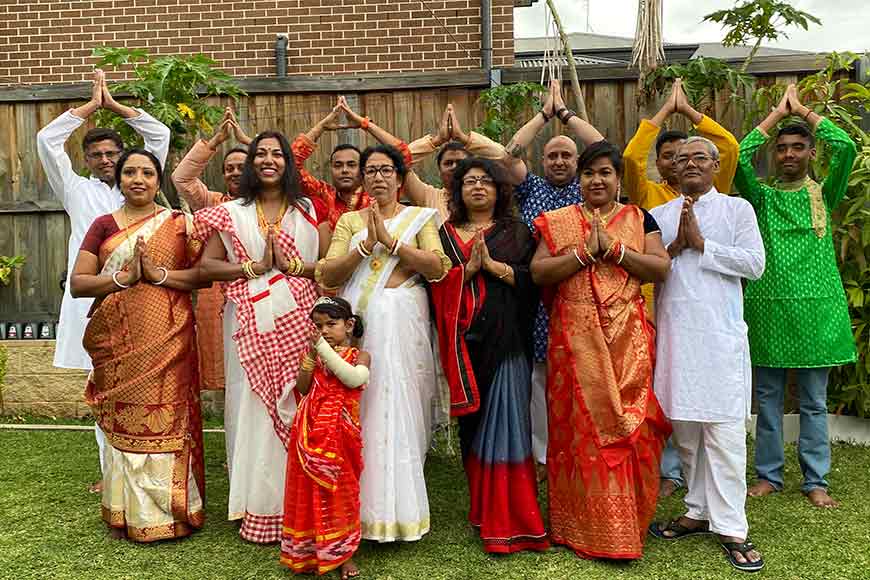 Now a days NRI Bengalis and non-Bengalis are equally playing active role to market Durga Puja globally. Who can forget with thousands of Bengalis living across Australia, many organizations in Australia host Durga Puja. Durga Puja for the Bengali diaspora often is only five days of fun squeezed into a weekend festivity in Australia. The Bengali Association of NSW, Melbourne Bengali Association and the Bengali Society of Queensland have been hosting Durga Puja for decades with the fervor of festivities spreading to Tasmania this year. There are also Durga pujo organised by Puja & Durga Society of Northern Territory, Bengali Association of Western Australia and Bengali Association of Canberra.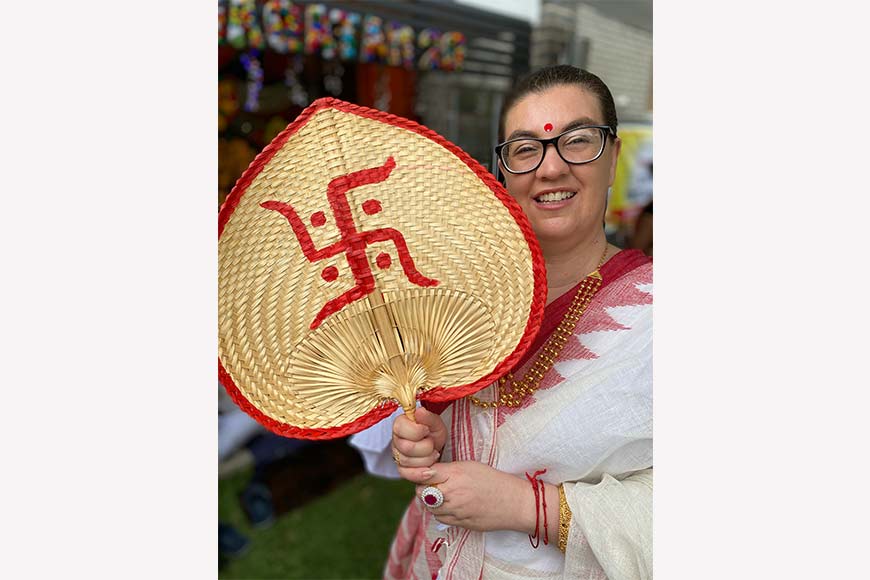 According to South Australian Department for the Premier and Cabinet update 'Worship of Durga,' also referred to as Durgotsava, 'Festival of Durga' or Sharadotsav is an annual Hindu festival in South Asia that celebrates worship of the Hindu goddess Durga. It refers to all the six days observed as Mahalaya, Shashthi, Maha Saptami, Maha Ashtami, Maha Nabami and Vijayadashami. Still Durga pujo festival lacks federal recognition like the celebration of Deepavali due to proper lobbying in Canberra. In spite, of such lack of support, Bangladesh Puja Association (BPA)is preserving the essence of the thousands of years Bengali Hindu Culture in Australia by celebrating Durga pujo every year.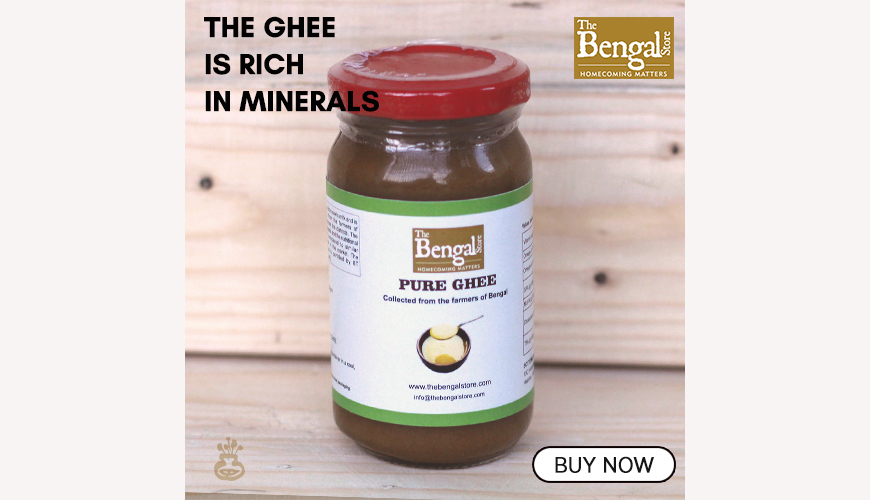 Every year Durga idol comes from Kumartuli in Kolkata. This year it is not different. One Durga Puja in Melbourne ordered fibre glass Durga idol from Kumartuli. Artist Koushik Ghosh has become the first, Kumartuli artisan to have his Durga idol shipped to Australia amid COVID-19 outbreak. Ghosh's shipment has given some hope to the artisans of Kumartuli who are getting lesser orders and facing cancellation of bookings this year due to the pandemic.
The ongoing COVID-19 pandemic is making sure that this year's celebrations will look different and many of the usual traditional gatherings would not take place. In Sydney, Bengalis are going to miss out on 'Anandamela' – a food festival which in the recent time has become synonymous with Durga Puja worldwide. Still there is some good news as Swagatam Puja Committee will be perform one of the finest Durga pujas in Penrith, NSW.
According to President of Swagatam puja committee (Penrith, Western Sydney), Mrs Swagata Das, 'There are many challenges in 2020. But the puja committee is prepared to embrace the Durga pujo festival spirit in Down Under by organising Virtual pujo and anjalis for everyone across Australia. This will be in line with the Australian health safety guideline for the pandemic.' It is Sydney's first ever virtual puja in Southern Hemisphere.
Due to pandemic, Melbourne resident Rupa Ganguly said, 'Normally in Melbourne we have around 4-5 big pujos but this year according to my knowledge only Melbourne Pujo is doing online events to keep the spirits alive. Since strict lockdown Melbourne, having a Pujo is not possible - we cannot even meet anyone, so having an online cultural program all 3 days.'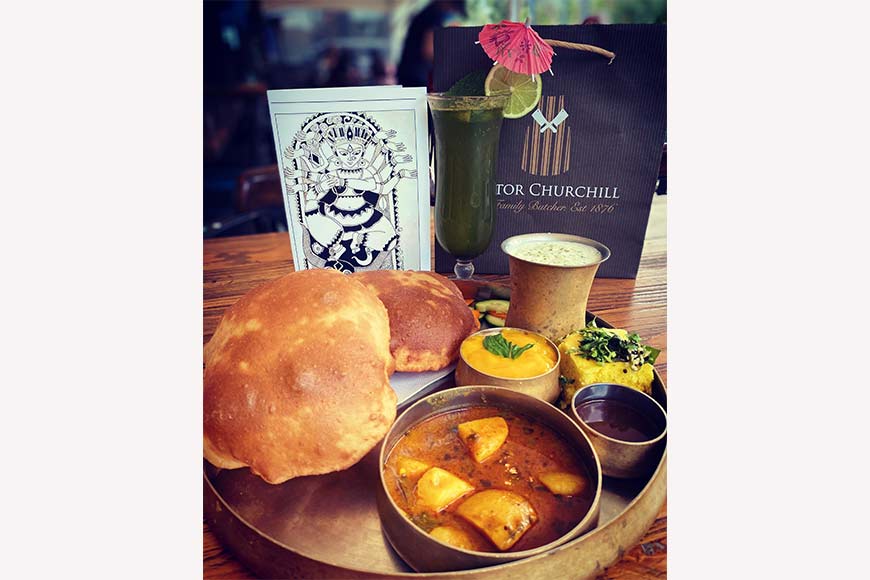 The Halders of Australia have also launched their own, first of a kind Durga & Dhaki social media Campaign for Spring 2020. 'The campaign is to encourage everyone to make Australian environment plastic free by picking up plastic bottles for recycling while requesting to donate to Dhakis (folk drum players) of Bengal, India as they are effected by the pandemic,' said Jane Wilkins from Halder family. Halder family has also prepared exquisite hampers which includes Bengal textile, Byron Bay cookies and Darjeeling tea amongst others. Hampers were for winners of Swagatam pujo's online art and cultural competitions. An online anjali was also performed.
In 2020, many Durga Puja festivities in Sydney and across Australia had been cancelled as the health risks are too high but Bengalis of Australia believe that the Durga Puja bond is not through physical proximity only but through our shared community, culture and celebrations. The Bengalis of Australia proudly celebrated Durga Puja but with caution, compassion and collective spirit. After all it is spring-time.
Raja Surath in Bengal knew, spring is the best time to celebrate Durga pujo. And so do Bengalis of Sydney.
Story Tag:
Durga Puja 2020, Australia