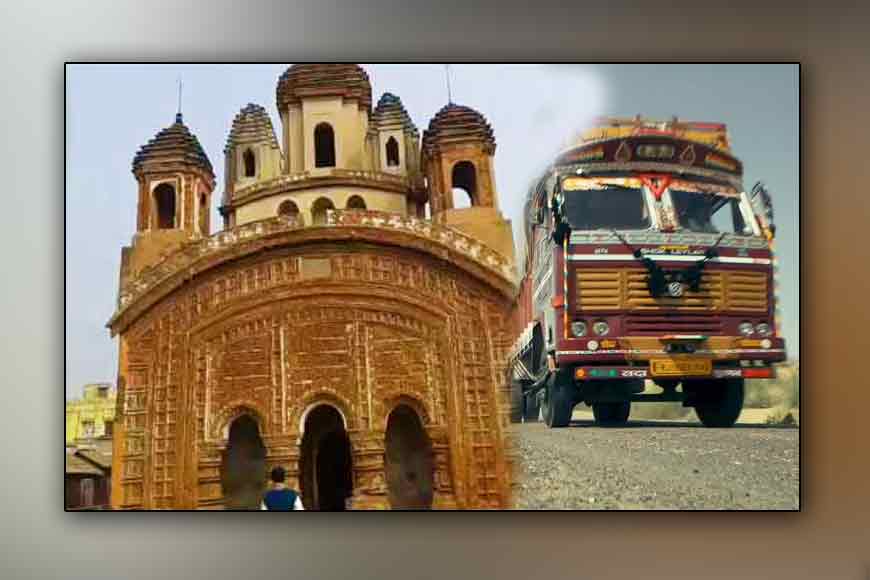 Lord, no longer are You and I apart. I laud holiness,cherish trusted one. As water mingles with water, I have become one with God….. Thus, spoke Jaidev through his immortal creation Geet Govinda….
But it seems the temple erected for his beloved Radhagovinda, on the banks of the mighty Ajay River, might not be as immortal as his verses, is immediate action is not taken. This heritage temple of Birbhum is in a bad shape today. The structure is being subjected to severe damage due to heavy traffic movement by the road that runs right beside the temple. The district administration has assured locals they are considering alternative routes of commute so that the temple does not get further damaged due to traffic.
Incidentally, Kenduli village of Birbhum's Ilamabazar block is also the birthplace of poet Jaidev. In 1683, the King of Bardhaman, named Kirtichand Bahadur established the temple in memory of Jaidev. The 60-feet tall temple is made up of lime-stoneware and has an idol of koshtipathor. There are intricate terracotta works through out the body ofthe temple. The tales of Ramayana and Mahabharata are engraved on the temple walls. While going to Bolpur through Ilambazar, one can take the bridgeabove the Ajay river. But the administration has restricted heavy traffic movement on the bridges. As a result, the heavy vehicles which travel from Panagarh to Birbhum or Birbhum to Durgapur or Burdwan, travel through the road adjacent to the Radhagovinda temple of Jaidev.
The ancient temple is constantly being shaken due to the load of the heavy traffic. Already cracks have developed and local residents and priests have expressed their concern about these signs of wear and tear. Benimadhab Adhikari, a priest of the temple said, "A large number of heavy vehicles travel the road beside the temple on a daily basis. The damage that occurred to the temple is primarily due to the terrible vibration that takes place because of this. If this keeps on happening, the temple might collapse any day."
Jaidev's life is as interesting as the temple. He was the court poet of King Lakshman Sena of the Sena dynasty who ruled Bengal in the 12th century. His mastery in Sanskrit language was matched by his proficiency in both music and dancing. He was a mystic and a devotee of Sri Krishna. His poetic masterpiece, Geet Govindam embodies the great wealth of his devotion and mystical experience, complete with twelve cantos of mellifluous verses and songs. The theme of it is the love of Radha and Krishna, symbolizing the longing and striving of the individual, for communion with God, culminating in their blissful union. The language and the imagery express the most intense form of love in all its moods and phases.
Needless to say, the legacy of such a soul can only be preserved if the temple that houses his tales and love for Krishna is saved from destruction.