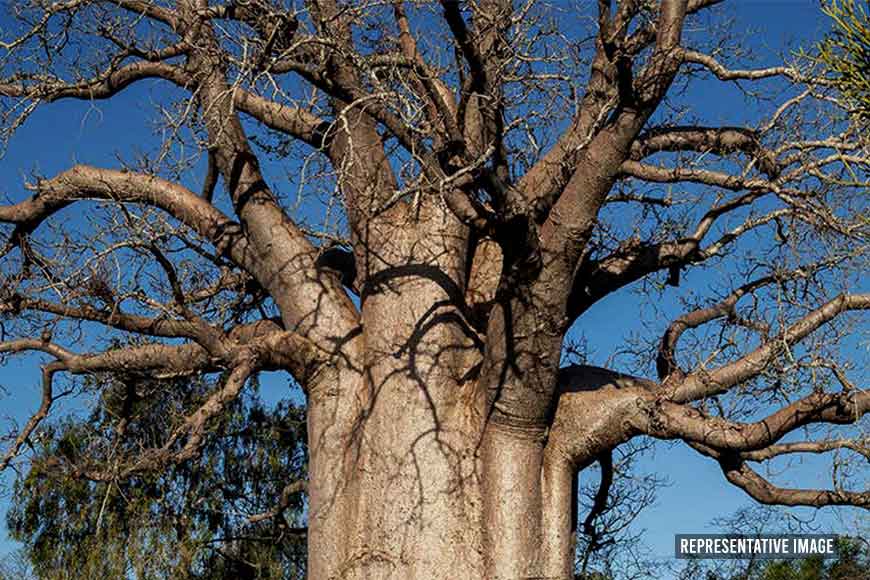 This is a success story of replantation for sure. The 100-year-old iconic Baobab Tree that stood like a giant at the Shibpur Botanical Gardens is successfully back on its roots, thanks to the tireless efforts of scientists. It was partially uprooted during Cyclone Amphan and has been replanted this week after the first attempt failed.
The tree is huge, that acted as an impediment to transplanting it. The tree weighs around 30 tonnes and hence could not be lifted by any ordinary crane and had been lying in the garden alive, green shoots growing from its branches. Authorities took two months to chalk a plan and the tree was finally back on its feet following help from the Kolkata Metro Railway Corporation (KMRC) and the Central Public Works Department.
The Baobab tree happens to be a native of Africa and is so sturdy that it can live up to 500 years. It is also called Kalpavriksha as legends say anyone wishing anything standing below such a tree gets his wish fulfilled. The transplantation process was cumbersome. The 30-tonne tree had to be pruned down. On Tuesday, minus branches and leaves, the Baobab tree weighed just 15 tonnes. A telescopic hydraulic crane of the KMRC hauled it up. Its roots were treated with fungicide and the tree was replanted.
The Baobab tree was introduced in India by Mughal traders about 500 years ago in the Allahabad-Muzaffarnagar region. It is known for its medicinal properties, its bark is the source of amino acids and minerals and is often used as mineral supplements. The authorities are confident that the tree now will survive many more years.

Story Tag:
Giant Baobab tree, Botanical Gardens