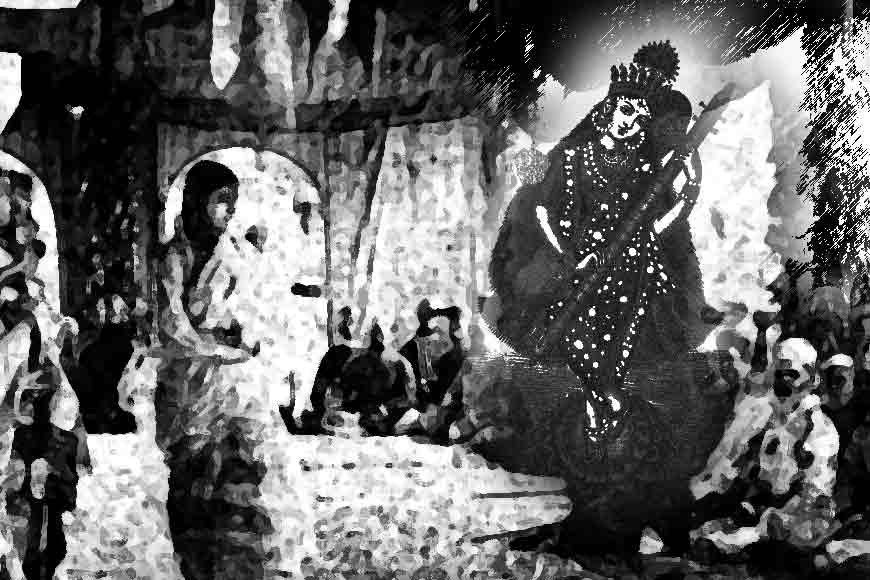 With her other two hands, Devi Saraswati plays the music of love and life on a stringed instrument called the veena. She is dressed in white — the symbol of purity and rides on a white swan, symbolizing Sattwa Guna (purity and discrimination). Learned and erudite, Rig Veda had attached great importance to the worship of Goddess Saraswati as a representation of knowledge and creative skills. Even in Buddhist iconography Saraswati is a prominent figure in the consort of Manjushri.
Though the goddess of music has been celebrated since the time of Vedic age all over India, in Bengal, her worship had been a bit different. She was eulogized more in the forbidden territories of Bengal, the brothels were Bangali babus were regular visitors. In ancient literature there is mention of how the Choushotti kola practiced before worshipping Kamdev started in these brothels on the very day of Saraswati Puja. Author Bankim Chandra Chattopadhyay mentions: "One would only qualify as a babu, if he did Durga puja for the sake of celebrations, Lakshmi Puja to keep his wife's request and Saraswati Puja to win the heart of his beloved mistress." They celebrated this puja with the 'Nath bhanga' custom, when young virgin girls were for the first time introduced to the babus as a mode of sexual enjoyment.
The brothels of Kolkata worshipped Goddess Saraswati with dancce, music and Jatra pala. Hordes of babus would be seen roaming about in mayurpuccho dhoti splurging money. In fact they sponsored the worshipping of the goddess of music to win over hearts of prostitutes who would give them pleasure all round the year through their songs and dance. Be it Halsibagan, Rambagan, Sonagachi, babus of Kolkata and their friends and associates celebrated Saraswati Puja in the 'nishiddho pallis' with great pomp and show.
However, some famous families of Bengal also worshipped Saraswati. Maharashi Debendranath Tagore used to celebrate Saraswati pujo in an extravagant way before he took up the Bramho religion. Later, Ramchand Sil, B.K Pal and others also held pujas at their homes. In Ramchand Sil's house the idol was unconventional, holding a silver beena and surrounded by other associates on both sides.