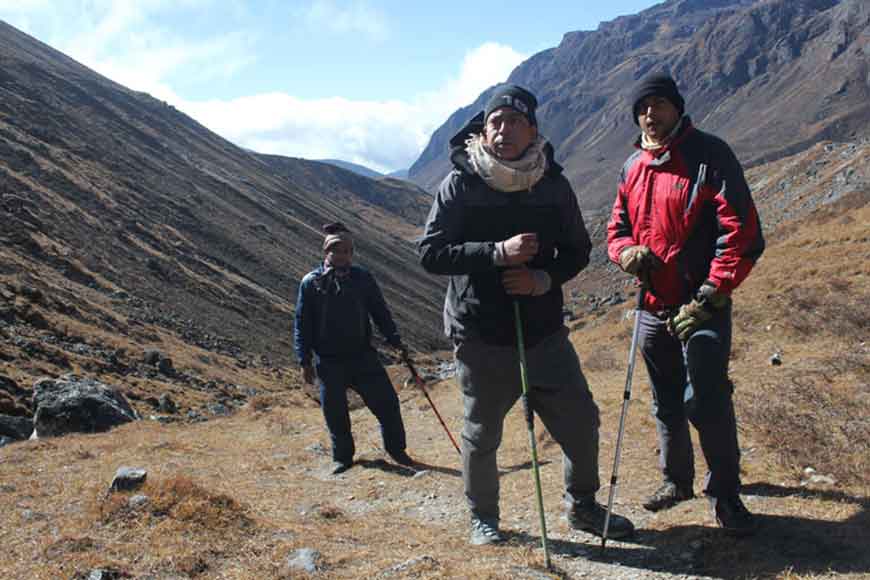 Time, like an ever-rolling stream, bears all its sons away… –Holy Bible.
Time indeed moves on and every moment passes by, never to return again. Time is both a blessing and a curse for us. Depends on how we utilize each moment allotted to each one of us.
Soon after completing the Annapurna circuit race, I went to participate in the Khangchendzonga National Park trek. Whenever I get time to spare, I dedicate it to the mountains. This time I fixed my goal to complete the Goecha La and Rathong La circuit in three days' time. Those who have experienced the Goecha La trek will understand how unbelievable and absurd this target that I set for myself. It is also extremely tiring and painful. But despite all odds, we -- a group of crazy mountaineers -- agreed to undertake this mission.
After completion of Annapurna circuit, I had realized one pertinent fact – it was not feasible for me to go on long, expensive and arduous solo treks anymore. So, I formed a group with like-minded trekkers and named it 'The Ultra Himalayans.' It was not an organized group. Mountain lovers from different spheres of endurance sports came under the umbrella organization. It was the group's decision to cover Goecha La and Rathong La circuit in three days' time. All the participants would carry their own load comprising a tent, dry food and sleeping bag. We would hire a young and experienced guide to accompany us.
Other than me, our team comprised Arpita Moitra, Aveek Laha, Chhottu Roy and our guide Suman. On the first day, we got our permits issued and entered Khangchendzonga National Park by 10 am. As soon as we crossed Yuksom, a small village that serves as the starting point of the Dzongri - Goechala Trek, we entered a dense forest. Down below the fast flowing Prek Chu River is visible from a distance. On the right side of the path, the mountain slope stands erect like a huge wall. The narrow valley way was busy with trekkers and horses-yaks moving continuously. We were all carrying heavy luggage on our backs so sprinting was not possible. Instead, we walked as fast as we could.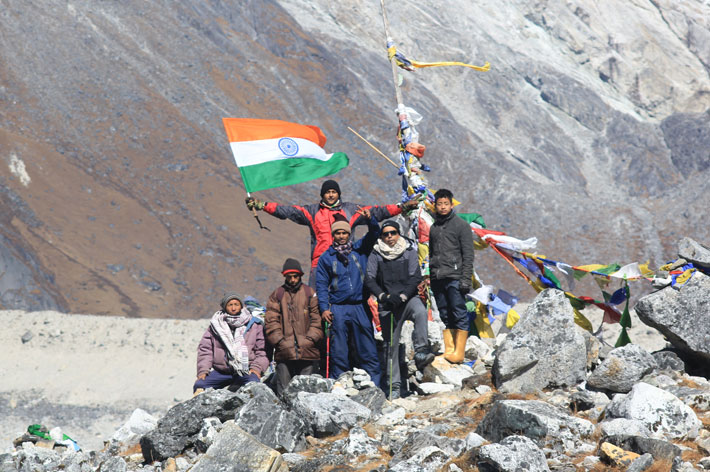 We heard crickets chirping monotonously. Our first camp in the jungle was set at Sachen Camp site. We crossed three suspension bridges over deep gorges to reach Sachen and once there, my heart skipped a beat! I saw a man was lying on the ground and he was being tightly wrapped and tied up. I thought he was dead but when I went close to him to scrutinize, I realized he had fever and the locals were bundling him thus to take him down to the nearby village for treatment. We were now set to cross the fourth bridge after which the route became a steep climb. We were heading towards Tsokha via a small settlement at Bakhim. Tsokha is located at a height of 3,000 metres. It took us only four hours to travel 14 kilometers from Yuksom to reach Tsokha. Now was the time to take proper rest and acclimatize ourselves for the higher ranges.
The next day I woke up before dawn and rustled up a wholesome lunch pack and then began our journey. We were heading towards Goecha La via Kokchurang. Both I and Arpita-Di were almost sprinting. The steep trail meanders through undulating plains and thick jungles. We crossed Phedang on our way before we set foot on Kokchurang. Here we left our heavy sacks and continued our journey to Goecha La. On our way decided to take a short break at Thansing Trekkers' Hut, have some light refreshments and then proceed. But when we reached Thansing at around 11 am, we found the place deserted. Arpita Di was yet to reach. The weather was fine till then but it could suddenly change and become rough and windy any moment. So I decided not to waste time looking for the guard (Chowkidar) and resume my trek instead. I checked my pocket and found an energy bar. I took a bite as I stepped out.
I turned around and saw Arpita-Di coming. The lady is almost 40 years old, but her physical stamina and mental strength are truly praiseworthy. By then I was literally sprinting. I could get fleeting glance of the Kanchenjunga peak from amid the clouds. I crossed Samiti Lake and then finally at around 1 pm, I reached View Point 1. This is located at the foot of Mount Pandim. At present, no trekkers are allowed beyond this point. Right in front of me stood a wide range of mountain peaks radiating brilliantly. As I stood there, within 15 minutes clouds glided from nowhere and covered the entire area. We were the first to trek from Tsokha to Goecha La.
Now it was time to descend. Initially we had planned to go to Dzongri via Kokchurang. From there we would head towards Rathong La the next day and from there, to Yuksom. But after reaching Kokachurang, most of my fellow mountaineers refused to trek till Dzongri. So, the plan had to be dropped.
This was the night of 'Bhoot Chaturdashi' (the night before Deepavali) and we spent the night at the godforsaken desolate bungalow at Kokachurang. The majestic Himalayas surrounding the silent camp at night created an eerie atmosphere. Everything seemed so unreal. Scary thoughts came to mind. The next day, all fears were dispelled with the first rays of the sun. We enthusiastically began our descend and reached Yuksom after completing our trek to Goecha La. We took three days to complete our mission and proved it is possible to do so.
Translated by Tales, Talks and Walks (TTW)