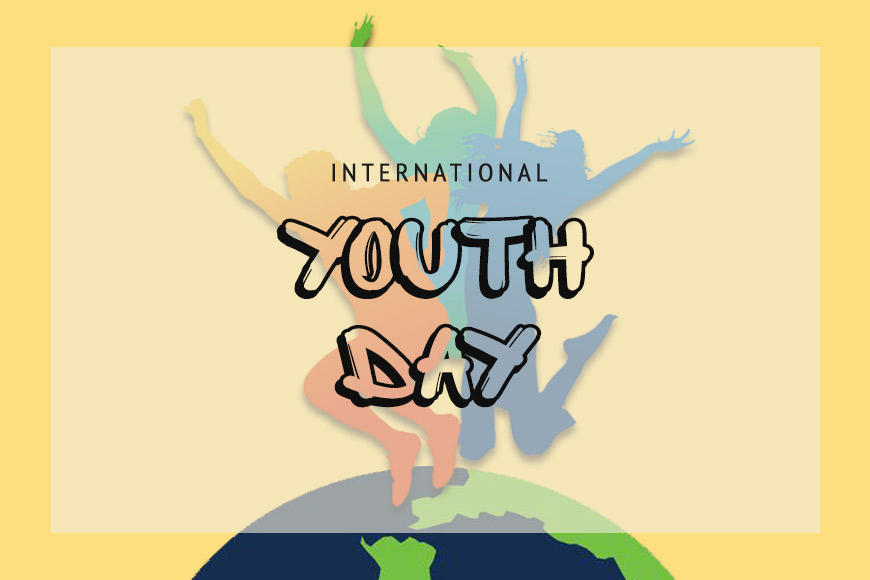 August 12 was first designated International Youth Day by the UN General Assembly in 1999, and serves as an annual celebration of the role of young women and men as essential partners in change, and an opportunity to raise awareness of challenges and problems facing the world's youth. The theme of International Youth Day 2020, "Youth Engagement for Global Action" aims to highlight the ways in which the engagement of young people at the local, national and global levels is enriching national and multilateral institutions and processes, as well as draw lessons on how their representation and engagement in formal institutional politics can be significantly enhanced.
Modern-day youth of India lives in the most interesting phase of history. As the Indian economy went global and the internet is already an integral part of our lives, we have fairer chances of making it big than any of the previous generations. West Bengal Chief Minister Mamata Banerjee has steered the state ably to make it the leading state in India in terms of credit flow in the Micro, Small & Medium Enterprises (MSME) sector. And this has been possible due to the persistent follow up of the state government in providing entrepreneurs all necessary assistance to youths for setting up and running business successfully.
Bengal has set up myEnterprise.wb.gov.in as the single window for all applications, information and all forms, streamlining the cumbersome process. The government has also tied up with IIM-Calcutta for training officials to go over each district educating and assisting all prospective entrepreneurs with everything they need to start their own ventures. It has created a non-profit institute called Enterprise Development Institute in collaboration with Bengal National Chamber of Commerce and Industry for strengthening entrepreneurship with structured training and certification programmes such as Executive Masters of Business Creation & Administration (EMBCA) and other diplomas for youths. Recently NASSCOM too has offered to build the first ever Incubation Centre for young and aspiring entrepreneurs in Kolkata.
These initiatives have motivated a large number of young first-generation entrepreneurs to improve and excel in their entrepreneurial pursuits, and inspire those who are a part of the country's entrepreneurship ecosystem to excel even further. Here are four companies started by amazing young entrepreneurs.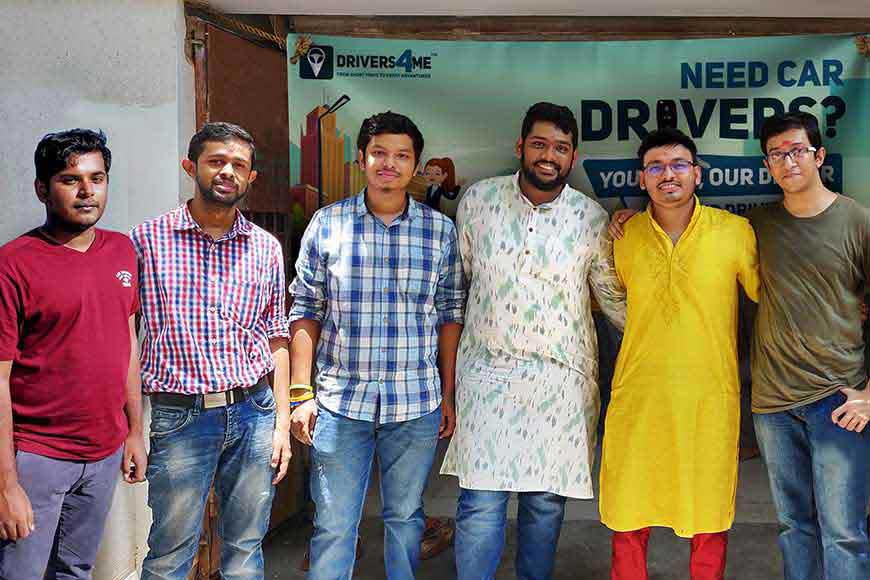 The team which launched Drivers4Me
Rajarshi Nag, Rajarshi Basu, Paramartha Saha, Ronit Roy and Prachetas Mitra have been classmates at The Institute of Engineering & Management (IEM), Salt Lake, studying computer science. Since their college days, they had contemplated business as career option and with Rs 2,500 and still in third year in college, they took the plunge to write their story. They launched 'Drivers4Me,' an app-based on-demand professional driver service for both customers and businesses in India. At a time when most business ventures are finding it difficult to sustain due to prolonged periods of sporadic lockdown, Drivers4Me is doing really well and generating jobs for 850 families, which is no mean feat during the lockdown period when people are actually losing jobs and income is shrinking. The partners are also happy with their venture.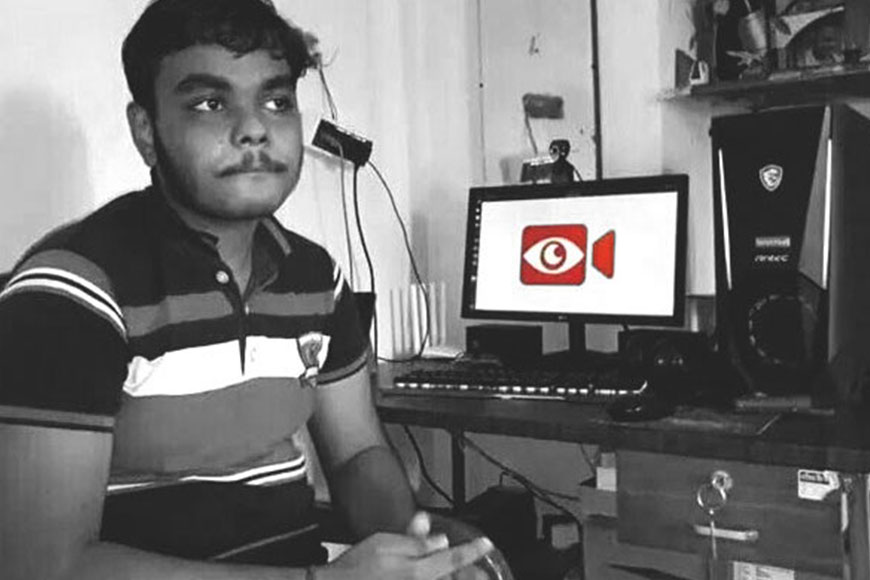 Arnab Modak, the brain behind Drishti app
Class X student Arnab Modak of Ghatal's Jalsara Ramkrishna High School recently launched 'Drishti App. With Drishti app, it is possible to video call and chat with 100 people simultaneously for as long as one wishes to. Moreover, there were countless complaints against Chinese apps which were alleged to hack and steal information from users. Drishti App is far more safe and secure, claims Modak. Google has already acknowledged the feasibility of this app. The global mobile app and digitally delivered games rating organization, International Age Rating Coalition (IARC) has rated Modak's app and has given it a 3.5 rating. The app is available at Google play store and can be downloaded free of cost.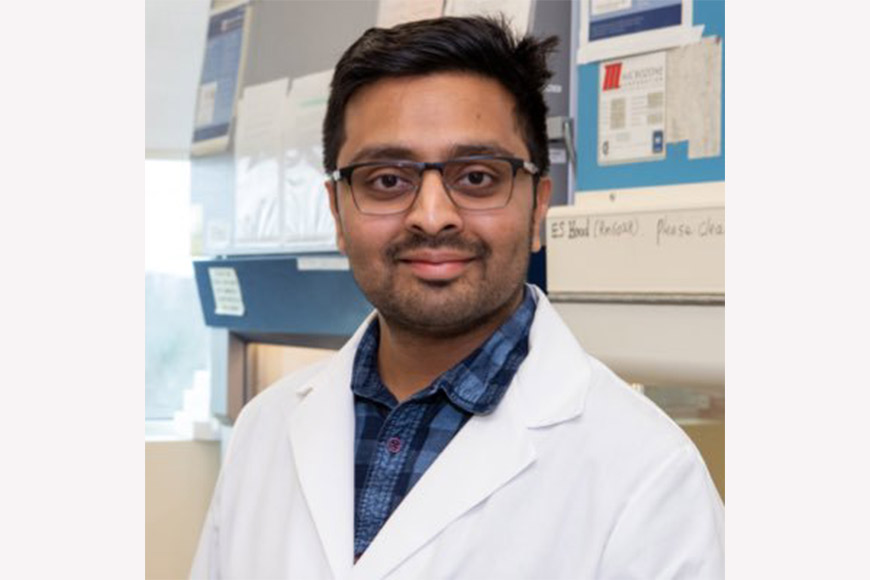 Arinjay Banerjee
Arinjay Banerjee is a post-doctoral student at McMaster University in Waterloo and is part of a Canadian research team that has made substantial breakthrough in Corona Virus research. Scientists from Toronto's Sunnybrook Hospital under University of Toronto and McMaster University in Waterloo are jointly conducting the research and they have succeeded in isolating the virus under laboratory conditions, outside the infected human body and have also propagated the same under lab conditions. This will help to study the virus behaviour which is a key to successful isolation and treatment.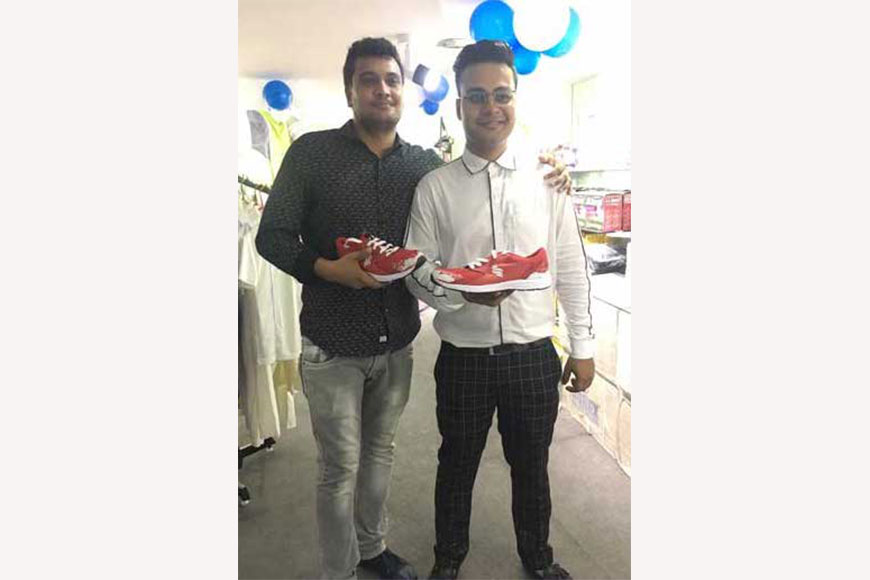 Gourav Bhattacharjee of Silco
Gourav Bhattacharjee is a young entrepreneur who recently launched the sports gear manufacturing brand, Silco, from Bengal. He is working hard to establish it not only as a premier national brand but also aims to take his brand abroad and share space with giant international players like Adidas and Nike. At present his company manufactures footwear, hosiery, apparels, footballs and different sports gear and tools but he plans to diversify and create a niche market for sports-related items. He is soon going to launch his brand's sports footwear in the economy range which will start from Rs 200 a pair. Bhattacharjee is oozing with confidence and raring to go. He has already done a footwear designing courses from China to gain a global perspective and insight on sports footwear designs. It's now only a matter of time before this young entrepreneur sets out on his journey to conquer the world with his brand.

Story Tag:
Youth, Entrepreneurship, Achievement