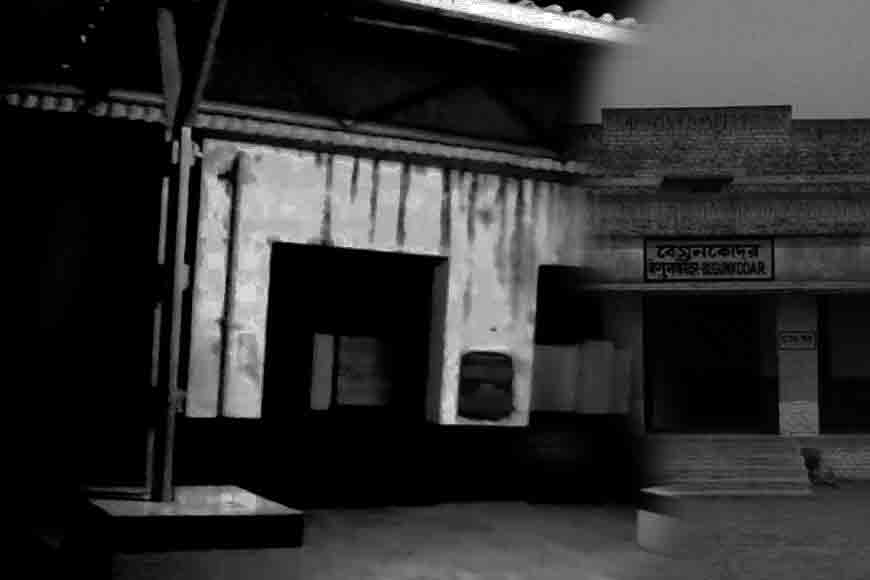 Interested in a spooky tale? And that too in a station at Purulia? Begun Kodar is a tiny station lying between Kotshila-Muri under the South-Eastern Railways. It was in the early 1960s that Lachan Kumari, a queen of the Santhal tribe that inhabited this area, donated a large chunk of her land to the Railways for the development of the area. The station turned a boon for neighbouring villagessuch as Dangal, Bamniya, Beladi, Durku, Kanudi and Patratu. However, her dream ran into unforeseen trouble in 1967. Locals say this was the year,when the station master spied a woman in a white saree on the railway tracks.People were frightened,when he died the very next day. Rumours engulfed this tiny railway station, with news of supernatural events travelling far and wide.
Surrounded by paddy fields, with no signs of human life evident for miles, the station and its building did convey a strange and forbidding atmosphere. In no time both passengers and the Railways deserted the place. And thus, began the tale of the ghost station, which has been tagged as 'haunted' in railway records. Begun Kodar had been closed since then and was listed by railways as one of its 10 'haunted' stations in India.
Rumours of paranormal activities scared off railway staff. Spine-chilling creepy stories overflowed from the walls of most popular social sites. People once again fell prey to the stories of paranormal presence at Begun Kodar and all would leave the station by 5.30 pm. Jumping at this opportunity, many gold diggers touted the station as an ideal 'ghost tourism' spot to attract visitors. But locals strongly protested against such nefarious moves and in 2009, the station was finally reopened by Mamata Banerjee during her tenure as the Union Railways minister. Since then trains have been stopping at this obscure station and passengers use it only till 5 pm scared of encounters with ghosts.
Recently a nine-member team of the rationalist organisation, Paschim Banga Bigyan Manch, decided to bust the myth once and for all. The Purulia district committee president of the organisation, Nayan Mukherjee and his team members camped at the station on a freezing cold night with police protection to bust the lore. They were armed with torches, digital compasses and cameras to capture any unusual nocturnal activity. However, nothing eventful happened. Once they noticed two lights headlights approaching the station from far and they became cautious. Gradually, what transpired was two linesmen on duty who were checking the tracks. When they were asked if they had seen any ghosts at night during their duty, both denied. Locals also denied encountering ghosts ever.
Just before daybreak at around 4 am, Mukherjee said they heard a peculiar noise from behind the station. But when they focussed torchlights on the surrounding bush, they detected four or five people, who appeared to be locals, fleeing from the spot. They chased them for a while but the miscreants ran away. It is evident that people with vested interests want to keep the myth alive.