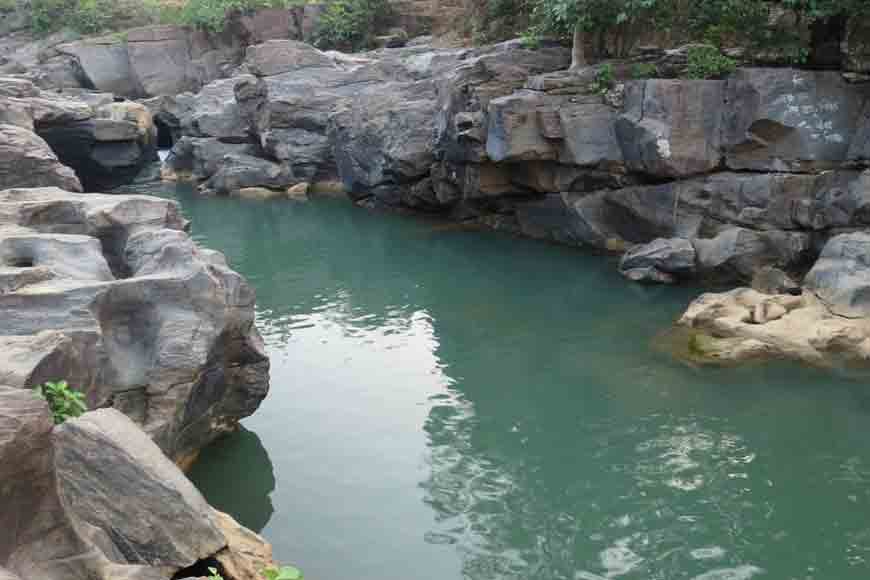 Kankrajhor in the north-western part of Jhargram sub-division is an exquisitely beautiful hamlet in the midst of dense jungles. Surrounded by ancientsal, teak, mahua and kendu, the place is a perfect getaway for the weary soul, the ideal place for a short weekend tour and the right destination for the adventurous trekker. Kankrajhor opens a window to the breath-taking beauty of a natural world around. The Mayurjharna hills in the backyard of Kankrajhor is home to peacocks, deer, bears and rabbits. The Amjharna spring in Amlashol close by is a peaceful haven for nature lovers. The Ketki spring bordering on Jharkhand state is quite close and here one can just sit the entire day watching migratory birds chirping around and splashing mirthfully in the still blue water.
Lush green mountains, brooks, village huts and the hidden beauty of Makuli Falls in the heart of the forest are elixir for the tired urban soul. But these gems strewn around Kankrajhor have remained off limits for tourists for a long time,due to lack of facility to stay overnight in the area. The first private home-stay facility has been launched in Kokrajhar of Belpahari region recently. One can board any train from Howrah that passes through Ghatshila. From Ghatshila, the hosts will arrange for the rest of the journey to Kokrajhor. After the trip, they will again reach the tourists to Ghatshila station. It can also be approached via Jhargram.
Once there, you can go on Chakadoba trekking route or enjoy bird watching at Khandarini dam. You will be able to explore the scenic beauty from atop Gadrasini hill or watch the swift flowing Ghagra stream and discover the archaeological relics in the caves of Laljol hill. A further trek can lead you close to the Jhilimili hills of Bankura or the dam at Mukutmanipur. And at the end of the long and tiring trip, you can unwind at Kokrajhor, in the home-stay facility developed by three entrepreneurs.
Tourists can book in advance to avail the home-stay facility. Charges are Rs 300 per day per person for bedding and Rs 320 for food per day. If anyone chooses to stay there for two nights and three days, the charge will come to Rs 2500. The budget holiday for nature lovers is very attractive indeed and it opens up a whole new prospect for future endevours.