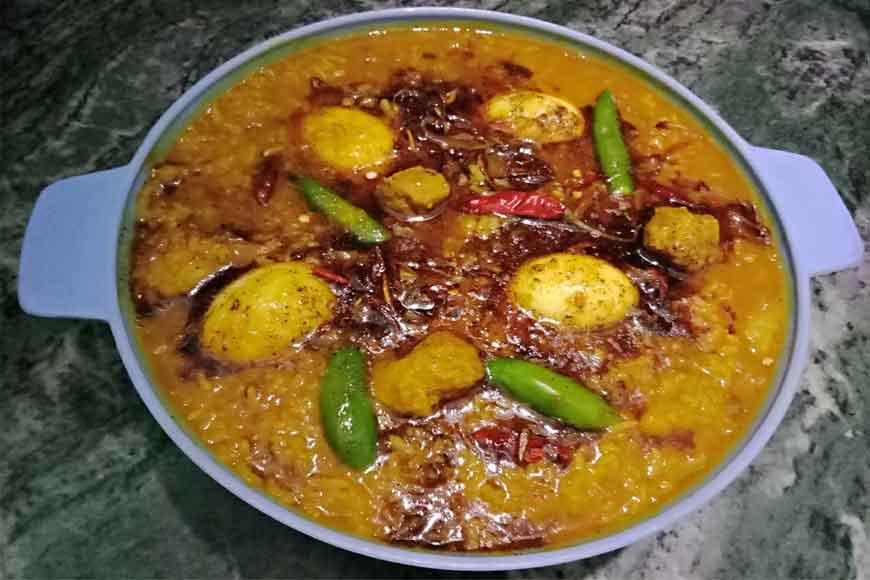 With the monsoon in full swing, Kolkata is drenched in love, poetry and rains. Khichdi is a soul food for all of us, specially for the warmth it brings during the rains. But Nayana loves experimenting with the usual khichdi and turn it into special dishes, just like she has done with this Egg and Soya Khichdi. Try out this dish that is rich in proteins too.

INGREDIENTS
1cup Basmati rice
1/2cup Moong Dal
1/2cup Musur Dal
6 hard boiled eggs
1cup boiled nutrela soya chunks
2 onions chopped
3tsp ginger garlic paste
2tsp red chilli powder
2tsp turmeric powder
2tsp dry roasted Jeera and coriander powder
1tsp garam masala powder
4 tsp ghee
2 tomatoes chopped
1tsp Jeera seeds
2bay leaves
Few whole red dry chillies
Water
Salt
Sugar
10tsp mustard oil

METHOD:
• Wash rice and pulses and soak in water for 30mins. Heat water in a big cooking vessel (water quantity is three times the amount of rice and pulses) Here total amount of rice and pulses is 2cups. So, I have taken 6cups of water. Add soaked rice, pulses,salt and turmeric powder. Allow it to boil over a low medium flame.
• In a kadai heat oil. Add jeera seeds, dry red chillies and bay leaves. Then put chopped onions, fry till brown.Add tomatoes, ginger garlic paste, chilli powder,garam masala powder and fry till oil separates.
• Then put boiled nutrela soya chunks and fry for some time.Transfer these fried masala into boiling rice and pulses mixture in the cooking vessel. Mix nicely. Mix sugar.Mix salt if required.
• Allow this mixture to boil, till rice and pulses become tender.
• Heat ghee in a separate pan. Add little jeera seeds. Fry the boiled eggs lightly. Mix little red chilli powder.
• Add these tempering over the boiling KHICHDI. Sprinkle dry roasted Jeera and dhania powder.
• Switch off flame and cover the vessel for 10mins.
• Serve EGG SOYA MASALA KHICHDI hot with hot melted ghee over it.