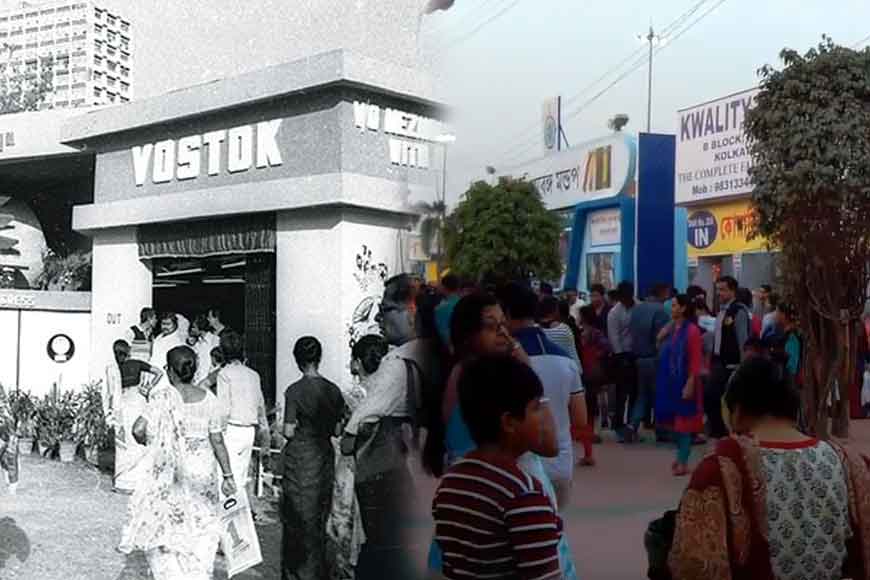 Boimela dhulo…. Shudhu Gargi Sreyoshi
Chena mukhgulo…. Porichito hashi
This Chandrabindoo song brings out a part of the essence of the intellectual pulse that the Kolkata Book Fair rings in every year. And why do we say the song partly describes the vibes? Simple, because Kolkata's boimela has no borders, boundaries and hence can never be defined through words. It is more like an ongoing tale, where words fail, expressions reign and feelings merge with nostalgia down generations. Kolkata Book Fair is rather a way of life for the city that has always been stamped upon for its laid-back attitude. May be this very lazy stupor led to the success of a fair that sells only books. After all one needs time to read, which probably is missing in the modern-day world. But Kolkata still holds on to the smell of old books and celebrates new ones and the art of reading.
As the 43rd Kolkata International Book Fair starts tomorrow, the city's enthusiasm to lap up the books in store is palpable. So much so that many have already made plans as to when to visit and which stalls to drop in at, other than of course the various book launches that are streamlined in advance. But have you ever wondered how the city welcomed books for the first time? The first ever Kolkata Book Fair took place on March 5, 1976 on the ground just opposite to Academy of Fine Arts with 56 stalls and 34 publishers. And please do not laugh at the entry fees, it was just 50 paisa. They say a lot can happen over adda. On one such adda session of a bunch of young publishers at the College Street Coffee House in 1974, the unique idea of organizing a book fair following the model of Frankfurt Book Fair came up. Incidentally,the Frankfurt Book Fair happens to be the largest book fair in the world. The thought behind the idea was to boost the publishing trade of books and creating a rendezvous for book lovers of the city. Many had considered the idea to be absurd, but the first founder member Sushil Mukherjea and the first General Secretary Jayant Manaktala went ahead with the idea.
And thus started the annual book lovers' feat in the City of Joy. This was also a time when Kolkata saw a sort of literary revolution with eminent authors like Sunil Gangopaddhay, Shakti Chattopadhyay, Mahashweta Debi, Shirshendu Mukhopaddhyay, Bhaskar Chakraborty, Purnendu Patri, Sanjib Chattopadhay and many others coming up with powerful books that had a socio-economic impact too.Tomorrow, Kolkata Book Fair is the largest in Asia and most attended international book fair of the world. Around 600 book stalls are put up with a huge collection of books.Not only Bengali literature, name a genre ---- name an author, and you will find everything here. Every stall depending on the popularity sells around 500-10,000 books every day. It is not only a fair dedicated to books. It is an integral part of Bengali culture, potpourri of emotions, old friends, old love, nostalgia, music, art and long forgotten memories.
In 1983, Kolkata Book Fair received its first international accreditation. With the evergrowing number of publishers, the book fair needed more space and was shifted to the Maidan. From 1991,the Book Fair started adapting themes just like Frankfurt Book Fair. The outbreak of fire on February 3, 1997 demolished 33rd Kolkata Book fair and lead to huge losses. It burnt down one third of the entire complex and charred 1,00,000 books. It was the sixth day of the fair and the footfall had reached its peak. A person named Jiten Seal even lost his life. But not even fire and flames could deter the enthusiasm of book lovers of Kolkata. After 2006, the venue shifted from Kolkata Maidan to Milan Mela grounds which was considered much more organized, environment friendly and devoid of pollution. This year it is at Central Park Mela Grounds in Salt Lake.
Be it for the little magazines, new publications, adda, meeting with new friends and falling in love… Kolkata Book Fair still holds on to a charm that very few book fairs across the world do.