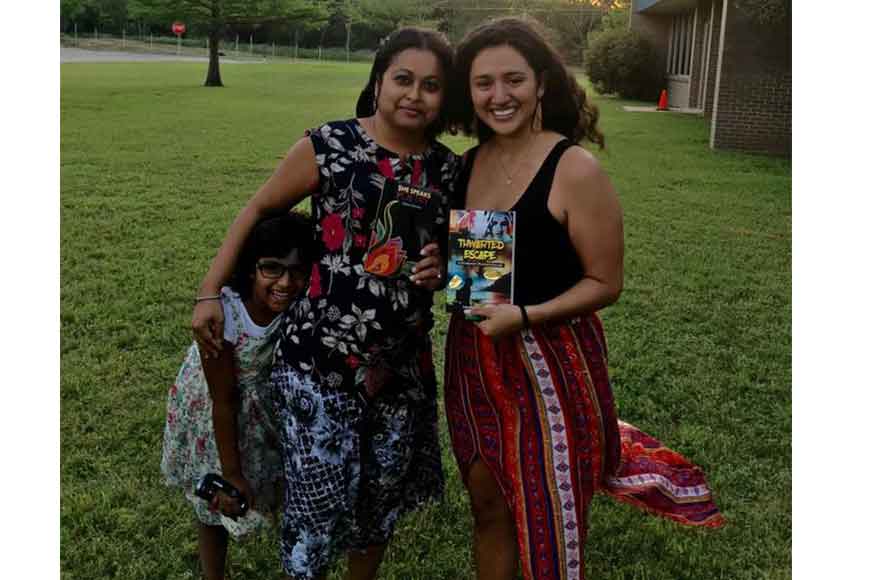 Born and brought up in Barrackpore, North 24 Parganas, internationally acclaimed author and poet Lopamudra Banerjee is presently living in Dallas but has been staying in different cities of USA for more than a decade now. But she still yearns to be close to her roots and takes us on a nostalgic trip to her hometown.
"Today, travelling through the mists of time, I try looking for long-lost words buried in the fissures of your walls. I visit the echo of the sighing music of your rooms, your staircases, your walls. My uncharted footsteps linger in the naked air, stirring the darkness as I walk through your doors----" (Thwarted Escape by Lopamudra Banerjee)
I grew up in a traditional, orthodox family and since college days, I tried to break free of those shackles. But somehow the yearning for the roots remained within me. The Barrackpore of my childhood, as I remember it, is synonymous to mossy ponds and creeks, tall coconut trees, open terraces or 'nyarachhad', nondescript alleys and old houses, the famous railway stationwith hawkers selling everything from street food to glass bangles, Chiriamore, kind of downtown Barrackpore where shops, banks and restaurants converged. Not to forget the cool banks of the river Ganges ---Dhobi Ghat and NishaanGhat, and ferry rides to Sreerampore and Sheorafuli. I still remember the unceremonious beauty of the rides.
My father used to work in a pharmaceutical house based in Kolkata, whilemy mother was a high school teacher. Father never wished to relocate to any other state and even said a big 'no' to an offer of promotion, as that entailed us to shift our base to Mumbai. Even though my parents are no more, I make it a point to visit my home-town every year, especially the two ghats, my old school, neighbouring towns of Ichhapur (which constitute of a defense area, like Barrackpore Cantonment), Shyamnagar, Naihati (Bhatpara). The flowing Ganga of Bhatpara, and my maternal aunt's house by its banks is still etched on my memory. Not to forget the delicious dishes that my mother cooked. The laauchingri (bottle gourd with shrimp/prawn), jhingealuposto (ridgegourd and potato in poppy seed paste), biuli-r daal (black gram lentils), doiilish (Hilsa fish with yogurt), murgi-r polao (chicken pulao) tomato chutney and so many more. Often, I cook these traditional dishes and evoke my girlhood memories.
I also bring my daughters here regularly as I wish them to know where I was, what I was, and how I lived. They really love this quaint neighbourhood and despite being born in USA, they are keen to visit Barrackpore every year. For me homecoming has a different meaning altogether. My recently published book 'Thwarted Escape: An Immigrant's Wayward Journey' happens to be a memoir dedicated partly to my hometown Barrackpore, my second home Kolkata and my adopted home in the USA.
For those who wish to visit North 24-Parganas Lopamudra has some tips:
Taki: Picturesque town in Basirhat sub-division of North 24 Parganas, bordering Bangladesh. A lovely picnic spot with the haunting Ichhamoti river flowing by.
Dhanyakuriya: Hometown two illustrious buildings of Gain Rajbari and BallabhRajbari.
Sreerampore: Twin city / town of Barrackpore. Erstwhile French colony.
Bandel: Another beautiful town, an hour drive from Barrackpore, with the fascinating Bandel church and monastery. It was a Portuguese colony.
While, in Barrackpore, Lopamudra also visits the NGO, Pratibandhi Kalyan Kendra (PKK) for mentally challenged children.