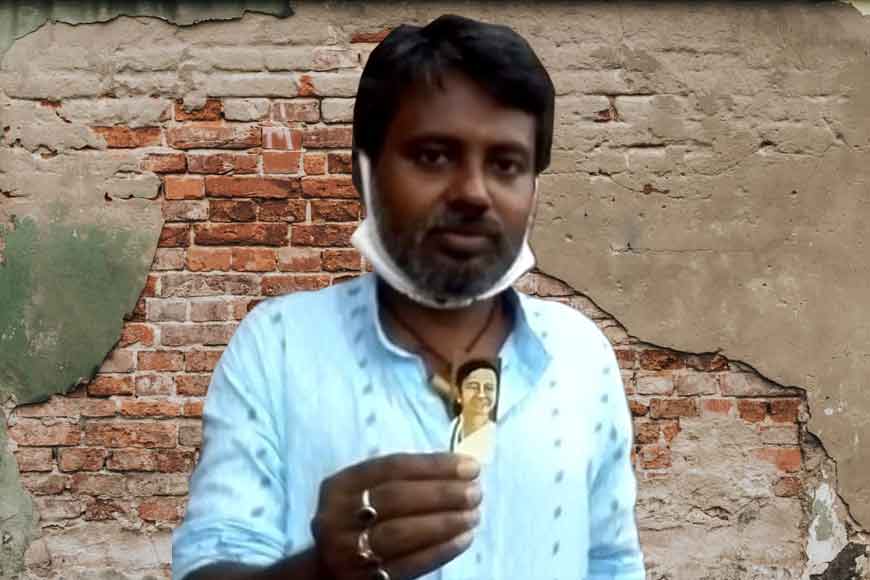 HRecently Tarakeshwar-based artist Malay Ghosh's name appeared in the prestigious 'India Book of Records 2021' for drawing a miniature portrait of West Bengal Chief Minister, Mamata Banerjee, on palm leaf. He took just 25 minutes to execute the entire painting!
Not one to sit on his laurels, the talented artist now intends to move on to the next level and this time his goal is to ensure a berth in the 'Asia Book of Records.' This is not the first time that Ghosh has been recognized for his amazing skills. Last year, the gifted artist's work was acknowledged globally and his name featured in the 'International Book of Records.' He had painted three scholars on an ice cream stick.
A resident of Ward No. 13 of Tarakeshwar Municipality, Ghosh is a professional drawing teacher. Though a talented artist, he has been struggling with poverty since childhood. He wanted to be an artist but due to lack of funds, he had to study in the general stream, but he never gave up his first love, art. He has already hosted multiple exhibitions of his works and has received numerous awards and honors in his professional career as artist. But this time, the challenge was very tough indeed.

Ghosh painted a colorful picture of West Bengal Chief Minister, Mamata Banerjee, in just 25 minutes on a palm leaf measuring 6.02 / 2.06 cm. According to the official rules of 'India Book of Records,' a participant has to record the entire proceeding live, right from the beginning of the drawing till the very end. He had earlier attempted twice to record the video live and send the proceedings to the organizers but failed. This was his third attempt and this time he finally succeeded.
As soon as news of Ghosh's achievement spread, people from all walks of life came to greet him. They all hailed him for his brilliant achievement that has made not only his hometown proud but also the entire state basking in his reflected glory. He was honoured with a certificate by Tarakeshwar Municipality. Untouched by the public euphoria, Ghosh has already set his next target. This time, he plans to attempt for the competition hosted by Asian Book of Records and ensure his name in the book. Artists from different countries including Germany and France participate in the competition but that does not scare Ghosh. He wishes to be a world class artist and for the competition, he plans to make another portrait of Chief Minister Mamata Banerjee.
Ghosh has a dream of opening a drawing school for children in the future. He is keen to include poor children in his school where he plans to impart drawing lessons to them free of cost.