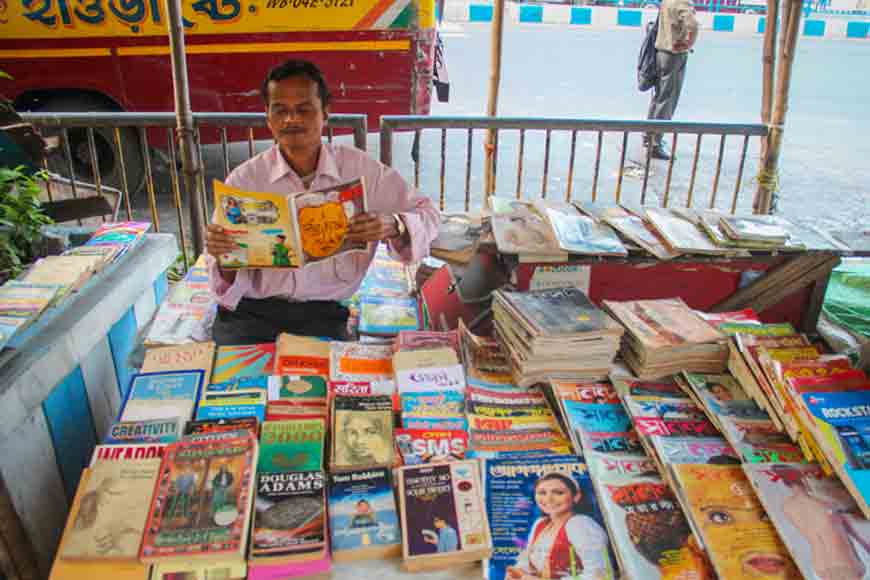 At the extremely busy intersection of Deshapriya Park and Rash Behari Avenue on one side and Sarat Bose Road on another, on the pavement in front of Anusthan Bhavan, squats the modest, soft-spoken Nitai Das with the love of his life:Books! Any winter noon you walk down this stretch and as usual Kolkata's streets throw up unique stories, like this one!
Das sells second-hand books and magazines. But this is only one part of his identity. This 47-year-old has been writing stories and poems which have been published in various periodicals and magazines. He has been doing business from footpath for the past two decades. Millions of people walk past the stall everyday. For most, it is a part of the landscape but for a few hundreds, it is the place to take a welcome breather between office work and commuting. Das sells fiction, management, technology, fashion designing and even medical books. He handpicks the books he sells. His eclectic collection includes such rare gems as the iconic 1976 novel by Tom Robbins, Even Cowgirls Get The Blues or former London bus driver, Magnus Mills' debut novel, The Restraint of Beasts, which was shortlisted for both the Whitbread and the Booker prizes. In it, an anonymous narrator,'the foreman,' works for a Scottish fencing company, run by Donald, who is consumed by work and the desire for 'efficiency.' Then there is Timothy Mo's Sour Sweet Anywhere. The narrative follows fortunes of the Chen family, immigrants from Hong Kong and their tribulations as they create a life for themselves in an alien culture in 1960s London. The book was awarded the Hawthornden Prize for 1982, and shortlisted for the Booker Prize for Fiction.
Das also stocks the old editions of musical notes of Rabindranath Tagore's songs. Strung across the two trees flanking the stall are loads of magazines on films, fashion, decor and more. He sells them at dirt cheap rates. Popular pulp fiction by Jeffrey Archer and Frederick Forsythe are also in demand and he gets them for his regular clients. He has an old-world charm about him and enjoys interacting with willing customers. He is a knowledgeable man and is well-informed about books and authors. He even discusses the literary merits of books and authors. He has in-depth knowledge of films as well. He proudly proclaims he has autographs of Satyajit Ray as well as and literary figures like Gunter Grass.
And what does he do when he is not selling? He observes life passing by and pens his observations in a diary he always carries with him. Many of his poems and stories have been published in various newspapers and magazines in Kolkata. But he is not a person to sit on his laurels, hence he continues his literary pursuits zealously.