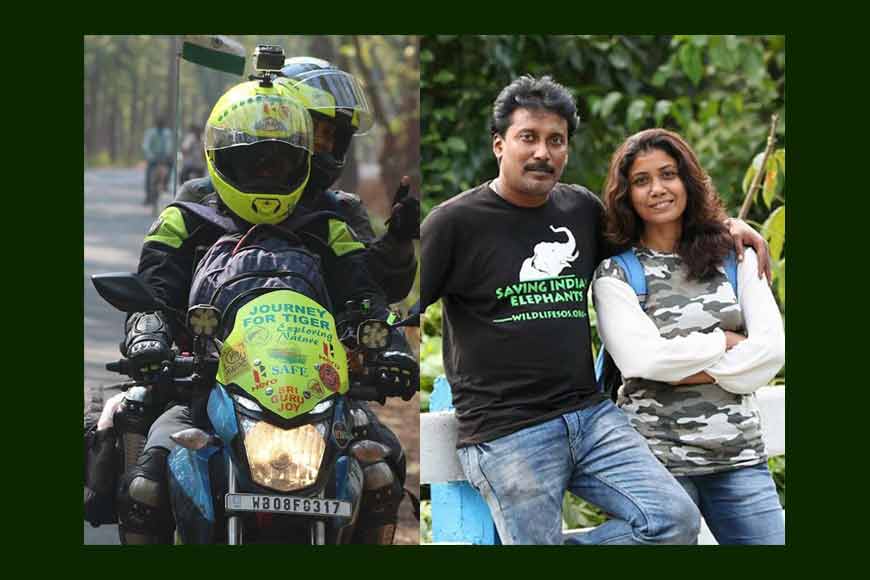 "We have only One Earth, one chance to save it, Mother Nature needs our help, Save Nature..." that's what Rathindranath Das had to say while describing why leaving behind his house and hearth he and his wife took to their bikes, and hit the dusty roads of India just to create awareness about the Big Cat. Popularly known as Wild Rathin, Rathindranath is a wildlife conservationist, enthusiasts, activists and an innate explorer. His wife Gitanjali Dasgupta is not far behind and she too joined her husband on their cross-country motorcycle ride creating awareness. A campaign titled 'Journey for Tiger' with the message 'Save Wildlife Habitat to Save Mother Nature,' Rathin and Gitanjali have taken a ride of a lifetime.
'Journey for Tiger' is a three phased cross border bike ride to create awareness on Environment and Tiger Conservation among people, especially children and youth. This will be the very first initiative of its kind in the history of Tiger Conservation Efforts across the globe. In this journey, Rathin and Gitanjali will visit all the 13 tiger habitats and meet villagers, students and forest officials to spread awareness and share experience regarding the necessity of conserving tiger habitats.
The 1st phase of their journey has been successful and now they plan to take it forward not just confining it to India but to other nations where the Big Cats are at severe risk of extinction, thus jeopardizing the ecological balance of the world.