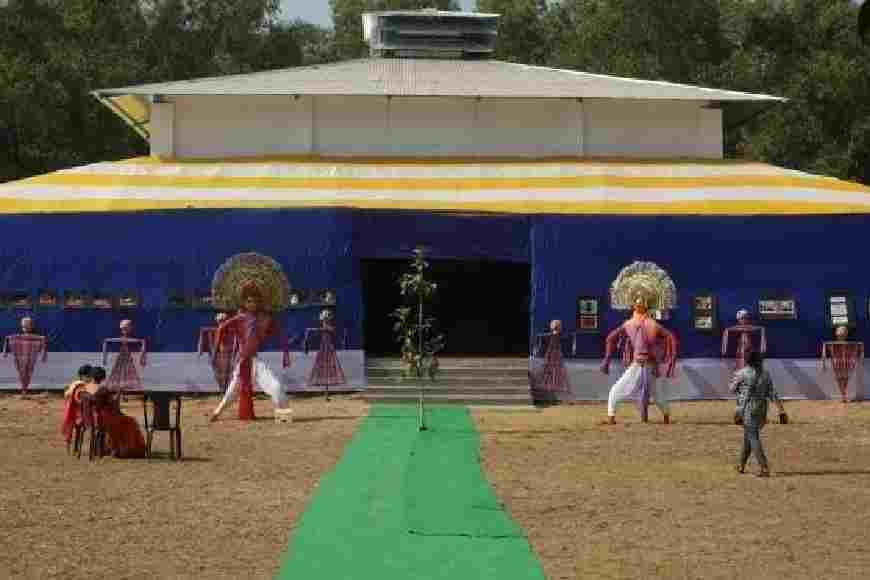 Bengal has long been known as a cultural epicenter of the nation. The arts have been the region's shining jewel, from producing its own form of music and dancing to curating entirely new schools of thought based on a fusion of Western and Eastern philosophies. The intellectuals of Bengal - Kobiguru Rabindranath Thakur, Mahashweta Devi, Jibananada Das, Michael Madhushudhan Dutt, and countless others - pass the torch of curiosity and admiration of the beauty of art and literature to future generations.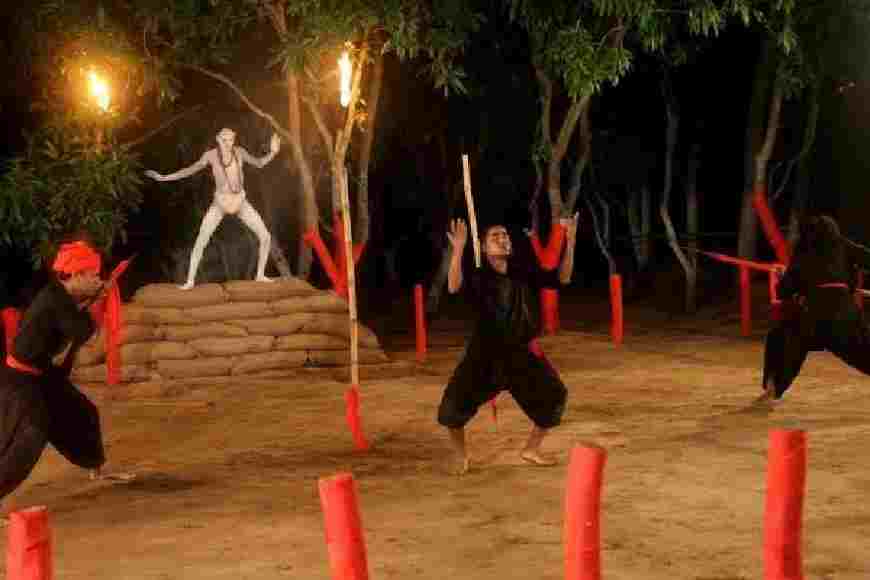 However, with the emergence of television sets, the internet, technology, and cellular devices, the culture of Bengal is losing its hold on the people. Older generations fear that the very way of life is becoming a relic of the past, relegated to the forgotten pages of history. While there is a renaissance of efforts coming up to revive the culture of Bengal through culinary, linguistic, and literary avenues, there needs to be a concentrated effort to bring back the art of weaving, dancing, singing, and other creative activities unique to the region that are on the precipice of collective amnesia of the Bengali.
Theatre used to be one of the greatest forms of passing on oral traditions of storytelling and sharing works of literature among the educated and the literate alike. The late 19th century saw the commercialized venture of theatre into mainstream entertainment brought forth by Baikuntha Natta with his group 'Machrang Baikuntha Sangeet Samaj.' Now, the theatre itself is becoming a privilege for the elite few, and not a major form of entertainment among the poor and rich alike, uniting songs, dialogues, and dance. However, if you wish to experience the true beauty of theatre, all is not lost yet. Dedicated to celebrating all aspects of the theatre, Tepantar is a community that is open to visitors who wish to partake in the rich cultural history of theatre in Bengal. The Tepantar Theatre Village is a one-of-its-kind establishment, quite similar to Rukmini Devi Arundale's Bharatanatyam community, Kalakshetra, that she had set up with her husband in 1936 or 'Uday Shankar India Cultural Centre' that Uday Shankar set up two years later in 1938 at Simtola, 3 km from Almora in Uttarakhand. Of course, Tepantar promotes theatre artists and provides a space for natok. Spread across four acres of lush campus grounds, the theatre hub is situated in Satkahaniya village of Bardhaman, near Panagarh, and is run by Ebong Amra Satkahunia, led by Kallol Bhattacharyya in partnership with banglanatak dot com.
The creation of the village began way back in 1998 and has become a safe space and home for folk dancers, actors, musicians and other rural artisans. With an intent to promote rural talent, Tepantar began to invite tourists to stay in their lodges in 2010 and be a part of the unique events offered by famous and revered theatre production groups. The spot has since then come up as a renowned haven for theatre artists and nomadic troubadour groups. If you are looking to immerse yourself in this place brimming with artistic endeavours of creativity, then you should expect every form of art to grace you through the veneer of beauty and manmade creations. Your first step will welcome you into a space green with nature and peppered with decorations of the finest rural craftsmanship. New performances and activities are planned daily to entertain you - think street theatre, movement theatre, musical dramas, folk music performances, martial arts and theatre workshops – and you see them all, and more.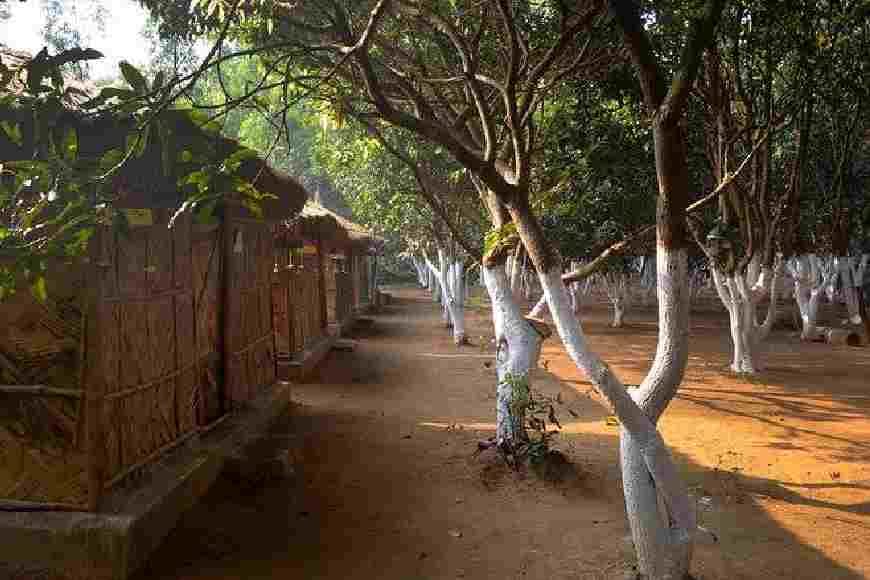 The theatre village provides accommodation to around 100 people. You can find a place to rest your weary head in their authentic cottages and dorms. The Devdaru kuthir reaching towards Jamdaru is one of the more popular habitats for visitors and contains colourful cottages that can be used as dormitories for larger groups. If required you can make requests to increase the number of beds for your group. The team will meet these requests with utmost grace and helpfulness.
The Batgach (banyan) kuthir features a pair of beautifully decorated owls surrounded by fossils gathered from the banks of the Ajoy River. The stage for theatre exhibitions is beside the large banyan tree. Nearby, the Amra kunj is reminiscent of Santinekatan and contains smaller housing fixtures that are more authentic to the habitats where the local indigenous people make a home. Individuals or smaller families can opt for these cottages if they so wish. Unlike the dorms and houses in Devdaru or Batgach, the cottages in Amra kunj are not air-conditioned, although they have overhead fans. However, the lush greenery and the make of the houses will ensure seamless ventilation and relief during all months. If you have a sweet (or sour) tooth for chalta (elephant apple), then make your way to Chalta tala, where Chalta trees hang low, heavy with fruit. Visitors are encouraged to mix and connect with the artists who are residents of Ebong Amra. Find pieces with themes of culture, society, literature, tragedy, and comedy that resonate with, and stay with you long after your leave the abode. Famous theatre groups such as the Russian Academy of Theatre Arts, Chorus Repertory Theatre of Ratan Thiyam from Manipur, Seagull Theatre from Assam, and Natya Chetana of Odisha have dropped in and offered tourists a taste of their wondrous talents now and then.
If you are wondering whether there is a good time to visit the theatre village of Tepantar, then there's no time like the present. You might want to pencil in your visit during Holi, or dol, to get a full effect of the activities of Tepantar. The village hosts a fair for three days during the festival of colours, known as Tepantar Mela. the event takes place yearly where more than 50 stalls set up shop and sell various tribal handicrafts. More than 2,500 visitors fill the fields of Tepantar at this time to see the performances. Travel the red-soil-laden roads during the evenings to enthrall yourself with folk performances like Chhau, Raibenshe and Gambhira.
How to Reach:
The most convenient way to drop in at Tepantar theatre village is to travel by car from Kolkata via Badshahi/Grand Trunk Road to Satkahania Village, Bardhaman. The journey takes about two-and-a-half hours. The cost of stay is Rs 750 per day per head which also includes three meals. You can call 94346 46982 to book your stay. Have a happy visit!