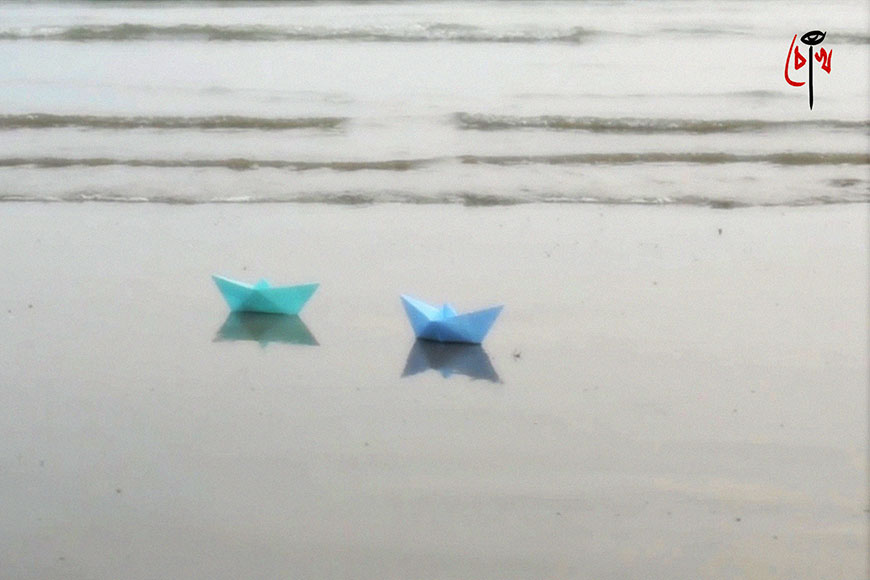 Samudranil Gupta is a research scholar at Jawaharlal Nehru University, New Delhi.
The loneliness of the viewer – a condition that the coronavirus pandemic and its consequent isolation has made only too familiar to us. In the words of renowned Chinese filmmaker Jia Zhangke, "We have to stay at home, wear earplugs to watch a film on a mobile phone or on iPad, all on our own. For me, there is nothing more lonely than this."
It is in this light that Pratik Dey Chowdhury's recent independent short film Chokh (I See) seems, in many ways, to be an allegory of the current state of cinema and its viewership under the pandemic. It also deserves mention for Suman Sadhu's solo act, but more of that later.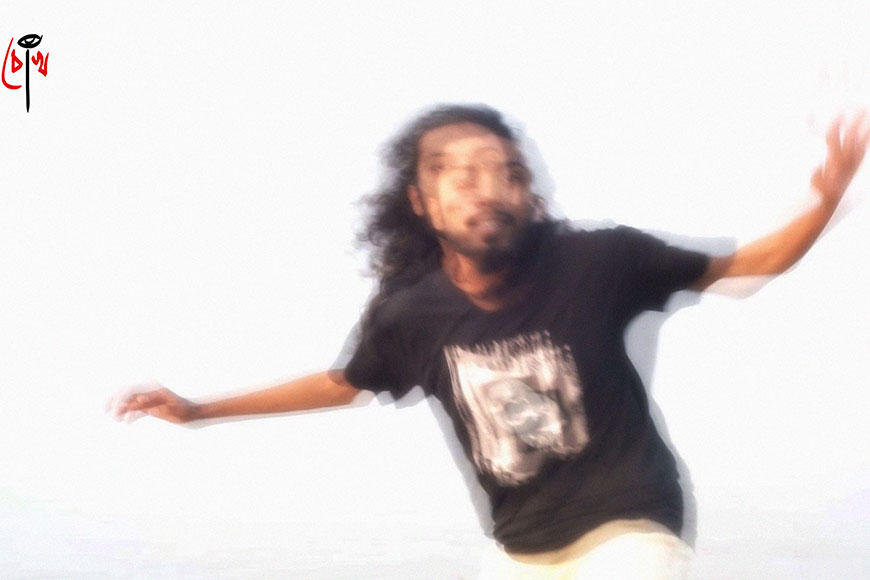 Cinema halls and theatres are not only spaces for entertainment, but also social interaction. These spaces facilitate feelings of celebration and togetherness. With technological progress, cinema has become increasingly privatised. The romance of the big screen, the shared space of the auditorium are slowly becoming obsolete. Most single screen theatres have collapsed. Expensive multiplexes are where we generally enjoy cinema publicly these days. However, the current rules of social isolation have placed multiplexes out of bounds. Cinema is essentially online now, with online releases and even film festivals having come our way in the last few months.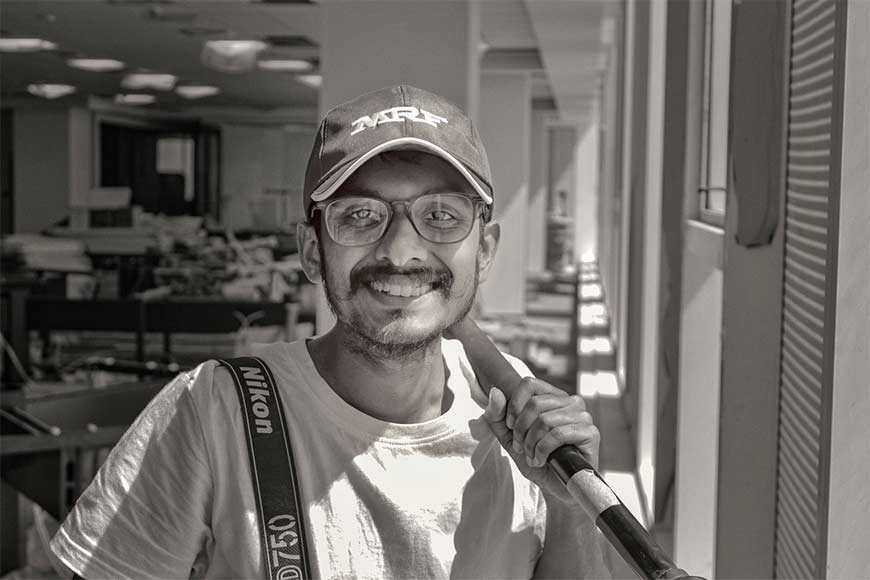 Pratik Dey Chowdhury
Drawing upon Zhangke's opinion, it can be pointed out that the gradual privatisation of cinema is turning its viewership into a lonely experience. The pandemic has further bolstered this loneliness of viewership. It has taken away every opportunity to watch cinema at theatres or multiplexes with strangers. Watching films on our personal devices, all on our own, has been made obligatory now.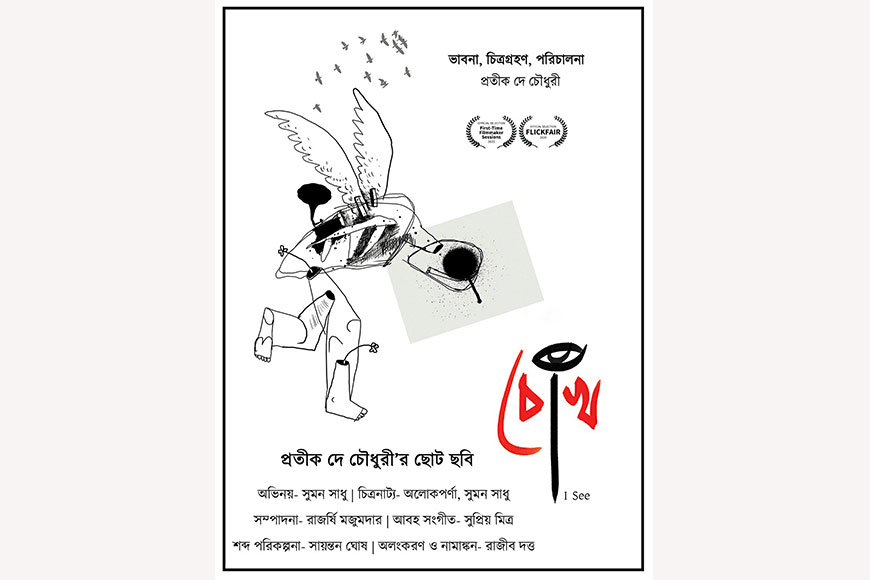 The poster of the film, Chokh
Which brings us back to our film. From the title itself, it is clear that viewership (the activity of seeing/watching) is central to Chokh (I See). The film follows an isolated body in an enclosed space dreaming about an open space. The dream can be read as a metaphor for cinema itself, insofar as both cinema and dream are projections of images and a means of wish fulfilment. However, the experience of watching the dream in the film, or a film in isolation, necessarily leads not just to fulfilment, but bereavement. The use of various tropes in the dream, such as lonely paper boats, or a reference to the darkness of caves, effectively brings across the sense of bereavement.
But Chokh (I See) is not necessarily a pessimistic film. The experience of watching the dream in the film, or a film in isolation, is perhaps very lonely and may not lead to fulfilment, but it may enable the protagonist, or the audience, to confront and come to terms with their innate loneliness. Perhaps, this is going to be the role of cinema and the purpose of watching cinema from now on – to help us find our way out again, despite being alone.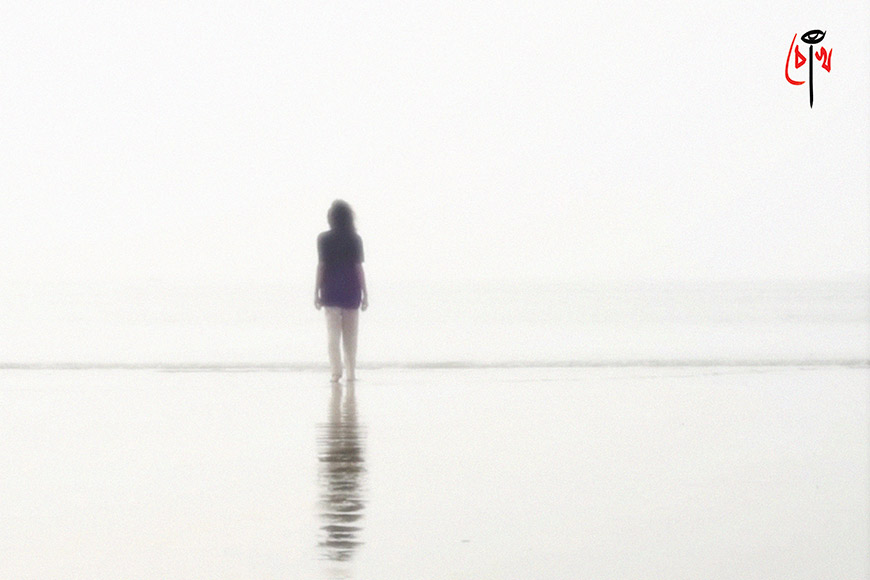 As already mentioned, Chokh (I See) is also noteworthy for Suman Sadhu's solo act. Suman has delivered what can be called a very modern performance. There is no exaggeration in his acting. His expressions are appropriately minimal and assertive, while at the same time capturing the melancholy as well as the mundaneness of our current times. The editing by Rajarshi Majumdar and the original background score by Supriyo Mitra only complement the hauntingly relevant screenplay and cinematography by Pratik Dey Chowdhury.
The film recently had its world digital premiere at England's prestigious 'First-Time Filmmaker Sessions 2020' and has been officially selected for Los Angeles 'Flickfair 2020'. It will be released online by the end of this year.