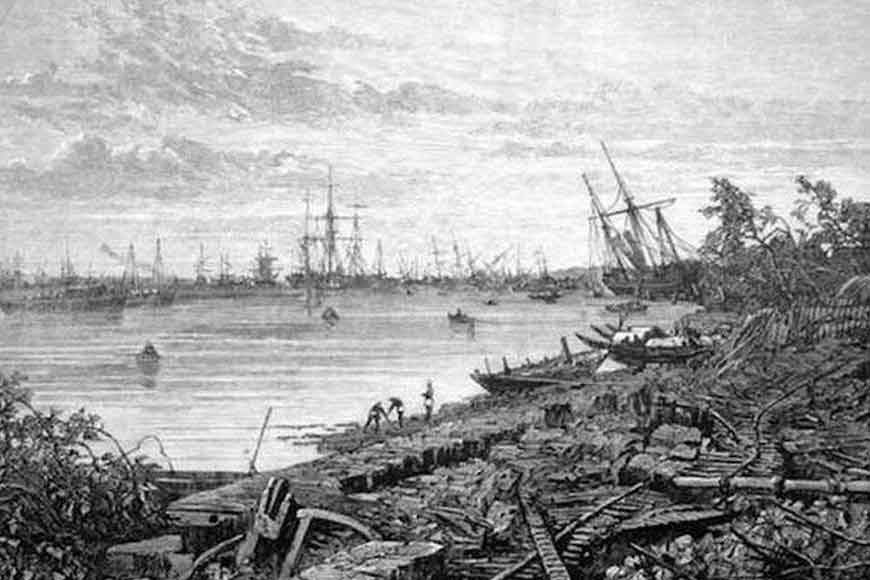 Bengal is not new to cyclones. Just like Orissa, due to the geographical position and topographical curves, severe cyclones have ravaged this land since ages. One of the worst to hit Bengal in 1737 was the Hooghly River Cyclone, one of deadliest natural disasters of all time. Early on the morning of October 11, 1737, a large cyclone made a landfall within the Ganges River Delta, located just south of Calcutta. The cyclone caused a storm surge of 10-13 m (30-40 ft) in the Ganges with a reported 381 mm (15 in) of rain falling in a 6-hour period. The storm tracked approximately 330 km (200 mi) inland before dissipating.
Post cyclone scenario of the Hooghly River bank
In Kolkata the majority of structures, which were mostly made of mud with straw roofs in the 1700s, were destroyed, with many brick structures also damaged beyond repair. A spire on the St. Anne's church reportedly sunk. As per the East India Company's records, 3,000 deaths were reported in Kolkata alone. Three out of 4 Dutch ships also went down. The cyclone reportedly destroyed 20,000 water going vessels, ranging from ocean worthy ships to canoes.
Prone to tropical cyclones, Bengal also faced the wrath in 1787, 1789, 1822, 1833, 1839, 1864 and 1876. Then came the Calcutta Cyclone of 1864 where around 60,000 people were killed. The cyclone crossed the east coast of India south of the Hooghly River, creating high tides of monstrous proportions. Everything was washed away in its path as the water swept inland. In the months that followed, the city, the surrounding area, and the harbor had to be rebuilt. Many died of diseases that followed the cyclone.