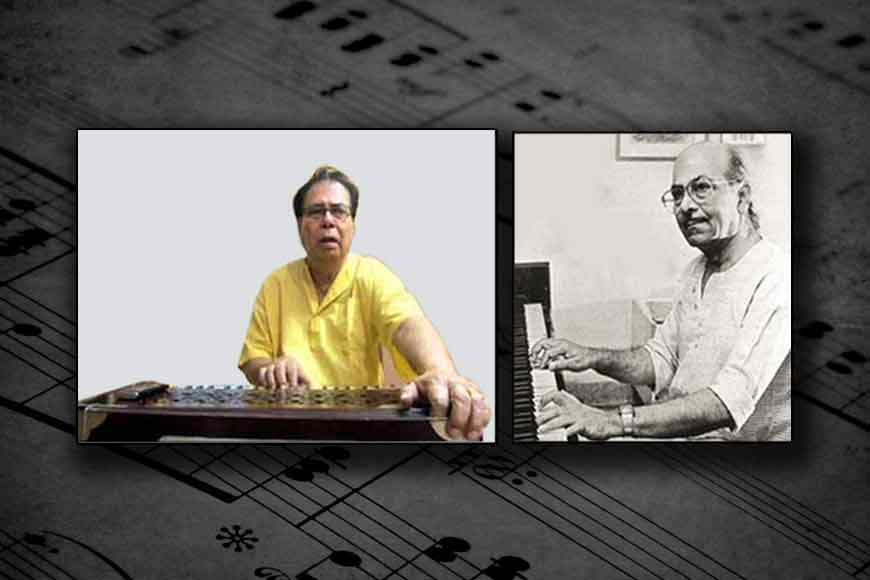 On many an afternoon when Bengal's very own storm, the Kalbaishakhi strikes, one might feel like singing that famous Salil Chowdhury number, Pagol Hawa. Lyrics of this song can even soften the harshest of tempers. But hardly any of us knows, how a talented singer was almost driven to madness on account of the eccentricities of another ingenious talent. Singer of this song, Jatileshwar Mukhopadhyay in a few interviews came up with that fascinating tale.
There is no doubt about the sheer prowess of Salil Chowdhury as a lyricist-cum-composer and how he juggled the reins of music and lyrics simultaneously like a seasoned equestrian. Chowdhury had asked many artists to sing his myriad compositions. Of them, one was Jatileshwar Mukherjee, with whom he had decided to record the song Pagol Hawa. He once invited the singer over and taught him one half of the song. The composition came to an end right after the line Bone bone tokhon batashe/Matali bnashi 'te kikotha jaye bole. Mukherjee made sure to master it conscientiously. But he could identify the lack of wholeness in the track. Everyday, he would wonder about the second half of the song. But each time he asked about the same, Chowdhury would respond with laconic indifference.
Suddenly, one fine day, Chowdhury called Mukherjee up and said, "Come to my studio. We will record the song." Mukherjee, quite understandably, found himself at his wit's end. His obvious response was, "I have only picked up half the song." He kept up a neurotic litany of "How can we record the song, Salil Da?" But Chowdhury only answered, "You come over." So, as per instructions, a panting Mukherjee reached the studio dreading a range of possible consequences.
There, Mukherjee encountered a whole orchestra of musicians awaiting Chowdhury's instructions. Again, he tried insisting, "I have just picked up half the song." But before he could finish his sentence, Chowdhury cut in saying, "It'll all work out. Stop worrying." Even as he spoke, he gave his musicians instructions about the points during which the score would rise and fall. Suddenly, he rounded on Mukherjee and reiterated, "Why are you so worried? Let me see the unfinished song." He went through the song once. At that time Sabita Chowdhury – Salil Chowdhury's wife – was also present at the scene. Mukherjee tried to appeal to her better judgement as well – "Do you see what's happening?"
But Sabita Chowdhury followed her husband's cue by assuring the singer saying, "It's fine. He'll manage everything." However, such vague statements could not appease Mukherjee one bit. Meanwhile, Salil Chowdhury had already got hold of a piece of paper and was busy writing. Soon, he went up to Mukherjee and handed him the paper containing the rest of the song – right from Ebar songe mor... to Sajaye sojoni se bnadhon dao gole. Imagine just how gifted an artist needs to be to promptly pen such an exquisite composition so effortlessly. And finally, the song was recorded. Later, it also had a Hindi counterpart in Na Jaane Kyun.
(Information Courtesy: Sachidulal Das)