Intercultural Poetry and Performance Library (IPPL) housed at ICCR, Kolkata, initiated a pathbreaking enterprise of foregrounding Bangla Dalit Literature on the evening of 10th Au-gust, 2019. With the lighting of the lamp of knowledge as a witness to the inaugural session, Sri Gautam De, Regional Director, ICCR, underlined the politics behind the criticism levelled against the aesthetics of Dalit writing. The event was also an occasion to commemorate the Gujarati Dalit poet Neerav Patel, who passed away on 15th May, 2019, as well as Toni Mor-rison, the recently deceased African-American Nobel Laureate. Coordinator for the event, Ms. Mandakini Bhattacherya, recited Neerav Patel's poem 'Ostracised Flowers'('Bahishkrito Phoolo') as an apposite beginning followed by a performance of Shyamal Kumar Pramanik and Annabhau Sathe's poems by the students of New Alipore College.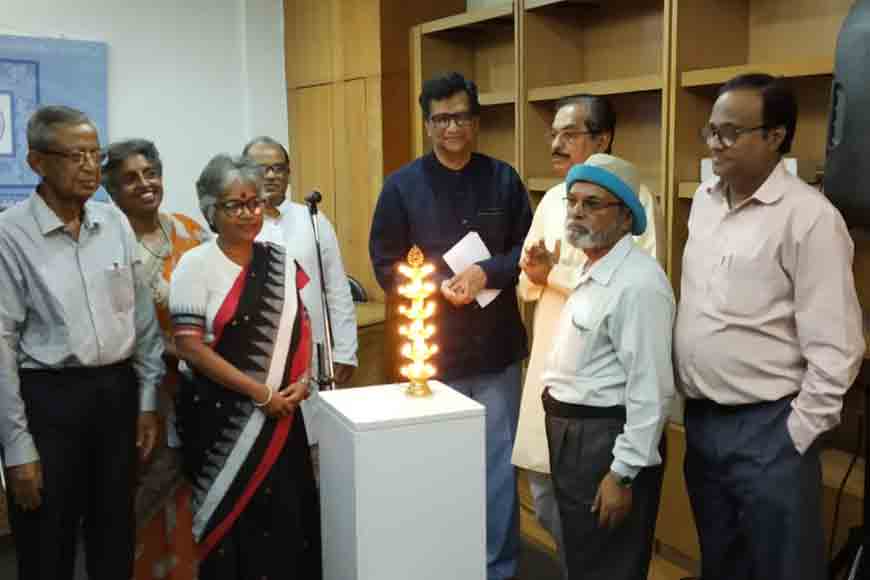 The attraction of the evening was a dramatic presentation of an extract from Bangla Dalit writer Manohar Mouli Biswas's "Hidimbaa-Ghatotkach Sanglaap" by Fakir Chand College Drama Club, Diamond Harbour, as a tribute to the writer present himself in the audience. The evening unfurled with a one-of-a-kind interactive panel discussion moderated by Prof. Jaydeep Sarangi, Principal, New Alipore College, who has a substantial contribution to the translation and critical appreciation of Dalit writing. The first panel included Sri Dhurjati Lashkar, Sri Kapilkrishna Thakur and Sri Nakul Mallik; and the second panel moderated by Dr. Arindam Mridha, Rabindra Bharati University, comprised of Srimati Kalyani Thakur, Sri Manohar Mouli Biswas and Sri Jatin Bala. Sri Lashkar who has contributed to the establish-ment of Dalit Rights and has dedicatedly written about the Sundarbans area, delineated the etymological provenance and mutation of the term 'Pod' or 'Poundra', a Dalit community prominent in South Bengal. It was Meenakshi Mukjherjee's seminal introduction and transla-tion of Manoranjan Byapari's 'Is there Dalit Writing in Bangla?' published in 2007 that opened an uncharted avenue of research.
Sri Nakul Mallik spoke of his own dejection as a Dalit writer along with the omnipresence of a stringent stratification of the caste system across India with no ladder connecting each stra-tum. The identity crisis 'Who are we?' was, for him, the starting point of his quest inspired by Baba Saheb Ambedkar. For an access to power andolan is a pre-requisite leading to the growth of consciousness through a sustained literary movement. From Tagore to Gorky to Shibram Chakraborty, the speakers alluded to stalwarts to establish their argument about dis-crimination and inequality in India. Sri Kapilkrishna Thakur, of Ujantalir Upakatha fame, re-ferred to the gory incidents of love jihad and immolation in Muzaffarpur and Midnapore alike. Srimati Kalyani Thakur mesmerised the audience with the powerful rendition of her poems to deride the continuum of demolition of statues of Dalit iconoclasts and Dalit suicides in universities as a pan-Indian phenomenon. Sri M. M. Biswas, President, Bangla Dalit Sahitya Sanstha, underscored the need for an andolan of atmasamman citing the case of Chuni Kotal, the first Dalit Shabar woman graduate who committed suicide post intensive harassment on 16th August, 1992. He opened a debate on the Ram sanskritisation and Hindu fundamentalisation of Indian culture. Moderator Dr. Arindam Mridha spoke about his struggle to include Dalit Literature in the syllabus. Sri Bala recited a poem entitled 'Anuprobeshkari' to drive home his forecasts about the issues of NRC, immigration and citizen's rights that will engulf the whole of India. This enriching occasion with a houseful of listeners was formally closed with a vote of thanks from the co-ordinator, Dr. Aparna Singh.