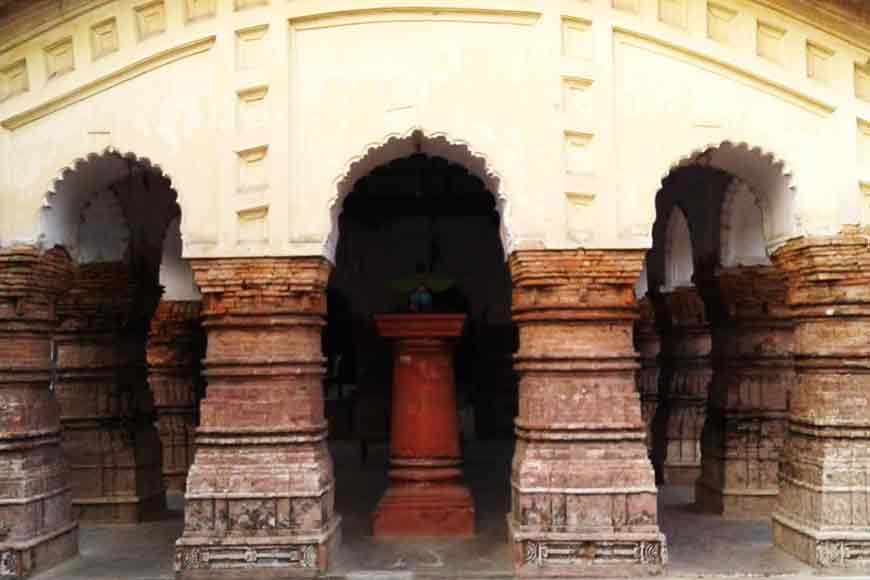 Photography, prayers and peace – add all these and one gets the name Ambika Kalna, in short Kalna, a picturesque temple town of Burdwan. Not just home to religious fervour, Kalna is also an abode to astonishing works of terracotta. With an impeccable, semi-urban charm, this town attracts thousands of visitors daily from all across the globe. If you have a lazy weekend at your disposal, then do not miss this exclusive tourist spot just a stone's throw from Kolkata, yet so little-known!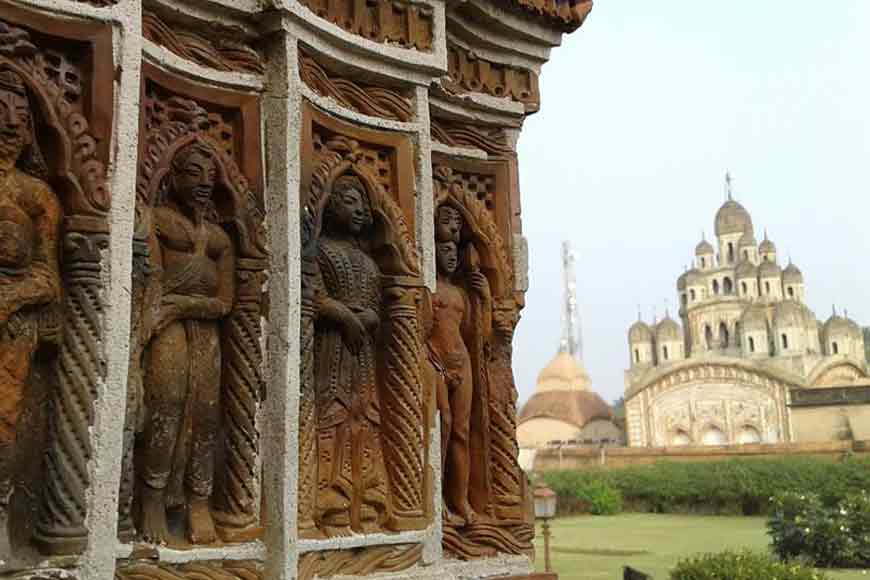 Entrance of Temple Complex
We hired a car to take us down NH 19 and then Boichi-Kalna road. It takes about 2 hours to reach the town. There are also multiple trains from Howrah that take not more than 3 hours to reach Kalna. Amidst fragrance of wild flowers strewn on red clayey paths, this town is steeped in heritage. The oldest among a series of temples that lends the name Temple Town to Kalna, happens to be the Lalji Temple. As per historical records, this temple was built by Queen Braja Kishori Devi and was opened for prayers in 1739. Red coloured bricks make up this exquisite temple, that is also adorned with marvellous terracotta figurines. If you thought only Bishnupur claims of terracotta works, you are wrong. A visit to Kalna was indeed an eye-opener about the rich sculptures of Bengal. The temple also has a unique characteristic feature, that of a roof with 25 distinct peaks.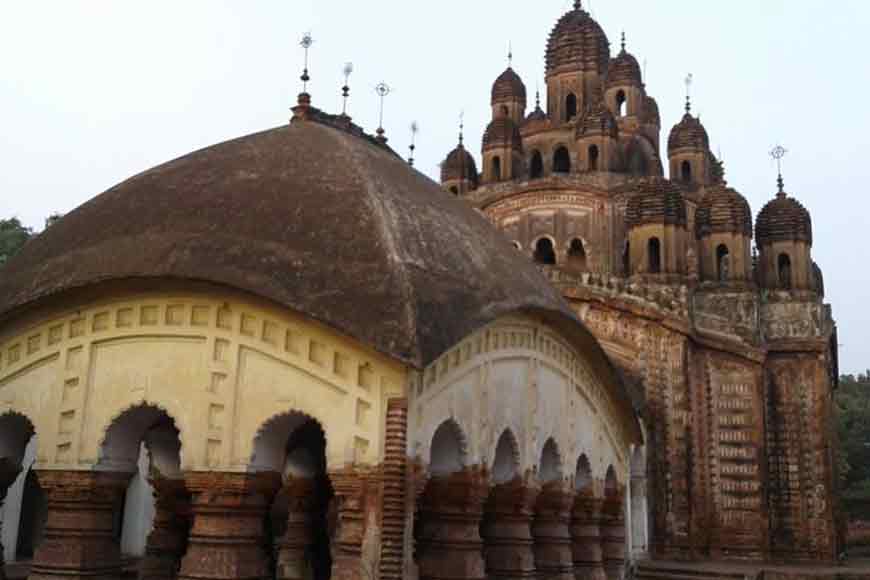 Lalji Temple
But arguably the most attractive spot of Kalna is the famous Nava Kailash Temple complex. Nava literally means 'new', and Kailash is mythologically considered as Lord Shiva's home. There are 108 temples (109 as per the inscription at the entrance), in two concentric circles. The inner circle has 34 temples, all white Shiva Lingams. The outer circle consists of the rest, black and white Lingams placed alternatively. The temple arena was constructed by King of Burdwan, Raja Tejchandra, in 1809.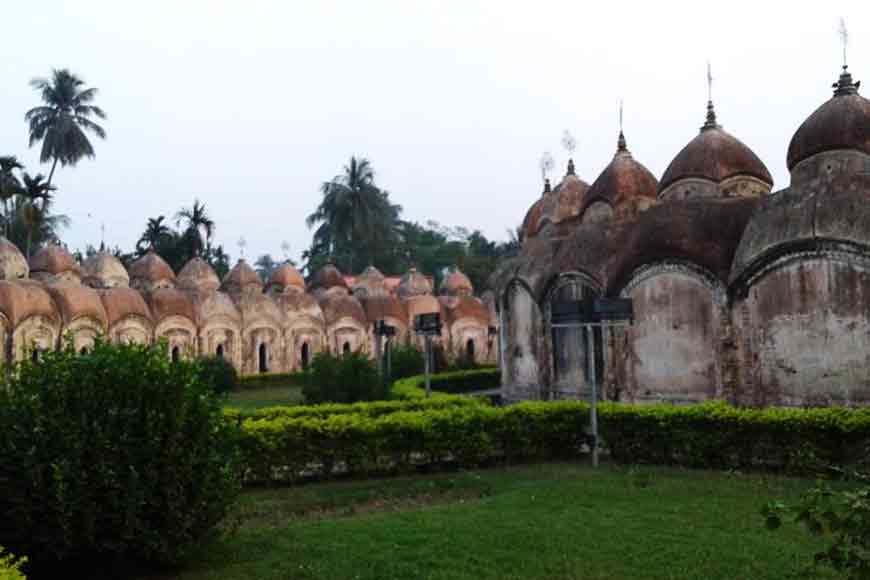 Nava Kailash Temple Complex
If you wish to explore more, there is no dearth of variety in terms of architectural splendour. The Kalna Rajbari boasts of some magnificent structures, the chief being Pratapeshwar Temple. The terracotta works on its four walls are the very best in terms of detailing. It was meticulously built by Ramhari Mistri in 1849, a master craftsman of that period. It is ornamented with gripping terracotta plaques visually summing up few of the episodes from the epic, Ramayana.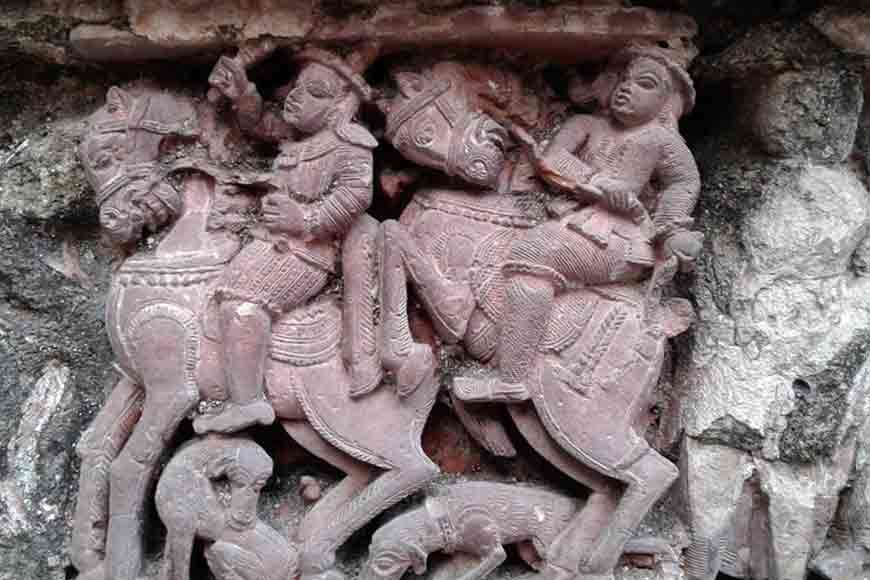 Terracotta Warriors on temple walls
So, if you are a history buff and wish to explore some artistic artefacts laced with religious fervour, then do not miss Kalna. It will definitely leave an ever-lasting mark on your travel list.
Photo credit - Moumita Sen