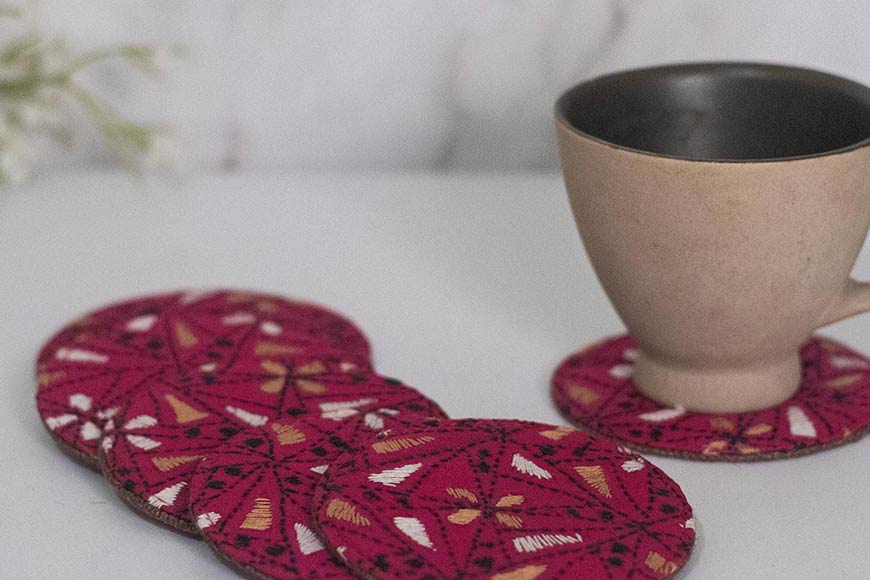 For centuries, 'Kantha' has bridged the gap between the rich and the poor in Bengal, and served as a pool between the urban and the rural divide. A form of exquisite embroidery, stitching patchwork cloth from rags, 'Kantha' art was practiced by both rural women and wives of rich zamindars. While for the village women, it served as a medium to make ends meet, the rich housewives in their leisure made Kantha quilts and scarves to showcase their artistic skills. Today, the same bridge is being built by organisations like The Bengal Store, who have come forward to offer their platform to promote Kantha work in various forms. Santiniketan's Amar Kutir has collaborated with The Bengal Store to avail these products online worldwide.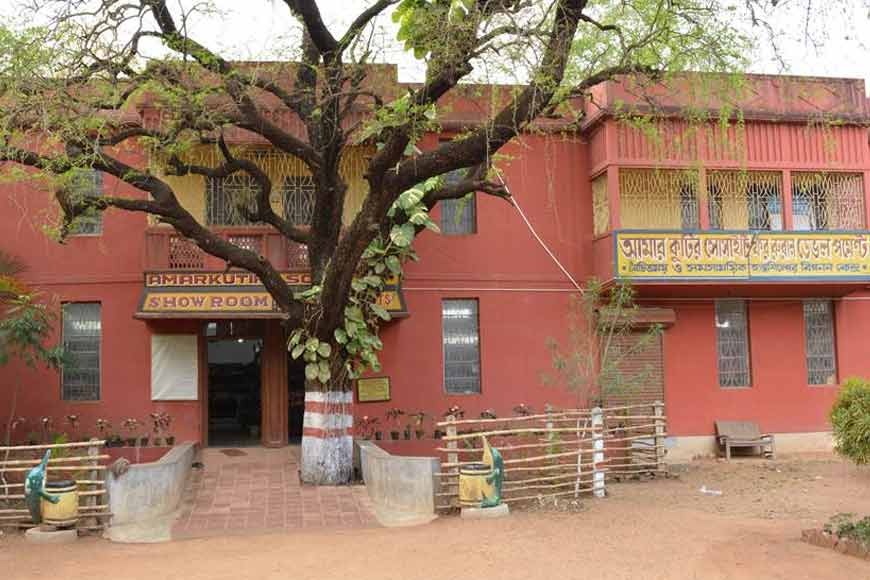 With a click of a mouse button, one can easily purchase exclusive Katha coasters that not only act as mats for putting your glass or bowl on the tables but also adorn them in colourful vibes. What's more, they are cheap and will not burn a hole in your pockets. A great item to gift for your loved ones, these coasters are aesthetically pleasing as much as for daily use in the living or dining rooms.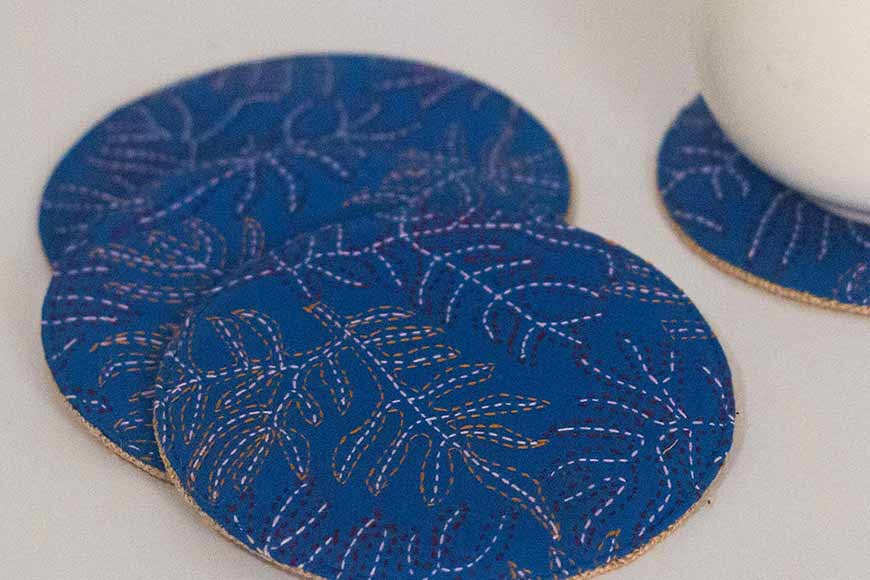 Kantha happens to be one of the oldest forms of embroidery whose origins can be traced to the pre-Vedic era. Kantha refers to both the style of running stitch, as well as the finished cloth. Just like Kashmir and carpets are synonymous, so are Kantha products and Bengal. Bengal is the land where the poet compares the endless meadow crisscrossed by the parched heat with a Nakshi Kantha woven by some lonely woman waiting for her lover at the grave.
The Bengal Store's Kantha coasters are in vibrant colours, the best being the blue ones that remind you of the depth of the oceans as you place the sprinkling water glasses on them. The coasters have varied patterns and designs made with colourful threads, carrying the rustic charm of the red laterite soil of Bengal, particularly of Santiniketan.
For those who live abroad, Amar Kutir Society for Rural Development is sheer nostalgia just like the forest-rimmed path of Sriniketan that leads to this cooperative society. They try to encourage the local craftsmen and upgrade their skills by organizing various training activities, following the vision of none other than Rabindranath Tagore who had tried to build an artisan community in Santiniketan through self-help groups. By selling these coasters and other Kantha products, a lot of rural families earn their living, and even during COVID-19, they did sell like hotcakes worldwide, ensuring the hearths of rural houses went strong even during Pandemic times. The Bengal Store, in association with Amar Kutir, has brought a range of products handcrafted with love.
Incidentally, The Bengal Store is the only online store where Amar Kutir products are available for worldwide delivery. These bright coasters can be ordered online and they will be delivered to your doorstep. The ethos of The Bengal Store goes well with Amar Kutir's vision too as they promote products from Bengal. The list includes Bengal crafts, chemical-free food produced in Bengal, original paintings, ceramics and prints from Bengal, rare and contemporary books, lifestyle products, and many more. While Amar Kutir by the Kopai River was set up by freedom fighter Sushen Mukherjee, a young man, who had been inspired by Mahatma Gandhi when he visited Santiniketan to meet Tagore. It has been going strong since 1927. To evade arrest by the British police force, Mukherjee was on the lookout for a quiet and remote area that he found among the forests of Birbhum district, kissing the banks of river Kopai. It happened to be not very far from Bolpur, Santiniketan today. Here he gradually established the rudiments of a cottage industry and named it 'Amar Kutir' or my abode. In 1930, Amar Kutir was raided by the British rulers, and Mukherjee was put behind bars for political activities.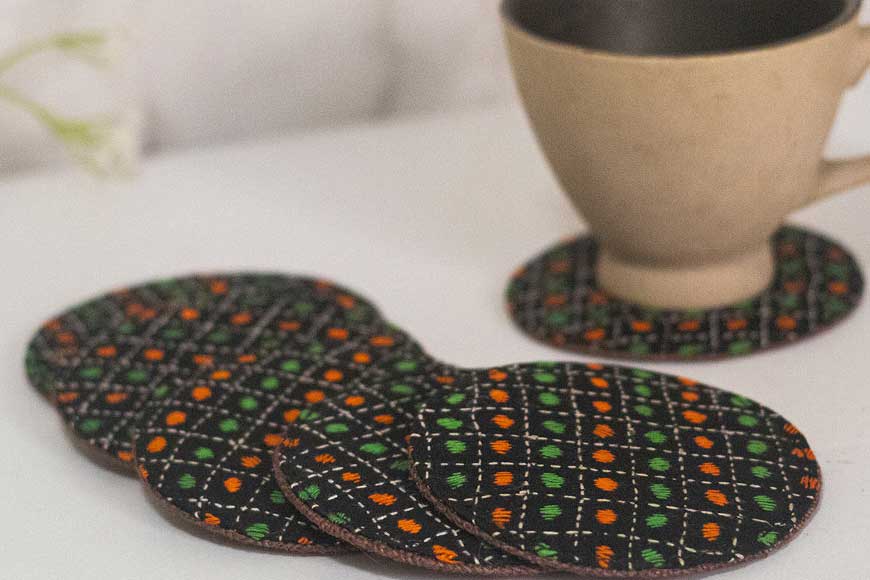 When World War II broke out in 1939, many of the revolutionaries involved with Amar Kutir helped in organizing peasant movements in villages. Many of them were active during the Quit India movement of 1942. Tarapada and Jata Majhi of Rupur Samaya Sadan died in police firing in a raid on Bolpur Railway Station conducted by thousands of people assembled at Amar Kutir. After independence, Kamalaksha Bose carried forward the legacy of Sushen Mukherjee and Amar Kutir and became a cooperative to rejuvenate and develop rural handicrafts, reflecting the ideals of self–help and sustainable rural development advocated by Tagore.
Hence, the Kantha coasters of The Bengal Store are not just another piece of art, but they bear the legacy of the freedom struggle of India when Bengal showed the way and became a hotbed of artistic renaissance. Why not have that piece of history tucked in your home?