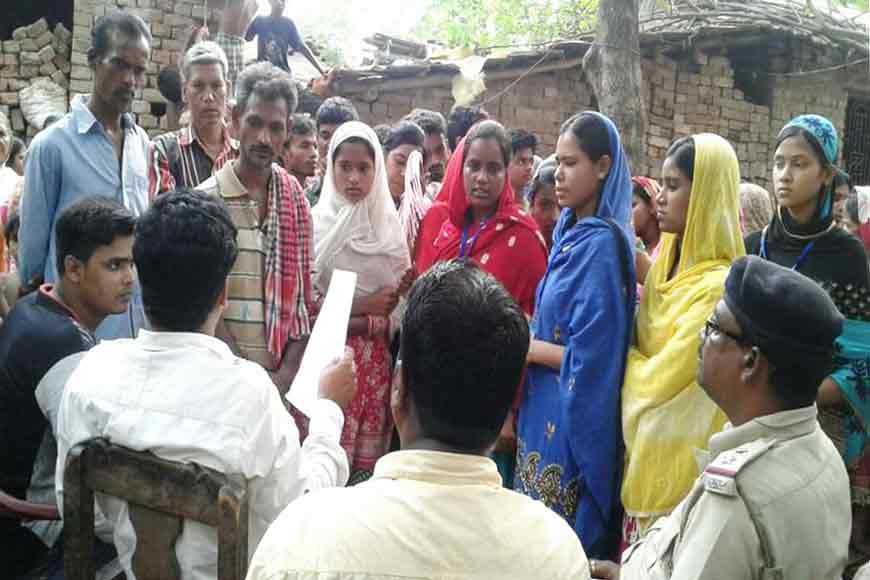 They do not don weapons like Devi Durga, yet they are yoddhas, girls who have fought every bit of their existence and are now out to fight for the rights of others like them. They have made Bengal proud at the world arena and to us they are Bengal's 'Lakshmi' who we cherish not through Beti Bhachao campaigns, but by helping them to teach the entire community the worth of a 'girl' and her rights. Kanyasree was the brain-child of chief minister Mamata Banerjee, that earned her accolades at the international platform. Along with that mini brigades of girls were formed in various rural clusters to propagate the rights of girls and stop child marriages. Fourteen-year-old Manira Khatun was trafficked to Mumbai, from where she called up her mother, who contacted an NGO. Zakirun Bibi of CINI took the initiative of bringing her back with the help of police. Today, Manira is a Kanyasree Yoddha herself. And so is Sangita Biswas, who was about to be sold off. She is now a student of class VIII.
Almost a century ago, Ishwar Chandra Vidyasagar in his article 'Ill-effects of Child Marriage' had highlighted how marrying off boys and girls at a young age can hamper their natural growth and health. His words still hold relevance even today as child marriage in Bengal is quite rampant in some districts where almost 20% girls are married off while studying in schools. Kanyasree yoddhas of Murshidabad's Hariharpara has a team of 32 girls, who are poverty stricken and malnourished, yet have the conviction and courage that reflect in their bold eyes to do something different. The young women brigade of Hariharpara stands out in the crowd. They are known as 'Kanyasree Yoddha' by locals. May be in future these young girls would be called Begum Rokeya or Pritilata. But surely Hariharpara is giving shape to a feminist movement far from media glare.
These girls are aged between 15-22 and are students. When religious intolerance is rocking the entire nation, this small hamlet in Bengal reflects an encouraging trend of pluralism. The list of names of this women brigade is a stark testimony to this truth. Shahina Akhtar Banu, Ashapurna Biswas, Sangeeta Biswas, Shampa Hazra, Beauty Dutta, Mallika Khatun, Mariyam Khatun; they all come from different religions, castes and creed, but have only one identity --- that of Kanyasree Yoddha. They all wear blue kameez, white salwar and white churni, their common dress code. They all have school bags on their back. Their collective image sends a message of hope.
Somehow, these girls remind us of the Red Guard Brigade that existed almost 50 years back. Today, Hariharpara is the Freedom Land for all those courageous girls who are inspiring young girls and school drop outs to return to schools and stopping child marriages. They raise their voice against women atrocities. The brigade has stopped more than 30 child marriages already. Even Sangeeta Biswas, Fajila Khatun, Barnali Khatun, Aparna Haldar and Ashapurna Biswas have successfully stopped their parents from marrying them off with the help of Kanyasree soldiers. These days women in the area do not dial 100 to call the police, whenever in trouble they take help of this girl brigade. The problems they solve are varied. They get calls from girls whose families are trying to marry them off. If the area from where they get calls is far off, they take help of the Block Development Officer or BDO.
The brigade applies various means to get their work done. At times, by counselling, or even by coercion with help of other villagers. When nothing works, they take help of the administration. The BDO usually sends police force to stop the marriage. However, in most cases the brigade themselves are successful in their mission and try to stop the marriage before wedding arrangements are made so that the girl's father doesn't lose much money in the process.
The Kanyasree Brigade is now a model for entire Murshidabad. Other than Hariharpara, Suti Block II has another brigade of 40 girls. They are also working against child marriages and trying to bring back school drop outs. In Suti Block, a lot of children are employed as labourers in bidi factories, hence in this area the number of school drop outs is very high. Worse still, many young boys in the area have become addicted to dendrite and opium. So, the Kanyasree Yoddhas of Suti block are trying to help these boys through de-addiction programs. They even save children ill-treated by step-mothers. Like four-year-old Farida, who was tortured by her step-mother and went without food for days. The brigade has rescued this little girl and sent her to primary school.
Had Ishwarchandra Vidyasagar been alive, he would have undoubtedly blessed these young girls. In his article he wrote: "Oh! Almighty, when will that day arrive when young girls will be rescued from such atrocious customs. However, the movement that has started against child marriage has at least come as a blessing." To us the Kanyasree brigade of Hariharpara is our Lakshmi brigade.
Image Courtesy: http://www.cini-india.org/news-and-press/our-kanyashree-yoddhas/